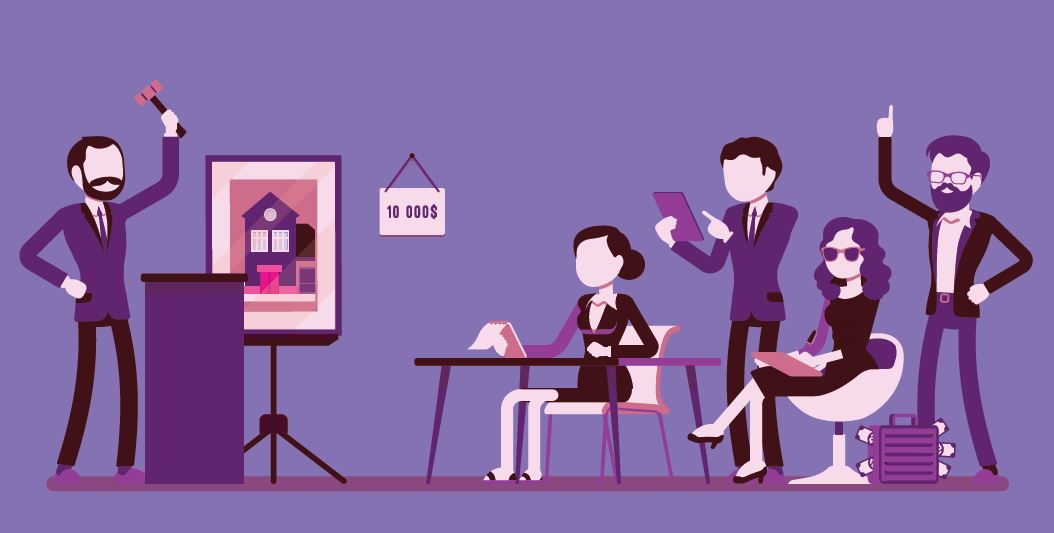 The auction property market in Malaysia has been muted in the first quarter of 2020 when the six-week Movement Control Order (MCO) from March 18, 2020 caused a pause in all physical auction activity.
Furthermore, Bank Negara Malaysia's (BNM) moratorium on loan or financing repayments has also saved many properties from foreclosures.
According to AuctionGuru.com.my's data, the number of foreclosure properties in 1Q2020 saw a slight increase compared with the same period last year.
In its recently released "Foreclosure property market analytical report for 1Q2020", the auction portal stated there were 8,052 properties worth RM3.991 billion on the auction market, which was 0.3% more than the 8,027 properties worth RM4.04 billion recorded in 1Q2019.
AuctionGuru.com.my executive director Gary Chia expects the auction market in the second and third quarters of this year to likely remain muted.
BNM's six-month moratorium, which allows loan borrowers to delay their repayments until September, and those who are eligible for the targeted moratorium extension, the deferment period until the end of the year, will further delay the impact of the Covid-19 on the property market.
"We could only see the full effect next year, after the moratorium period ends and people need to service their full monthly loan repayments again," Chia tells EdgeProp.my.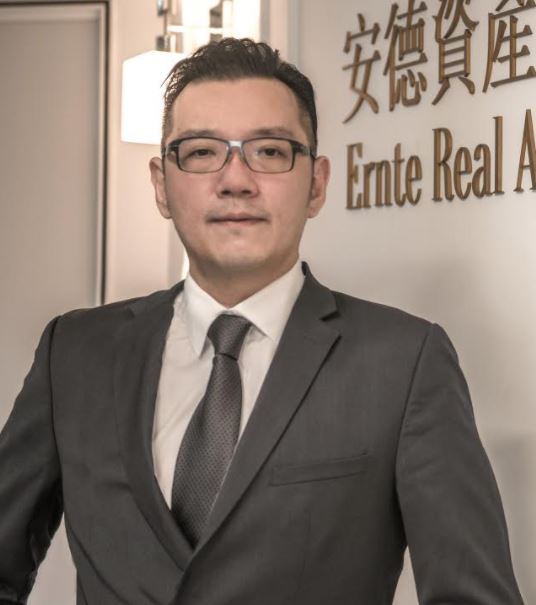 It's hard to forecast the quantum of increase [foreclosure properties] or when we could see the big jump. Looking at the current stagnant economic growth and increasing unemployment rate, we are worried that property owners' financial condition might be affected," Chia says.
Post-MCO, physical auction sessions have resumed end-June with strict standard operating procedures (SOPs) including limiting the number of attendees and practising physical distancing.
AuctionGuru.com.my itself has held two auctions with around 20 properties put up for bid at each auction.
"All the bidders came with bank drafts for bookings, but the auction success rate was only about 50%, as many would probably not be able to secure a loan later," Chia points out.
In the face of the intense competition among developers to woo buyers in the primary market, as well as the secondary market where owners adjust their asking prices to attract purchasers, auction properties may take longer to find takers.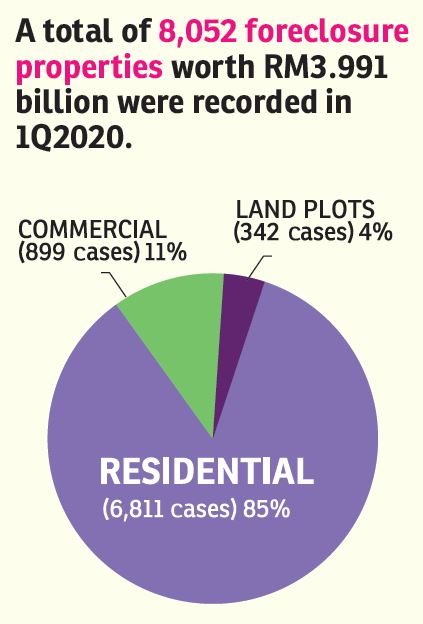 Residential property
Residential properties continue to dominate the auction market with the amount of foreclosures totalling 6,811 (total reserve value of RM2.6 billion) for the three-month period ended March, 2020.
The landed residential segment remained the biggest contributor to the property auction market with the number increasing by 3.4% to 3,698 in 1Q2020 compared to 3,577 cases in 1Q2019.
Meanwhile, there were 3,113 non-landed/strata residential properties, a decrease of 2.8% from a year ago.
"Notably, terraced houses made up the highest number of residential foreclosure cases accounting for 2,891 cases (78% of total volume) valued at RM922 million (57% of total value). Based on the mean computation for the terraced house type, the average foreclosure value was approximately RM320,000 per case," notes Chia.
Although landed residential properties are constantly in demand, the properties that went under the hammer were mostly located in third-tier areas that were far from major business hubs and amenities, he says.
"We see a rising number of foreclosure cases in new townships or developments which were completed one or two years ago. Undeniably, the entry price and the property itself are attractive. You can even find landed homes below RM300,000,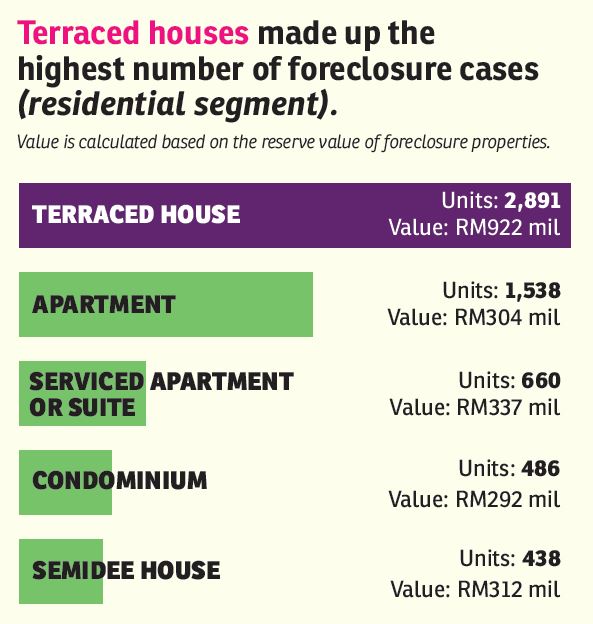 but there are no takers. Location is still the main consideration," he adds, but declines to name the projects or areas.
In the strata non-landed residential segment, apartments accounted for nearly 50% of the auction cases in this segment with 1,538 foreclosures valued at RM304 million. This was followed by 660 serviced apartments (or serviced suites) with a total reserve value of RM337 million and flats with 429 cases valued at RM43 million.
Chia believes that commercial-titled residential properties were among the most affected by the Covid-19 outbreak as many were using their properties for short-term rentals.
"Many commercial-titled residential property owners rely on short-term rental income to repay their monthly mortgage instalments.
The MCO badly hit the tourism market, and as a result, some owners of short-term rental properties became financially stretched.
"However, the impact was cushioned by BNM's moratorium on loan repayments which allowed property owners to defer their loan repayments for a period of six months," Chia says.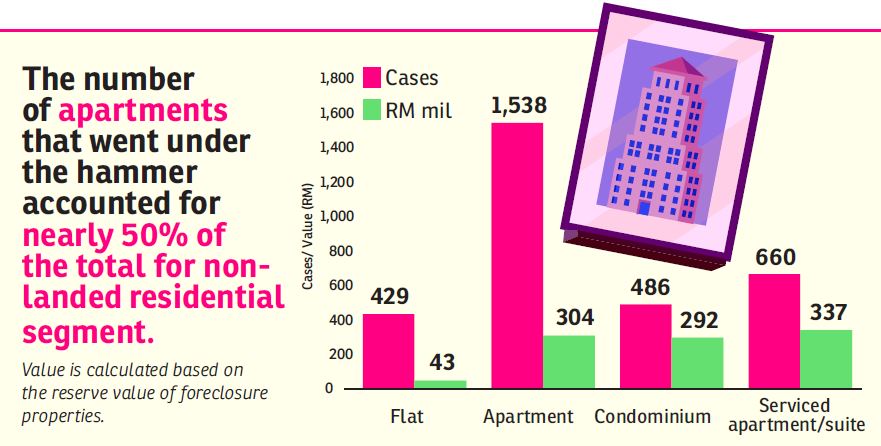 Commercial property
Meanwhile, the portal's report showed that Malaysia recorded 899 foreclosure cases under the commercial or industrial segment with an aggregate reserve value of RM697 million in 1Q2020 compared with 919 cases valued at RM1.052 billion in 1Q2019 — a reduction of 20 cases and 34% in reserve value.
The majority of the foreclosed commercial properties were strata commercial properties (539 cases), while there were 360 non-strata foreclosed commercial properties with shopoffices making up the highest number totalling 265 units valued at RM236 million.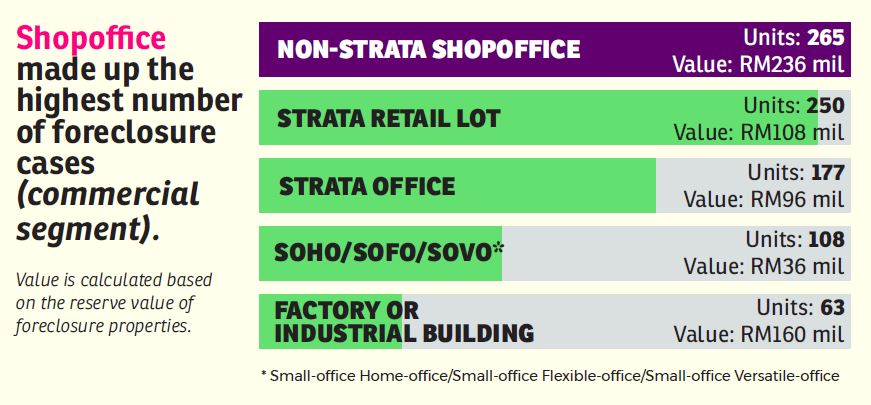 Overall, office and retail units made up the majority of the foreclosure cases under the non-landed/ strata category. Collectively, they totalled 427 foreclosure cases with a reserve value of RM204 million.
For commercial properties on auction to secure a buyer, Chia notes that financing is still the main issue as conserving cash is now the top priority for most investors, hence potential buyers will only consider buying an auction property if the reserve price is 30% below the current market price.
"Having said that, even if the property were to be auctioned at a great price discount, the high entry cost and future maintenance cost would put many prospective buyers off as many auction commercial properties come with large land areas and built-ups," Chia says.
He expects commercial properties to be even more significantly impacted by the Covid-19 outbreak post-MCO as working from home and online shopping become the new norm, thus directly affecting demand for conventional brick-and-mortar office and business spaces.
This story first appeared in the EdgeProp.my e-Pub on Sept 4, 2020. You can access back issues here.
EdgeProp Malaysia Virtual Property Expo 2020 (VPEX 2020) is happening now! Find out more exclusive projects and exciting deals here
Stay safe. Keep updated on the latest news at www.EdgeProp.my