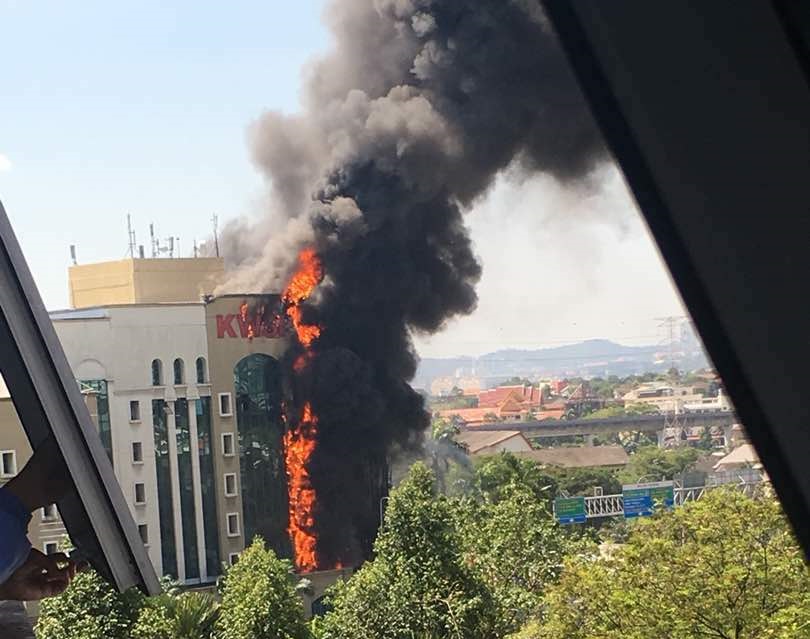 PETALING JAYA (Feb 13): Sparks and plastic cladding are a lethal combination. According to the Fire and Rescue Department, the fire that razed 40% of the Employees Provident Fund (EPF) building in Jalan Gasing, Petaling Jaya is believed to have been caused by sparks during maintenance work on the outside of the first floor of the building. The sparks ignited the plastic cladding on the building exterior which caused the fire to spread rapidly.
Bernama quoted Fire and Rescue Department deputy director-general (operations) Datuk Soiman Jahid, who was at the scene, as saying that an inflammable polyfoam was used as the cladding for the building structure.
Based on preliminary investigations, the cladding for the building used inflammable materials, which he believed has not been approved by any party. He added that the "wind and hot weather" had also contributed to the spread of the fire.
The fire burnt the exterior walls of the building and part of the interiors of the sixth floor.
The fire, which occured around noon today, was brought under control in about 30 minutes.
Soiman said it was the first fire incident involving such cladding in the country.
Building with cladding materials that do not meet stipulated specifications are in breach of the Uniform Building By-Laws 1984.
"The Fire and Rescue Department will conduct inspections on other buildings and the fire certificate will not be issued until they have replaced the cladding with new ones," he said.