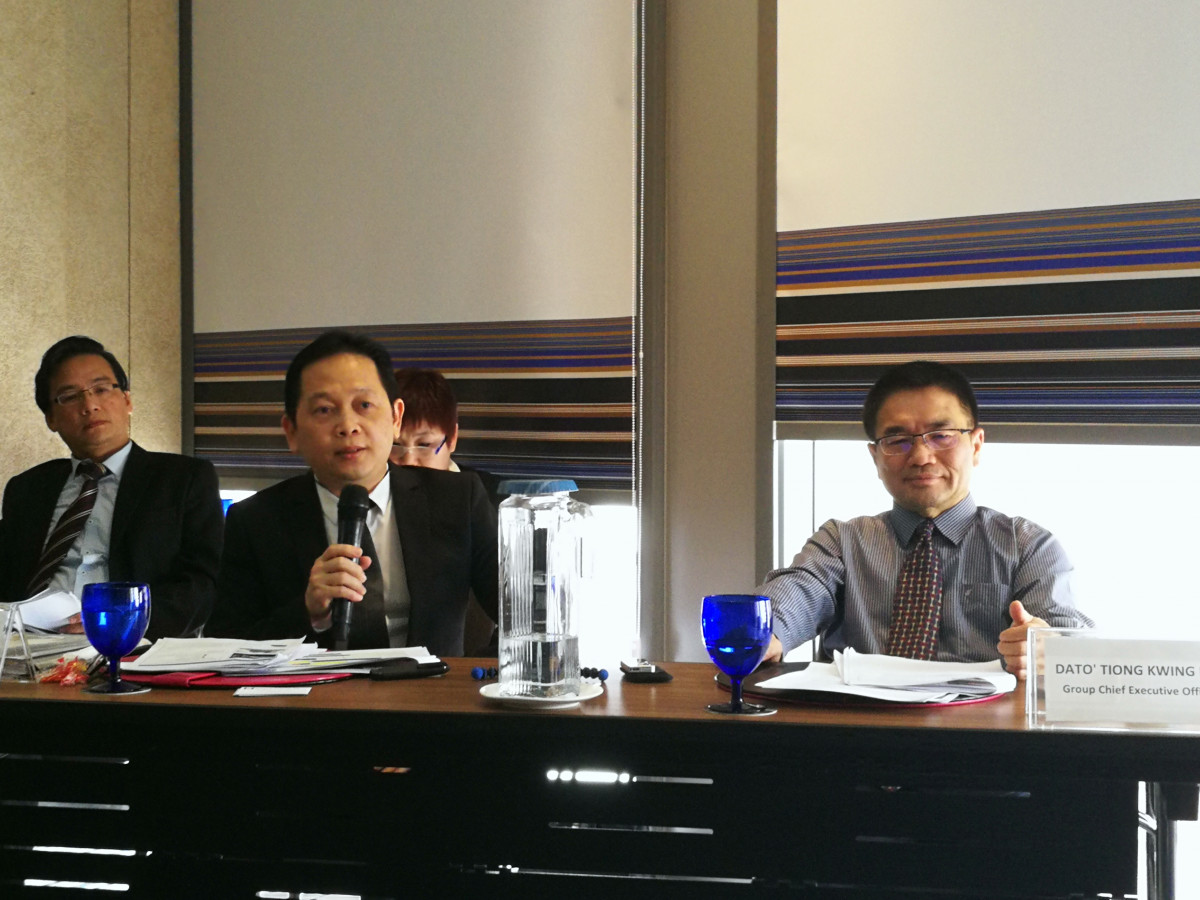 KUALA LUMPUR (July 30): Property developer EcoFirst Consolidated Bhd is aiming for a higher sales target of around RM240 million in the financial year ending May 31, 2019 (FY19) as it banks on two ongoing projects and another two in the pipeline.
According to group CEO Datuk Tiong Kwing Hee, the company had targeted and achieved property sales of about RM180 million in the last financial year with contributions from two ongoing projects, namely [email protected] Ukay and Upper [email protected] Lane in Ipoh.
"[The property market] is quite challenging and many developers are facing issues in property sales due to high loan rejection rates. We are no different from them as [email protected] Ukay faces a loan rejection rate of about 40% to 50%," he told reporters at a briefing today.
"Nevertheless, we are still enjoying a 95% take-up rate for the project despite the challenging market," he added.
With a gross development value (GDV) of some RM606.8 million, [email protected] Ukay is the first phase of Ampang Ukay and it is scheduled to be completed in November 2019, according to the developer.
Spanning 6.5-acre of land, it consists of 1,632 fully furnished SoHo units across three towers and 32 retail units. With built-ups from 450 sq ft, the SoHo units are priced at about RM750 psf.
Envisioned to be the little Hong Kong of Kuala Lumpur, Ampang Ukay is a mixed-development sitting on an 84-acre freehold site with an estimated GDV of more than RM5 billion. It is expected to be developed over the next 12 to 15 years.
Looking ahead, the developer is planning to unveil phase two of Ampang Ukay in the second half of the calendar year 2019, which will comprise large condominium units across three towers with an estimated GDV of RM523 million.
"Targeted at young and growing families, the condominium units are expected to have a built-up from 1,600 to 2,300 sq ft with an indicative price of RM450 psf and above," said EcoFirst general manager of marketing and retail leasing Janice Loh.
Next is phase three, which is expected to be a mixed-development with a RM1 billion GDV in mid-2020.
Tiong revealed that there could be another development in the current financial year to help achieve the RM240 million sales target.
"We are looking at JV (joint venture) opportunities and some small parcel of prime lands in the Klang Valley," he said, adding that the company is currently in talks with a few parties.
"We are working with many landowners in the market, so there could be [another] JV project or land deal, or even a combination of both. But of course it is not crystalised yet," he elaborated.
Meanwhile, Tiong noted that if there are any savings from the soon-to-be implemented Sales and Services Tax (SST), EcoFirst will pass on the savings to its customers so that its future products remain competitive in the current challenging market.