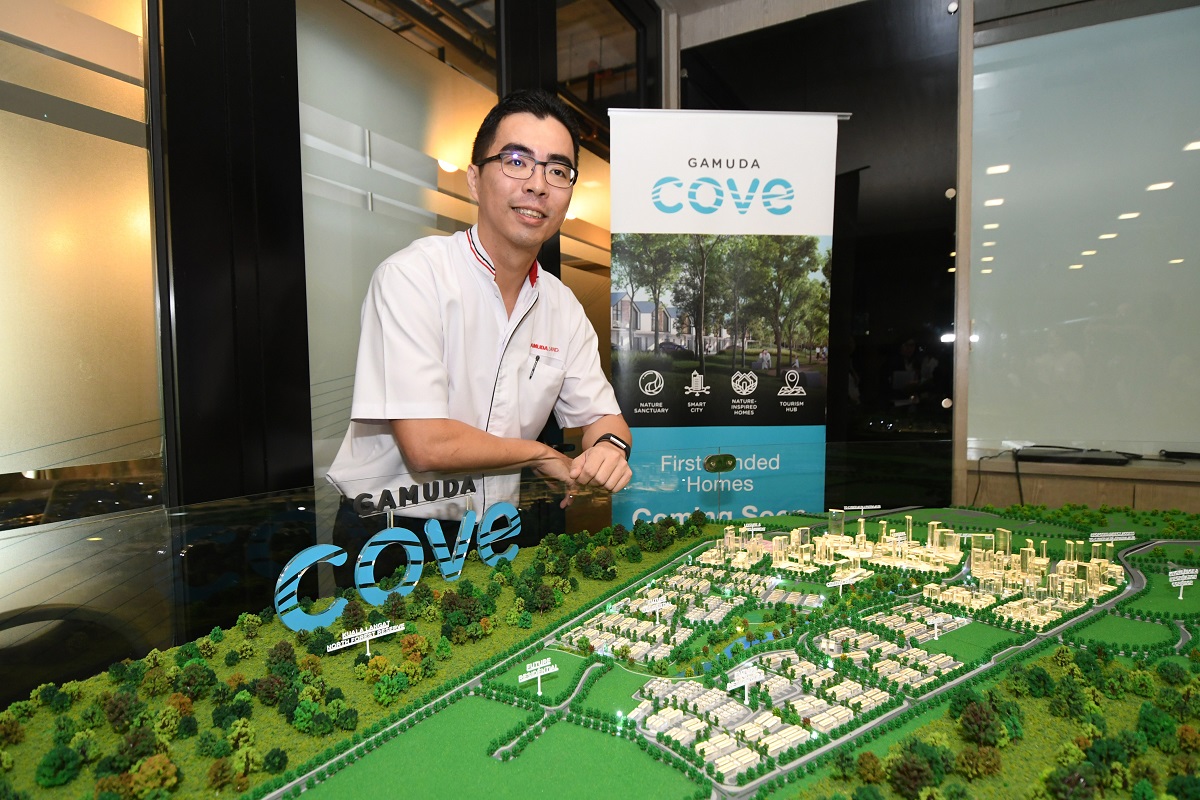 PETALING JAYA (Sept 14): Gamuda Land will be launching its latest township development with a gross development value (GDV) of RM20 billion in two months.
Dubbed Gamuda Cove, the 1,530-acre leasehold township is located in southern Klang Valley along the Elite Highway and opposite Cyberjaya.
"The entire project has a GDV of RM20 billion. It will take about 20 years to complete the whole project. We are going to soft launch the masterplan and the first three phases by the end of this month while the official launch will be taking place in two months after the soft launch," said Gamuda Land project director Aw Sei Cheh during a media preview of the development.
The township will be divided into a few districts comprising landed and non-landed residential areas, a central business district, leisure and entertainment, knowledge and information corridor, wellness oasis, central park and an art, culture and tourism village.
The entire project will have more than 23,000 residential units.
At the soft launch, Gamuda Land will introduce two phases of terraced houses and one apartment project.
The selling price for the terraced houses will be from RM680,000 onwards while the apartment units will be priced from RM350,000.
The first phase will have a total GDV of RM1.5 billion.
"In Gamuda, we listen to the land and blend in the development into the surrounding environment. The site is surrounded by Kuala Langat North Forest Reserve and Paya Indah Wetlands, therefore nature is key to Gamuda Cove," said Aw.
The developer also will be creating a 60-acre Central Park and the Gamuda Cove Discovery Park concurrently. "So when the first batch of buyers move in, the park and some other facilities will be ready. It will not be just houses on bare land."
According to Aw, the project has received some 10,000 online registrations of interest in the past few months.
"Gamuda Cove is located in a strategic location and next to the Elite Highway. It will be a comprehensive township where people can work, live and play all in one place," Aw noted.
He added that an interchange for the township will be built by the developer to enhance connectivity.
Another highlight of the township is its green transportation concept.
"We will have shuttle buses connecting Gamuda Cove to surrounding amenities, as well as dedicated cycling paths surrounding the township, a smart traffic system and trams," Aw shared.
The tram system, which is still being finalised, will first be implemented in Gamuda Cove's central business district.
"Stage one is about 4km-long on the main street of the business district. It will eventually connect the entire township.
Most importantly, it is free for use," he concluded.