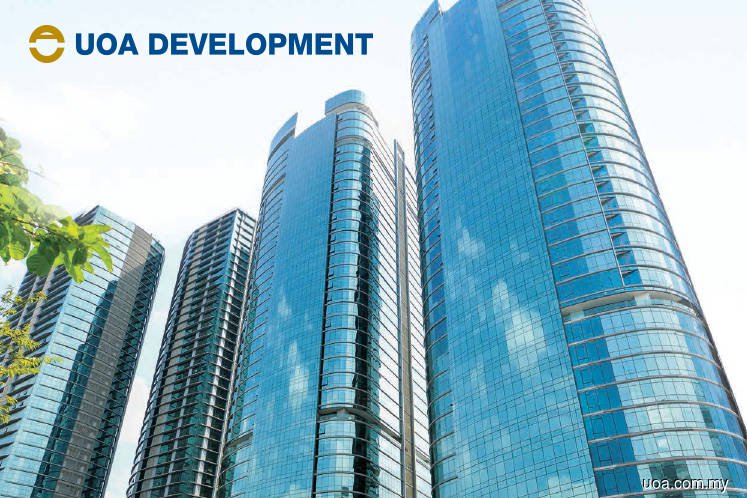 KUALA LUMPUR (Nov 27): UOA Development Bhd's net profit dipped a marginal 1% in its third quarter ended Sept 30, 2018 (3QFY18) to RM92.16 million from RM93.2 million a year ago, mainly as cost of sales climbed at a higher rate than revenue.
Revenue grew 15% or RM39.12 million to RM300.38 million from RM261.26 million, while cost of sales jumped to 71% or RM79.19 million to RM190.48 million from RM111.29 million.
In a statement, the group said its revenue and net profit for the period were mainly due to progressive recognition from its ongoing development projects, namely the United Point Residence, Sentul Point Suite Apartments, South Link Lifestyle Apartments, and the sales of completed offices and residential units.
For the nine month period (9MY18), net profit declined 21% year-on-year to RM242.47 million from RM308.78 million, as revenue retreated 12% to RM777.33 million from RM879.76 million.
"New property sales for the quarter ended Sept 30, 2018 came in at approximately RM1.14 billion, with contributions mainly from projects such as South LInk Lifestyle Apartments, United Point Residence, and Sentul Point Suite Apartments," UOA Development said. Unbilled sales were about RM1.67 billion, as at end-September.
UOA said it will continue its focus on development at targeted geographical locations and continue to assess opportunities for land acquisitions that meet the criteria.
Its shares slipped 2 sen or 0.93% to RM2.13 at 3.02 pm today, for a market capitalisation of RM3.91 billion.