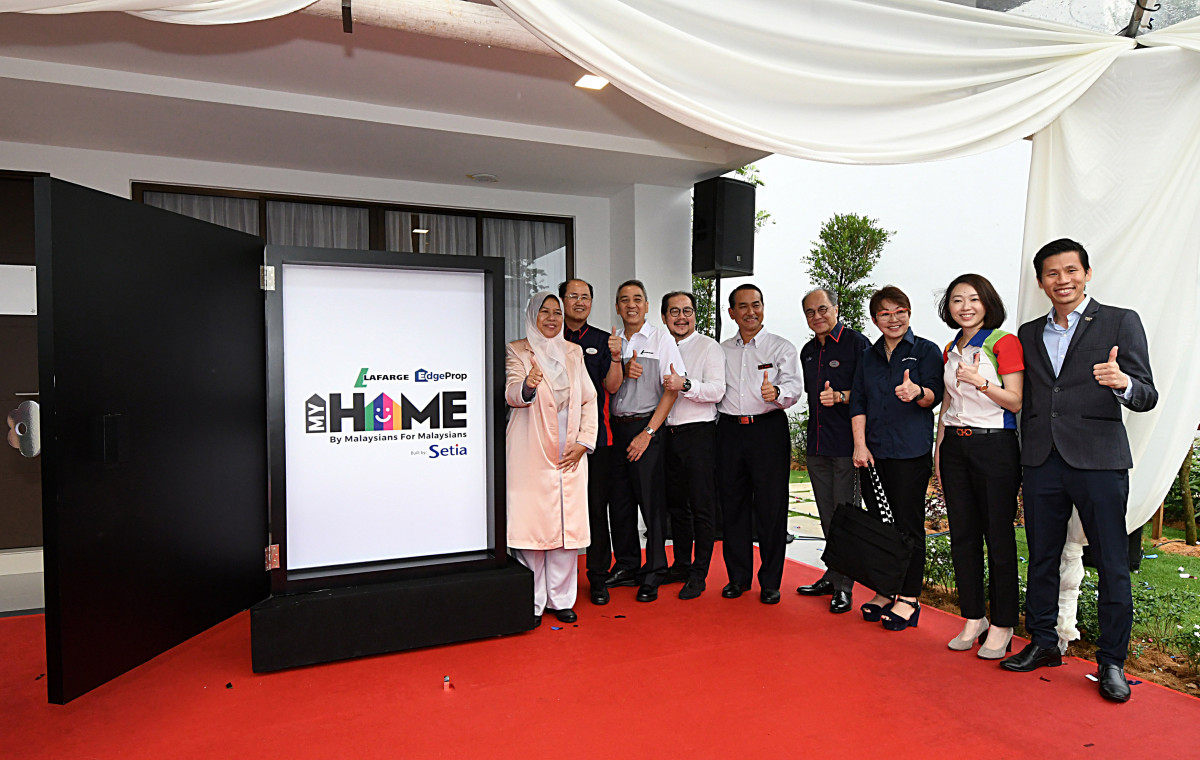 SEMENYIH (Nov 28): A home designed and built based on a survey findings of what the majority of Malaysians want in a home has been unveiled today.
Housing and Local Government Minister Zuraida Kamaruddin officiated the unveiling of the showhouse built by S P Setia Bhd that depicts the phase of homes designed according to the preferences of the survey respondents.
Called the Baccas collection, the phase located at Setia Ecohill 2 in Semenyih is the product of feedback from close to 14,000 respondents of the Lafarge-EdgeProp MYHOME survey which ran for almost two months from Feb 28 to April 15 this year.
Some 42% of the respondents were from Selangor while 18% of them reside in Kuala Lumpur. Meanwhile, almost 68% of the respondents were aged between 18 and 35 years while another 19% are in the 36 to 45 year age group.
The initiative spearheaded by Lafarge Malaysia and EdgeProp.my had one goal – to draw a picture of the Malaysian ideal home. Based on the findings, Malaysia's top property developer S P Setia has designed and now built the show house.
From the survey, it was found that most Malaysians wanted landed terraced houses with 85.8% wanting three or more bedrooms and 59% wanting a minimum of three bathrooms. They also wanted a unit with built-up size of between 1,000 and 1,999 sq ft priced between RM400,000 to RM600,000. Baccas is a 2-storey terraced house with land size of 20ft by 70ft. With four bedrooms and three bathrooms, the built-up of the unit is 1,652 sq ft and priced under RM600,000.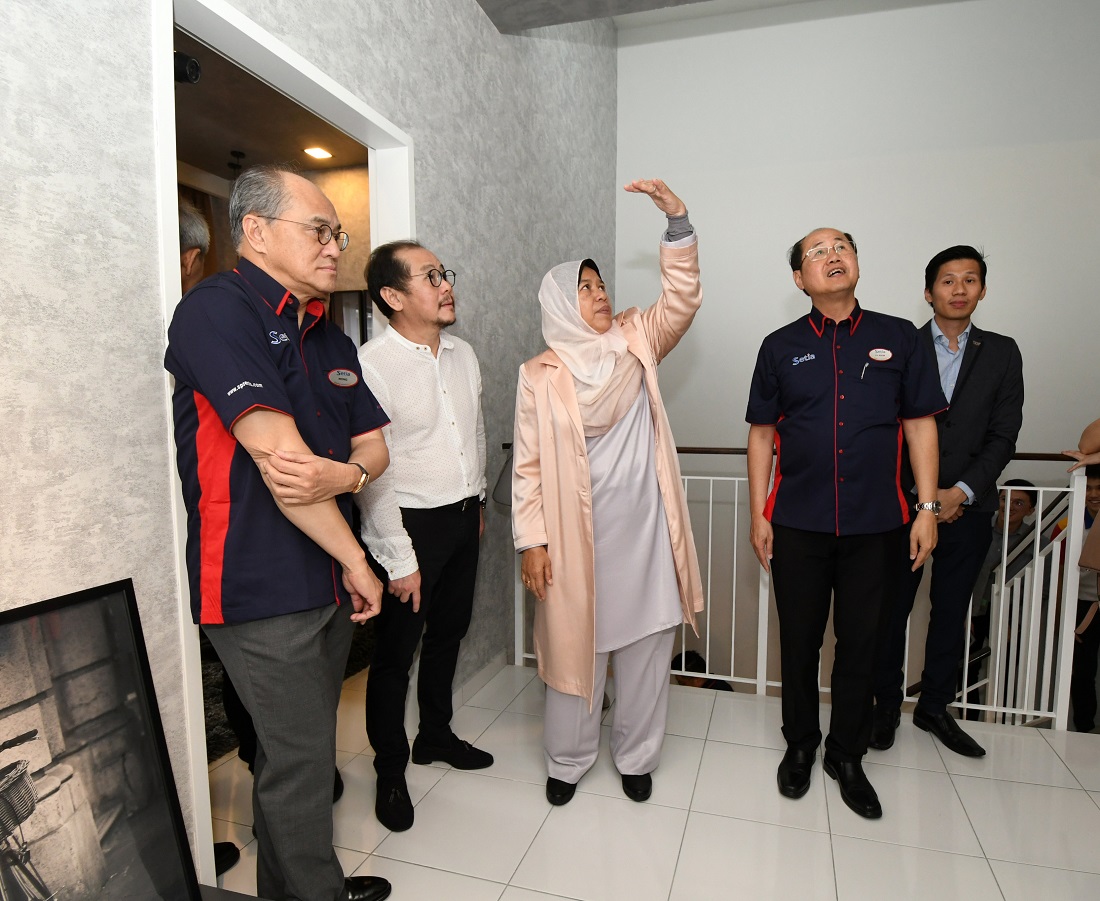 "The idea of getting the feedback from the survey, it reminded me of my early days in my career when I was a researcher. Those days, I did research for my company for products. Before a product is launched, research must be done to find out what sort of products do people like?
"I congratulate the organisers for using this technique to come up with this house co-created by Malaysians for Malaysians," Zuraida said in her speech.
She added that the way the survey was conducted is a new approach to determine the kind of concept and design of a home that fits the needs of the people.
"It is a selling point to Malaysians because when you say the home is created by Malaysians, that itself will be a selling strategy.
"Furthermore, S P Setia has been a leading developer in the country and I hope that the concept and the planning of the township (Setia EcoHill) that they have here will be a model as well for others to follow suit in the country," Zuraida explained.
EdgeProp.my managing director and editor-in-chief Au Foong Yee in her speech noted that there is a difference between a dream house and an ideal home.
"A dream house tends to be inspirational but an ideal home centres on practicality and liveability. It is a place where the heart is. And this sums up what the Ideal Malaysian Home is all about.
"We do realise that the specifications of the Ideal Home Malaysians co-created will not be able to meet everyone's expectations. This is partly because owning a home is such an emotive exercise and journey. Still, this ideal home is significant as it is one designed and built by Malaysians for Malaysians," said Au.
Meanwhile, S P Setia president and chief executive officer Datuk Khor Chap Jen in his speech said in an industry that revolves around bricks and mortar, S P Setia is more than just a builder as it is also at the forefront of branding in the property industry.
"At the campaign launch in February this year, we were all excited as we knew that the MYHOME initiative would give us an entirely different and fresh approach to homeowners in Malaysia in sharing their needs and ideas without the usual conventional solutions which are constraint by regulations and perceived rules," said Khor.
"The Baccas collection in Setia EcoHill was conceptualised to meet the needs of Malaysians today and of generations to come. Situated in this Setia EcoHill township, we are confident that these homes have and will capture the hearts of many based on the enquiries we have received thus far," Khor added.
Setia EcoHill and Setia EcoHill 2 are easily accessible and well connected as there is a dedicated interchange connecting directly to the LEKAS highway.
In an effort to create an efficient traffic flow, S P Setia built the RM80 million LEKAS-EcoHill Link in August 2015 to alleviate congestion along Jalan Semenyih. Ecohill Link 2 was launched in August this year, further reducing the travel time from Beranang to the LEKAS Semenyih Interchange from 30 minutes to a mere 10 minutes.
The survey was supported by Panasonic Malaysia, Nippon Paint Malaysia, Feruni and Lightcraft.
Panasonic Malaysia contributed to the indoor air quality management solution of the show unit while Nippon Paint Malaysia's products were used on the interior and exterior walls.