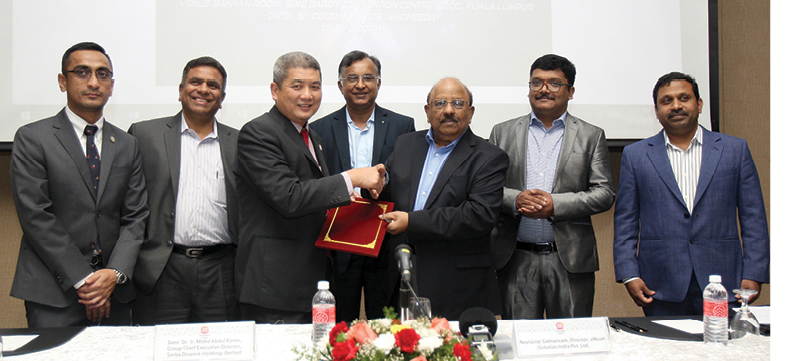 KUALA LUMPUR (Dec 10) : Having surpassed its end-financial year 2018 (FY18) order book target of RM7.5 billion, Serba Dinamik Holdings Bhd is aiming to hit a new benchmark of RM10 billion next year, according to group chief executive officer (CEO) Datuk Dr Mohd Abdul Karim Abdullah.
In an interview with The Edge Financial Daily, the 53-year-old, who is an engineer by training, appeared confident the 30% order book increase can be achieved, and is just as optimistic of growing the group's top and bottom lines by 15% to 20% annually.
"I am targeting for our order book to close up at RM10 billion next year. We are working very hard on a lot of things globally, which we have yet to announce, for our operating and maintenance (O&M) and engineering, procurement, construction and commissioning (EPCC) segments," he said.
He said Serba Dinamik has now surpassed its end-FY18 order book target of RM7.5 billion, given that there are contracts on a call-out basis where values cannot be properly quantified.
"With our [current] order book, I believe we will be kept occupied for another two-and-a-half years. It gives us an assurance that those sales are achievable, which will help with our profitability," he said.
But despite the visible earnings from its bulging order book, the group is keen to participate in projects where it is also a stakeholder under an asset ownership model as these projects have longer tenure and provide recurring income. Moreover, the group is able to negotiate for the EPCC contracts, as well as the O&M works once the assets are commissioned.
"I still believe that even though it (2019) is [expected to be] a difficult year, we should still be able to make it to the growth that we have mentioned, given our financial strength and resources. We will also be monitoring closely developments in countries we are involved in to mitigate [any risks]," he said.
In addition to its core segments, the group has decided to actively expand its technology business, which currently contributes a little over 1% to group revenue (the remaining contributed by its EPCC and O&M segments).
"We want to make a quantum leap, we want to grow our information technology (IT) capabilities much faster. This is where we do acquisitions, [as] we will get additional network, (an) additional resource pool of people, and a stronger, more convincing track record," said Mohd Abdul Karim.
Its investment in eNoah iSolution India Pvt Ltd last week is one such example. Last Wednesday, the group's wholly-owned Serba Dinamik IT Solutions Sdn Bhd (SDIT) bought a 30% stake in eNoah iSolution for RM15 million, besides allocating another RM30 million for future IT projects.
SDIT has around RM50 million worth of projects in hand, and eNoah, approximately US$30 million (RM125 million).
Serba Dinamik made its debut on Bursa Malaysia's Main Market on Feb 8, 2017 at an offer price of RM1.50, and has since been on an uptrend. It reached a high of RM4.23 on Oct 18, 2018 — gaining over 180% — but has slipped in the past weeks to close last Friday at RM3.70.
The group, valued at some RM5.43 billion, provides engineering services and solutions for oil and gas (O&G) production platforms, refineries, as well as plants for petrochemical manufacturing and liquefied natural gas, among others. It also carries out EPCC works on plants, facilities, road infrastructure and buildings, and other related systems and solutions including the design and installation of process control and auxiliary power generation.
"We have only three remaining months of corporate earnings, but I strongly believe that we should be able to achieve our target of 15% to 20% growth in both our top and bottom lines," he said.
For the nine months ended Sept 30, Serba Dinamik recorded an increase of a fifth in its cumulative net profit and revenue to RM278.61 million and RM2.31 billion respectively.
This article first appeared in The Edge Financial Daily, on Dec 10, 2018.