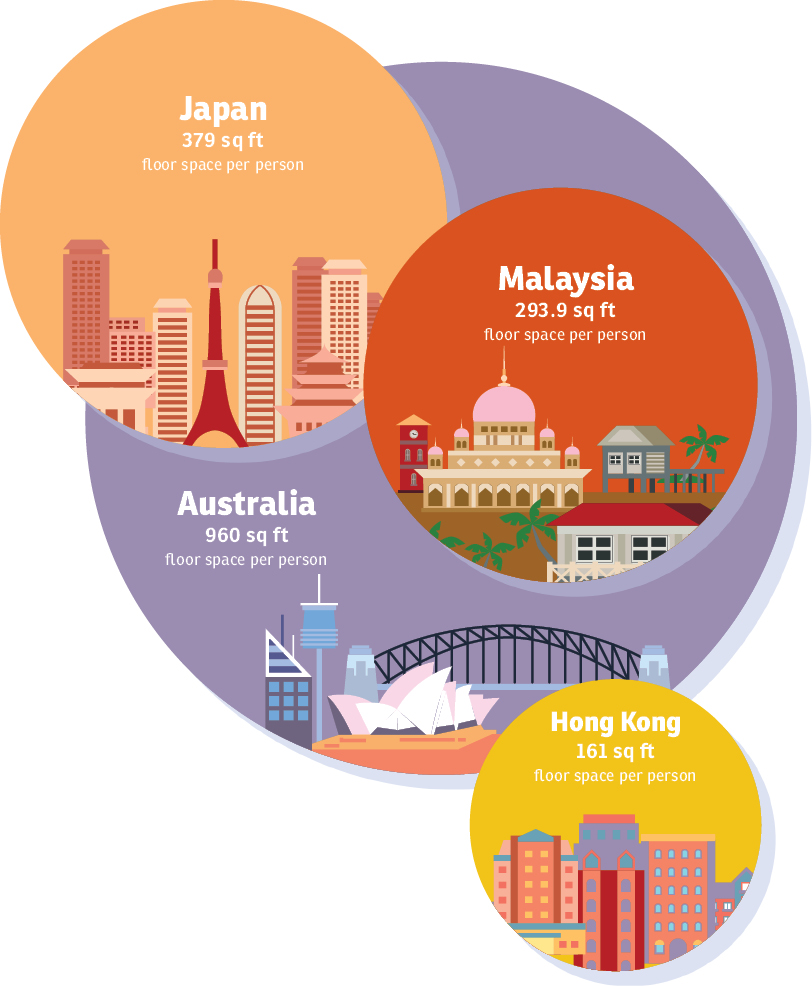 Look at your grandparents' single-storey 3,000 sq ft bungalow house with a car porch and lush garden in Petaling Jaya that only cost them less than RM100,000 40 years ago. Now take a look back at your 900 sq ft condominium unit with a tiny balcony and two tandem parking lots at the basement car park which you paid RM450,000 for in the same city five years ago. Our living space has certainly shrunk tremendously over the years!
According to the United Nations Commission on Human Settlements (UNCHS), the availability of sufficient space for dwellers is an important element of housing.
In fact, according to UNCHS, adequate space not only means the provision of physical accessibility and basic infrastructure, such as water-supply, sanitation, and waste management facilities, but also includes adequate privacy, lighting, heating or ventilation, suitable indoor environmental quality, and health-related factors; all of which should be available at an affordable cost.
So now, the question is: Do Malaysians have sufficient living space today?
Based on data collated from the Valuation and Property Services Department, UNCHS and the World Bank, MKH Bhd came up with "The Quality of Living Space — Larger House Means Better Living Quality" research report. It found that in the global context, Australia has the biggest average house size of 2,592 sq ft, followed by the US at 2,163 sq ft and Canada at 1,948 sq ft.
*The best time to buy your first home
*National Housing Policy 2018-2025 aims to combat record property overhang
*BNM's Fund for Affordable Homes to help lower income group own property
Interestingly, Malaysia came in ninth with an average house size of about 1,264 sq ft — the only Asian country that made it to the top 10 in a list of 52 countries.
But house size and individual living space are two different things.
While comparisons of average house size is informative, it does not truly reflect housing quality because household size varies among countries. For instance, the Philippines has an average household size of five and Sweden's only two.
Thus, floor area per per person has become a better indication of a country's housing conditions. So in that case, how does Malaysia fare?
The floor area per person in Malaysia is about 293.9 sq ft, putting it in seventh place among 14 countries in Asia (in 2017). It is worth noting that Malaysia is even behind some Asian countries often presumed to have smaller dwelling units, such as Japan (379 sq ft), Taiwan (370 sq ft) and South Korea (357.4 sq ft).
So what else is interesting about the size of our homes?
1 Malaysia's living space per capita is smaller than Japan's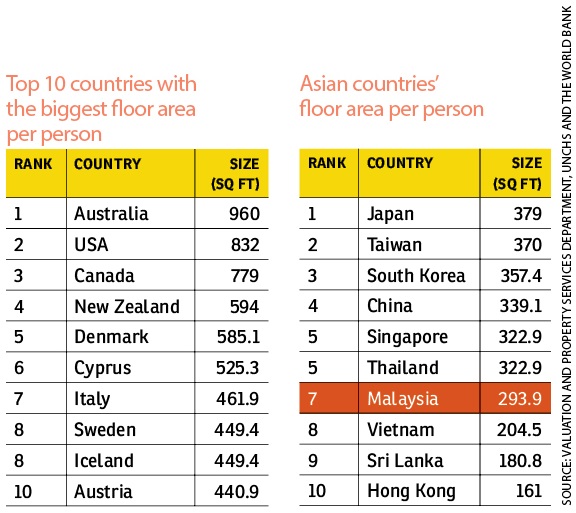 While the average Malaysian house size is among the largest in Asean and maybe even in the world, it is nowhere as impressive when we look at the country's floor area per person where Malaysia even falls behind some developed Asian countries such as Japan and Taiwan, which are known for their small dwellings.
2 Malaysia probably has the biggest house size in Asean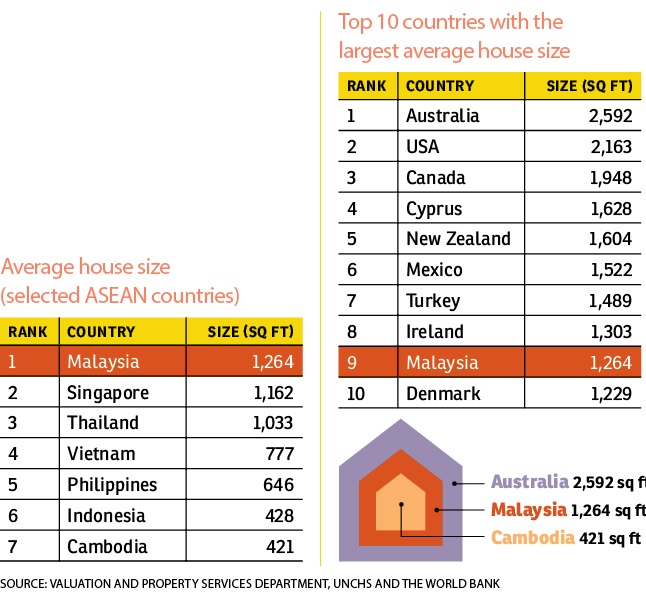 Among seven selected Asean countries, Malaysia emerged top of the list with the largest average house size.
3 Malaysia's average house size is shrinking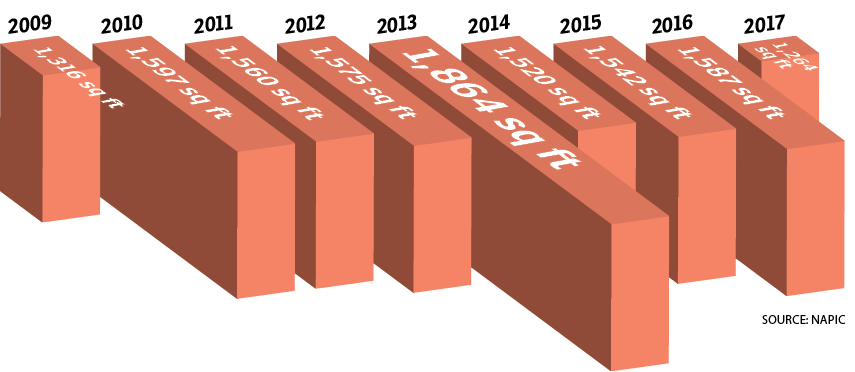 Many speculate that rising house price coupled with stringent lending regulations in Malaysia are shaping the trend for even smaller house sizes in the country in the near future. Already, the country's average house size has fallen to 1,264 sq ft in 2017 (based on new launches) — the smallest since 2009.
4 Negeri Sembilan has the largest average home size while KL has the smallest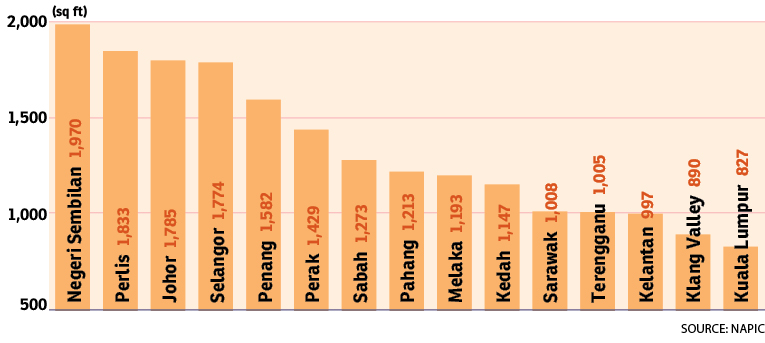 The average sizes of new residential launches among the Malaysian states in 2017 provided some interesting data. In urbanized Klang Valley and Kuala Lumpur, homes launched had an average size of 827 sq ft mostly comprising high-rise residences. Sarawak, Kelantan and Terengganu also had relatively small houses. The state with the largest average size among its new residential projects is Negeri Sembilan at 1,970 sq ft followed by Perlis (1,833 sq ft) and Johor (1,785 sq ft).
5 Malaysians are more concerned about facilities than house size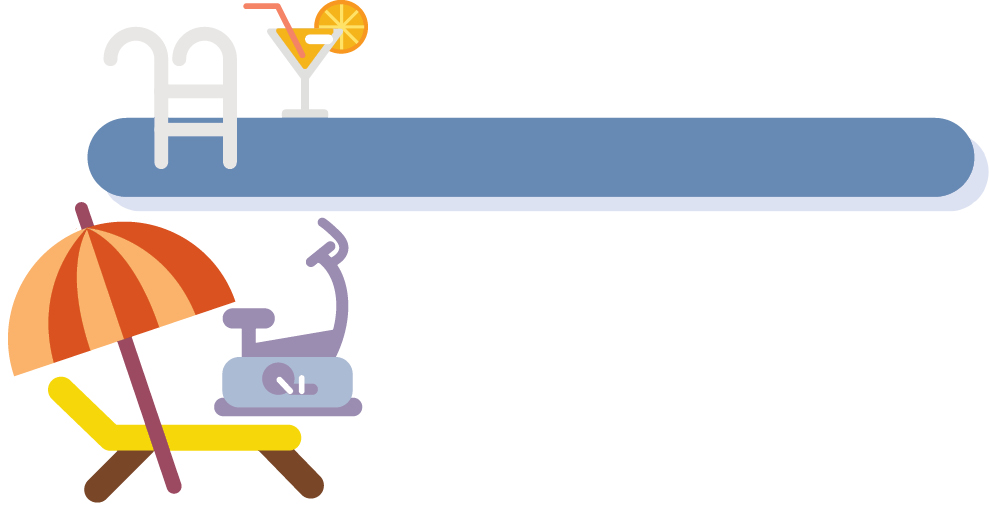 According to MKH's research, developers are building housing environments that foster the desired lifestyle of the younger generation, who wants to socialise, engage, and connect with each other.
When this younger generation enquires about a project, questions about the facilities and views are often asked followed by questions about the size of the unit and number of bedrooms.
Hence developers are offering more facilities and amenities within their residential developments and niche facilities such as yoga rooms, movie rooms and lounge areas with a view are becoming increasingly common.
This story first appeared in the EdgeProp.my pullout on Feb 8, 2019. You can access back issues here.