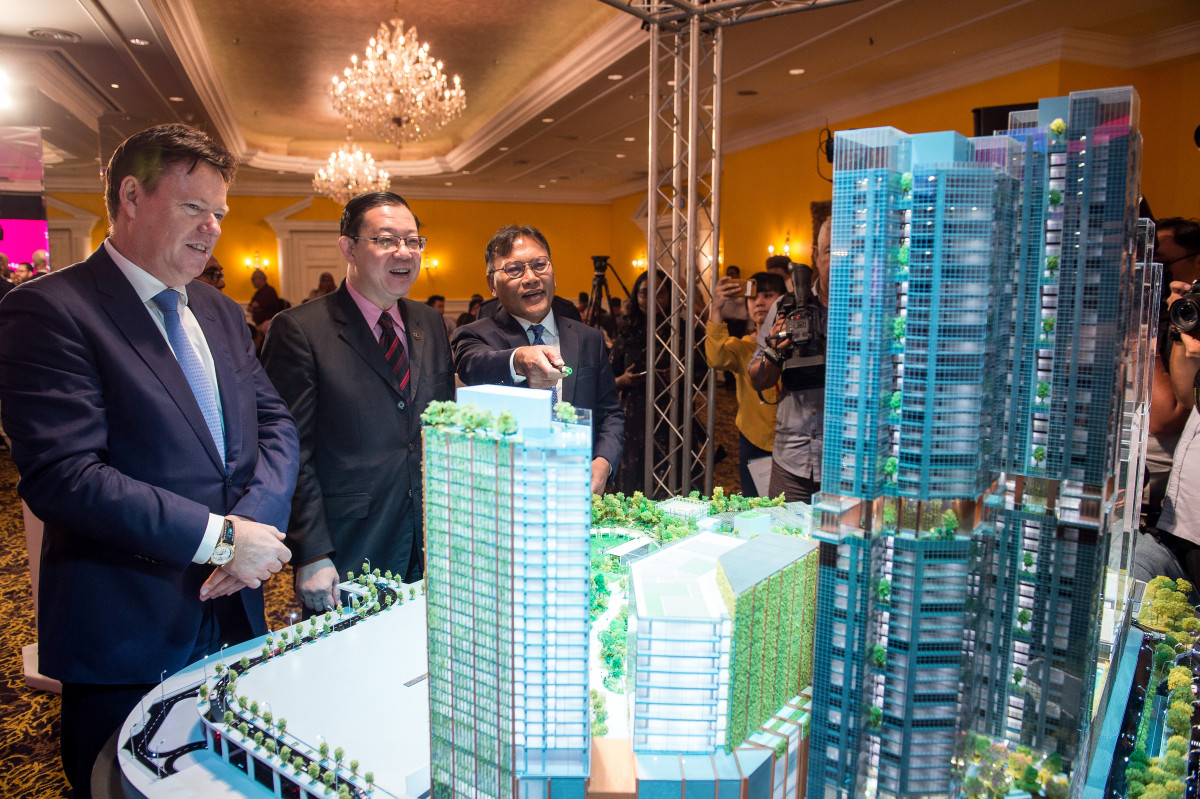 KUALA LUMPUR: Finance Minister Lim Guan Eng has declared that the Tun Razak Exchange (TRX) project had been "detoxified".
At the launch of the development's lifestyle component, The Exchange, yesterday, Guan Eng said the assets belonging to the project had undergone a "detoxification" programme resultant of the government-led review of the associated projects.
"The review showed that the government would be able to recover all of its opportunity cost and investment made into TRX.
"After this review, we present to cabinet once we do the necessary detoxification of assets; we must allow these assets to proceed and not allow them to become collateral damage to the past excesses of the previous government," Guan Eng said.
He added that this "detoxification of assets" is part of the government's move to "exorcise the ghosts of 1MDB (1Malaysia Development Bhd)", which he said had tainted Malaysia as a business and investment destination.
Guan Eng said following the review of the TRX project, the government injected RM2.8 billion last year into the project.
The project is backed by a 60:40 joint venture between Australian developer Lendlease Corp and TRX City Sdn Bhd (TRXC), and was started by the controversial investment fund 1MDB.
Separately, Lendlease said that it had secured some RM2.15 billion in development funding from HSBC Bank Malaysia Bhd, Standard Chartered Bank, Sumitomo Mitsui Banking Corp and Malayan Banking Bhd.
An emblem of misappropriation
TRXC was previously an arm of 1MDB and was transferred to the ministry of finance (MoF) on March 31, 2017, following the Parliamentary Public Accounts Committee's advice, because TRXC was unable to secure land sales or bank financing, due to its association with 1MDB.
The Auditor-General's 2016 report on 1MDB said that only a fraction of the RM3.98 billion raised by domestic loans and sukuk actually went to the TRX development.
Only RM246 million was actually delivered for the construction of TRXC's TRX and Bandar Malaysia developments, with the balance RM2.16 billion siphoned to 1MDB.
In order to finance the infrastructure cost for the TRX project, 1MDB unit 1MDB Real Estate Sdn Bhd (1MDB RE) sold land plots within the project.
However, the RM1.095 billion that was raised by 1MDB RE from such sales was advanced to 1MDB instead.
Furthermore, a special purpose vehicle (SPV) was created to raise RM229.5 million through a revolving credit to fund the TRX project.
On June 25, 2018, shortly after the 14th general election, TRXC lodged a police report on transfers of its funds amounting to RM3 billion to 1MDB.
TRXC chief executive officer Datuk Azmar Talib said on June 29, 2018 that he was in the dark when some RM3 billion intended for the company's TRX project was transferred to 1MDB between mid-2012 and early 2017.
The transfers were made between mid-2012 and early 2017 based on instructions from 1MDB, and were diverted from their intended use of funding TRX and Bandar Malaysia.
However, on June 28, TRXC said that it had ring-fenced funds amounting to RM2.14 billion to ensure that it had the proper cash flow requirements to meet requirements for the TRX project.
Azmar said that despite orders from 1MDB to transfer the RM3 billion in funding, he had managed to ring-fence some RM2.14 billion to fund the project.
The development also included the development of a tower named Exchange 106, which was developed by Mulia International Ltd — a unit of the Indonesian Mulia group.
On March 7, 2018, the MoF bought a 51% stake in the development, which spans 3.42 acres (1.38ha) on TRX land from Mulia Property Development Sdn Bhd, which is a 49:51 joint venture between the Indonesian group and a MoF SPV MKD Signature Sdn Bhd.
The TRX project has a gross development value of RM40 billion and is composed of 70 acres of land.
Upon completion, the development will house new Malaysian corporate headquarters for HSBC, Affin Bank and Prudential Insurance, as well as residential units, a 10-acre park and a mall.
This article first appeared in The Edge Financial Daily, on Feb 13, 2019.