Looking for a property bargain in mature areas? Well, there are usually some good deals to be found on the auction market.
Although many do not like the idea of buying auction properties, AuctionGuru.com.my executive director Gary Chia says one should seriously consider it if the property is going at far below the reserve price and is in an established area that one is familiar with.
According to Chia, the current property market slowdown in the country has been tough on property owners who purchased their properties for short-term investment. Many investors found themselves having problems servicing their monthly mortgage repayments.
Hence, some would sadly see their properties being put up for auction.
"There was an increase in number of newly completed properties and properties in established locations that went under the hammer last year.
Reserve prices of these properties are now far lower than the asking prices of similar properties on the secondary market which make them a good bargain.
"Some properties in established or prime areas have seen prices drop by more than 30%. It is a good time for investors to look at the auction property market now," says Chia.
He cites for instance, a 3-storey bungalow house in Jade Hills, Kajang, Selangor with a market value of RM4.8 million which was put up for auction in January this year at a reserve price of RM3.24 million. There was no taker at that time.
In the upcoming auction (a date has not been fixed), this freehold bungalow with a land area of 673.8 sq m or 7,252.72 sq ft will be auctioned at a reduced reserve price of RM2.91 million, which is about 40% lower than the market rate of a similar property in that area.
Another example is a 3-storey bungalow in Taman Nadayu in Ampang, Selangor, which saw its reserve price drop to RM2.66 million in an auction in February compared with its reserve price of RM3.28 million in the previous auction which was held last year.
The freehold bungalow, which has a land area size of 8,428 sq ft, has gone under the hammer a few times since 2017. Its reserve price at the first auction was RM4.05 million, the closest to the secondary market value.
According to Chia, interest in auction property seems to be rising based on the number of enquiries that his company has been receiving. Many of the enquiries are for landed homes in established areas.
However, the increase in interest has not translated into sales.
"This could be because most people are still waiting for prices to decrease further in upcoming auctions as they know the reserve price of the property will decrease 10% each time the same property is put up for bids," he explains.
Chia also advises prospective buyers to check with auctioneers on hidden costs such as maintenance fees and utility fees owed by previous owners and whether they will be borne by the financial institutions before making their bids.
Commercial properties
Besides residential properties, there are also some good deals in the commercial property segment. For instance, there is one shoplot in Publika in Solaris Dutamas, Kuala Lumpur which went under the hammer with a reserve price of RM1.7 million. This freehold unit has a current market value of RM3.2 million, according to Chia.
In Penang, Khoo & Associates Realty business development manager Long Soo Keat said the auction market has seen some good bargains but with no takers.
In Butterworth, a 4-storey shoplot which was priced at RM2.1 million in 2016, has seen the reserve price drop to RM1.1 million at an auction in December last year.
For those who are interested, here are more such bargain properties with reserve prices that have been reduced by at least 30% from their secondary market price.
These properties are collated from EdgeProp.my listings and auctioneers.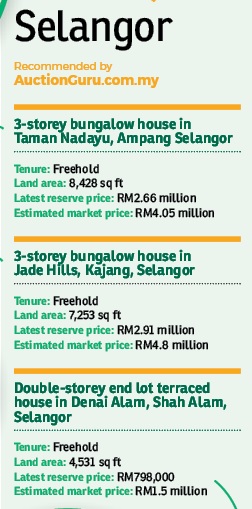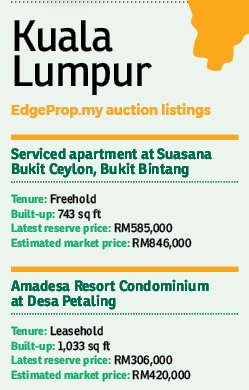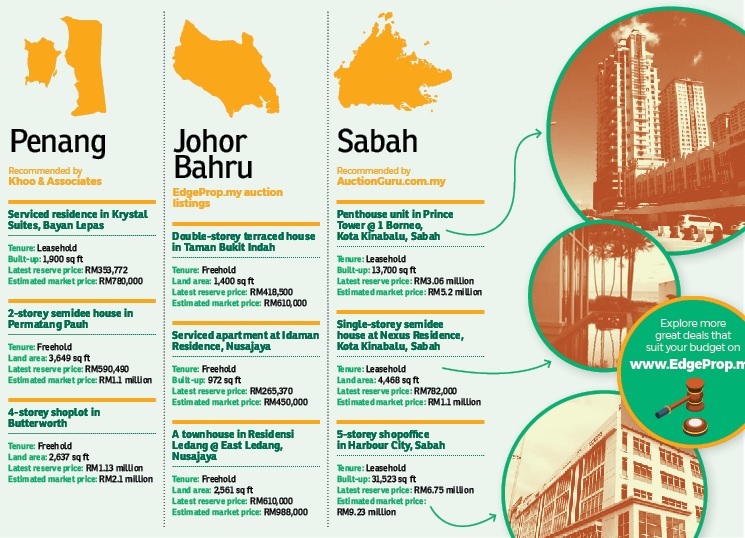 This story first appeared in the EdgeProp.my pullout on March 29, 2019. You can access back issues here.