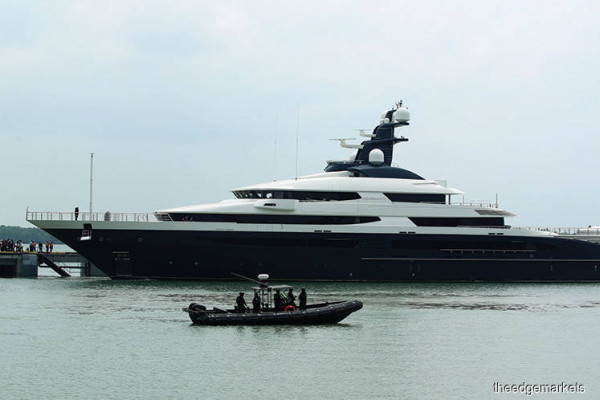 KUALA LUMPUR (April 4): The sale of 1Malaysia Development Bhd's (1MDB) superyacht Equanimity is historic, by any measure, said Attorney-General (AG) Tommy Thomas.
"It records a high watermark for our judicial system in ensuring market value is secured for a vessel sold through the court process without any discount," Thomas said in a statement issued after court proceedings yesterday.
"The US$126 million (RM514.1 million) is the best received offer over five months from October 2018, when the Equanimity was first put up for sale. The sale is the highest recovery to date by the Malaysian government from the 1MDB scandal," he said.
The AG said as the sale was negotiated directly, it had resulted in US$4.4 million in savings as no agency or commission fees were required to be paid.
Thomas commended the legal team that acted beyond their call of duty, travelling to meet potential buyers in Hong Kong and London, bearing travel costs personally, and their efforts were complemented by the prompt and steady cooperation from the court sheriff.
The AG also thanked the Royal Malaysian Navy for providing docking space for the vessel for over five months, free of any charges, and, together with the police, maintaining the security and safety of the vessel. Thomas said the government is appreciative of the offer made by Genting Malaysia Bhd as the Genting group owns a shipyard that builds superyachts and operates a luxury yacht chartering division.
For transparency, the AG said a further statement will be issued once the purchase price is received with the breakdown in expenses incurred and the net amount to be credited to the newly opened 1MDB recovery account.
This article first appeared in The Edge Financial Daily, on April 4, 2019.