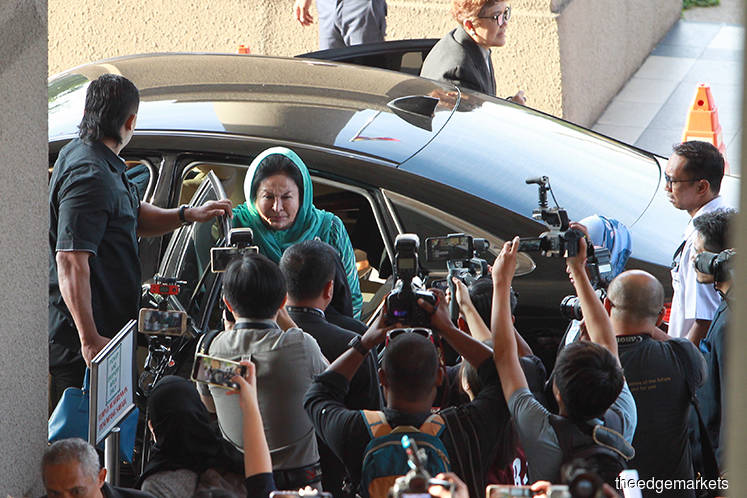 KUALA LUMPUR (April 10): Datin Seri Rosmah Mansor (pictured) was slapped with another charge at the Sessions Court here today for receiving bribe involving RM5 million in connection with the implementation of the solar hybrid system project for rural schools in Sarawak.
Rosmah, who is the wife of former prime minister Datuk Seri Najib Razak, pleaded not guilty to the charge.
"I claim trial," she said while in the dock.
Clad in green 'baju kurung' and scarf, Rosmah, who arrived at 8.50am, appeared calm when heading to the Sessions Court.
Rosmah was alleged to have received RM5 million from Saidi Abang Samsudin, 59, the managing director of Jepak Holdings Sdn Bhd through Datuk Rizal Mansor, her former aide.
The amount was allegedly solicited by Rosmah as an inducement to help the company secure a tender through direct negotiation from the Education Ministry, worth RM1.25 billion for a solar hybrid project for 369 rural schools in Sarawak.
The offence was allegedly committed at No 11, Jalan Langgak Duta, Taman Duta, her residence, here on Dec 20, 2016.
The charge, under Section 16(A)(a) of the MACC Act 2009, provides for a maximum jail term of 20 years and fine of not less than five times the amount of the gratification of RM10,000, whichever is higher, upon conviction.
Rosmah at present is already facing 17 money laundering charges to an amount in excess of RM7 million, as well as two counts of graft in relation to soliciting RM187.5 million for a RM1.25 billion solar hybrid project for schools in Sarawak.
The MACC had arrested Rosmah at 1:45pm yesterday after she was present at the commission's headquarters to complete the final investigation process on the solar hybrid project case at 1:40pm. — theedgemarkets.com