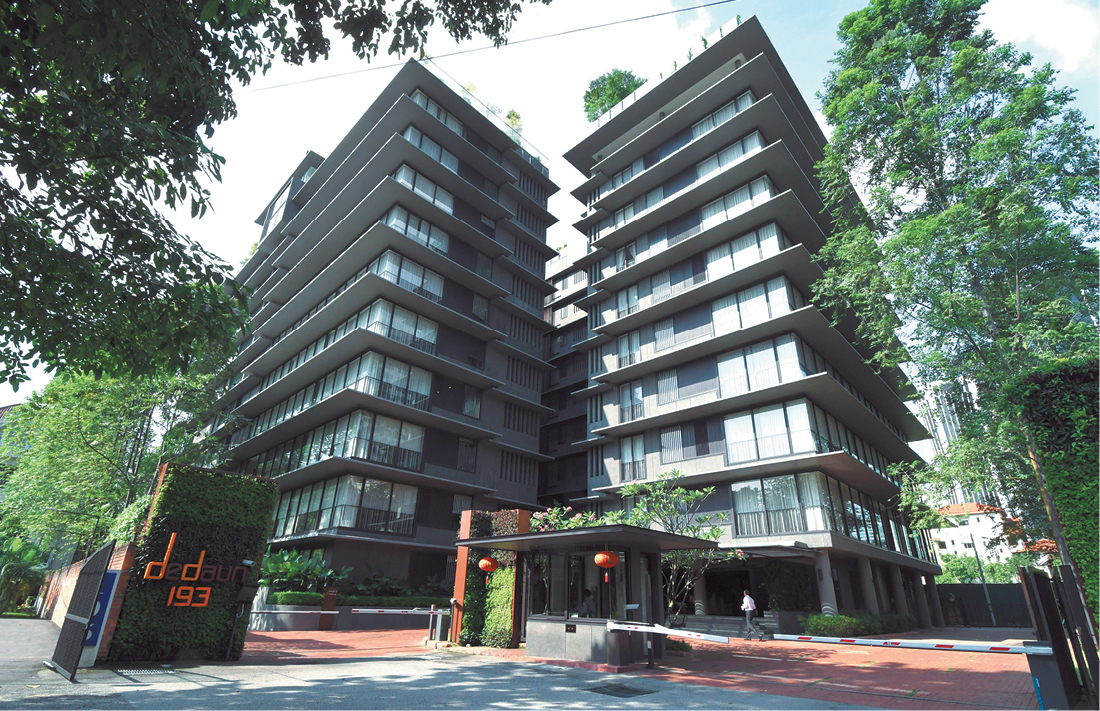 Below 10 Years Multi-Own Strata Residential: Bronze: Dedaun
Turning off from Kuala Lumpur city's busy Jalan Ampang, we reach a shady cul-de-sac with a few bungalow houses on both sides of the small road. Right at the end of the street, standing among the detached houses, is the low-rise luxury condominium Dedaun.
Developed by Selangor Dredging Bhd, it was completed and handed over in early 2014. The 1.02-acre freehold project houses only 38 large-sized units which start from 3,240 sq ft (typical unit) to 7,128 sq ft (penthouse). Dedaun has a retro and rustic charm inspired by the 1970s.
The project, which received a Bronze at EdgeProp Malaysia's Best Managed Property Awards 2019 in the below 10 years multi-own strata residential category, has some rather unique design features including a green wall (vertical garden), a traditional red clay brickwork courtyard that is inlaid with grass and lush trees, a water feature inspired by China's Guilin mountains and Shanghai Plaster exterior wall finishing.
"It is very rare to find Shanghai Plaster finishing in Kuala Lumpur projects because it is expensive, but it is very durable and dirt resistant. All you need to do is touch up the surface when necessary," says SDB Properties Sdn Bhd post development manager Toh Keng Hong. SDB Properties is the property manager of Dedaun and the property management arm of Selangor Dredging.
SDB Properties is also proud of the project's lush environment. "It was not that green a few years ago because the selected plants were not growing very well in the common areas, where there is direct sunlight. We then decided to study how we could make the project's environment live up to its name, Dedaun, which means leaves in Bahasa Malaysia. We changed the plants and fertiliser — even the amount of water and timing of watering the plants. All these healthy plants and trees you see now are the result of all the hard work we put in," says Toh, adding that the current plants and greenery only need minimum maintenance.
Set against its green surroundings are facilities such as a children's playground, treehouse, swimming pool and children's pool, open-air multi-function deck and a multi-functional hall equipped with kitchen facilities.
Caring for its own
SDB Properties head of post development Peter Quah says Selangor Dredging decided to set up a property management team as the developer wanted to ensure that their projects were well taken care of even after they were completed and handed over. The team is currently managing 10 of the developer's completed projects including Dedaun.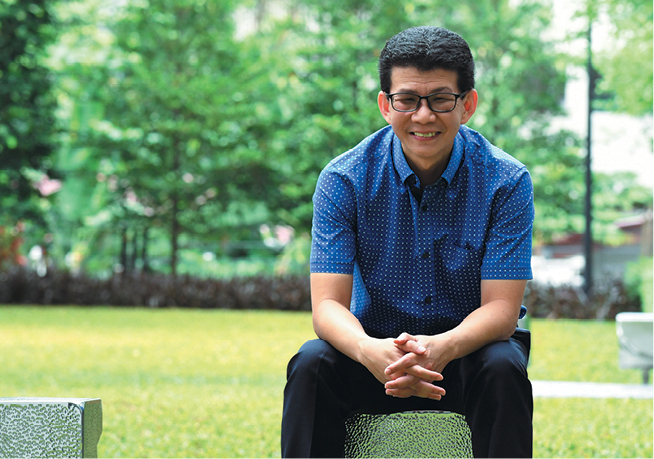 Having a property management team that is related to the developer adds convenience as anything that comes up involving the developer can be taken care of more easily, says Dedaun Management Corporation (MC) chairman James Tan.
"Our main criteria when choosing a property manager are integrity, past experience in the field, trustworthiness and responsibility," he adds.
Dedaun has an occupancy rate of 76%, partly because about half of the owners are investors looking for rental income. Nevertheless, collection rate has been maintained at 96% and above since day one.
"Only about 40% of the current residents are owner-occupiers, the rest are tenants who are mostly British, Australians and Canadians. What we understand is that the tenants are attracted to the low-density and very private living environment," Quah notes.
The MC's healthy balance sheet is also due to smart budgeting. Instead of just setting a yearly budget, the team also prepares three to five year budgets.
"By setting a longer term operational budget, we will have a clearer picture about allocating funds for the things we need for this project," he explains. For instance, the recent external window facade cleaning (twice a year), upgrading of the barrier gate system from access card reader to RFID, as well as refurbishment of the swimming pool timber deck.
To ensure the building and its facilities are well kept, SDB Properties hires the same suppliers who contributed to the construction of the project, for its maintenance.
"They are the ones who understand the building best. They are able to figure out any problem in a snap. Their price is also very competitive as Selangor Dredging works with the same suppliers in its other developments as well," Quah says.
On its win at EdgeProp Malaysia's Best Managed Property Awards 2019, Quah and Toh say the awards can help raise the standard of property management in the country. It is also creating awareness among developers of the importance of after sales service.
"Property development is no longer just about building the house, handing it over and walking away. It is about being responsible and committed to what you have built.
"This is the one and only award that recognises the efforts of property managers in Malaysia, so it is an important award to highlight the importance of property management," Quah concludes.
As for Toh, the award also recognises the good relationship between the MC and the property manager in order to achieve successful maintenance and management of the property.
"The understanding between the property management team to work hand-in-hand with the MC to maintain and upkeep the property is the recipe for success in managing Dedaun."
The highlights of the Awards:
Housing and Local Government Minister Zuraida Kamaruddin on good property management:
For an overview of the winners at the Awards: Tan Sri Jeffrey Cheah named Malaysia's Exemplary Leader of Sustainable Development 2019
For more information about the Awards night and the winners, click here.
This story first appeared in the EdgeProp.my pullout on April 26, 2019. You can access back issues here.