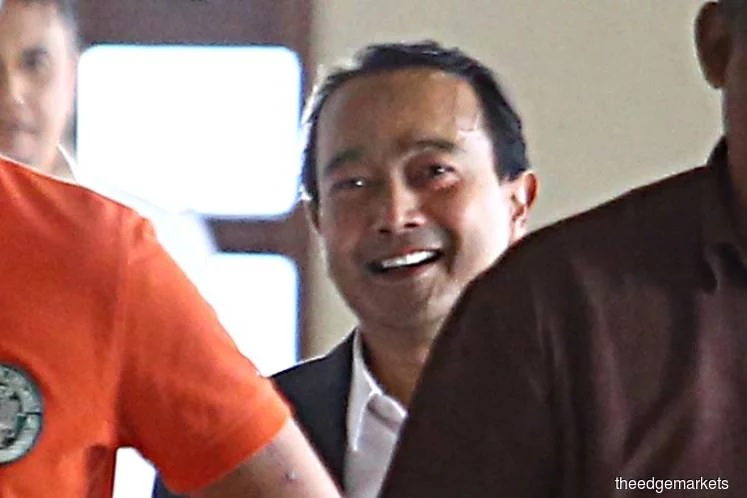 KUALA LUMPUR (May 16): Ihsan Perdana Sdn Bhd managing director Datuk Dr Shamsul Anwar Sulaiman (pictured) told the court that he did not know the RM42 million cash transfers made by the company between Dec 26, 2014 and Feb 10, 2015 went into former premier Datuk Seri Najib Razak's accounts.
Shamsul, 58, who is the prosecution's 37th witness, testified that had he known that the accounts belonged to the former premier, he would not have made the three payments using Ihsan Perdana's accounts.
He repeated this three times during questioning by deputy public prosecutor Muhammad Saifuddin Hashim Musaimi about payments of RM27 million and RM5 million on Dec 26, 2014 and a payment of RM10 million made on Feb 10, 2015.
The witness, who is a qualified medical doctor with his own clinic in Kelana Jaya, also told the High Court here that he is actively involved in politics as he currently holds the Sungai Siput Umno Youth division chief and was formerly the central Umno International Bureau chief.
He was appointed as 1Malaysia Development Bhd's (1MDB) executive director of its corporate social responsibility (CSR) division.
The origins of Ihsan Perdana
Due to fears of conflict of interest, 1MDB's then chief executive officer Datuk Shahrol Azral Ibrahim Halmi suggested that a company be formed to undertake CSR responsibility, which led to the establishment of Ihsan Perdana in 2011.
At that time, Shamsul said 1MDB's board of directors comprised Najib, Tan Sri Lodin Wok Kamaruddin and Shahrol.
The witness became the MD of Ihsan Perdana while one Datuk Abdul Aziz Ismail was appointed as its finance director.
A shell company named Gem Horizon Sdn Bhd was identified and renamed Ihsan Perdana on Oct 24, 2011.
Shamsul said following its establishment, the company received a grant of RM40 million annually — RM20 million each from Yayasan 1MDB and Yayasan Rakyat 1Malaysia (YR1M) — with RM5 million set aside for operational expenses.
The Ihsan Perdana MD said that on Sept 3, 2014, it was appointed by SRC International Sdn Bhd's directors Nik Faisal Ariff Kamil and Datuk Suboh Md Yasin to undertake the company's CSR activities.
Merely followed instructions
The witness said that on Dec 24, 2014 a total of RM40 million was deposited into Ihsan Perdana's Affin Bank accounts and on Feb 5 and 6, 2015, an additional two transfers of RM5 million each were made into the company accounts.
Prior to the RM40 million transaction, Shamsul said YR1M project director Dennis See Thuan Buan met him at his office and informed him that Ihsan Perdana's account would be used to keep the money in transit before it is transferred out.
On the total transfer of RM42 million, Shamsul said Ihsan Perdana was asked to deposit the amount into Najib's AmBank account at the request of YR1M chief executive officer Ung Su Ling.
"I confirmed that RM27 million was transferred to the AmBank (final three digits 880) account on Ung's instructions on Dec 26, 2014," he said, adding that two days earlier (Dec 24, 2014) he also received an email from Ung asking Ihsan Perdana to transfer RM40 million to the 880 account.
After receiving the Dec 24 email, the witness said See came to his office the same day and informed him that RM40 million had been deposited into Ihsan Perdana's account and that he was to follow Ung's directive in the email to transfer the amount to the 880 account.
"This is despite me not knowing the purpose of the payment as I followed the directive given by Ung and See. I thought that the transfer to the 880 account was for CSR purposes as normally Ung and See would give such directions for CSR programs," Shamsul added.
"I also asked senior account executive Aishah Ghazali to inquire who is the owner of the 880 account and was told by her that Affin Bank cannot disclose such information to third parties. I made a similar request to Abdul Aziz but he did not inform [me about] the results of the checks," he said.
"I confirm that had I known that the account was owned by Najib, I would not have made the RM27 million payment. Najib had not contacted me about the payment of RM27 million," the witness said, adding that similar payments of RM5 million were made on Dec 26, 2014 to the 906 account while another RM10 million was transferred to the 880 account on Feb 9, 2015, with the transaction only reflected the day after.
Shamsul said while he again had questions on the two transactions, he allowed Ihsan Perdana's account to be used for the transfer and maintained that had he known that the accounts belong to Najib, he would not have made those payments.
"I merely follow the instructions of Ung and See, who are both directors of YR1M, which contributed to Ihsan Perdana's funds," he said.
"I think that Ung and See transferred the fund on the direction of Datuk Seri Azlin Alias, who was the principle private secretary of the [then] prime minister," the witness said.
Azlin died along with Datuk Seri Jamaluddin Jarjis in a helicopter crash that happened in Semenyih, Selangor in April 2015.
The hearing will continue on May 28 before Justice Mohd Nazlan Mohd Ghazali, but the judge has also fixed this Friday as case management to set further trial dates as replacement for the non-hearings on Friday.