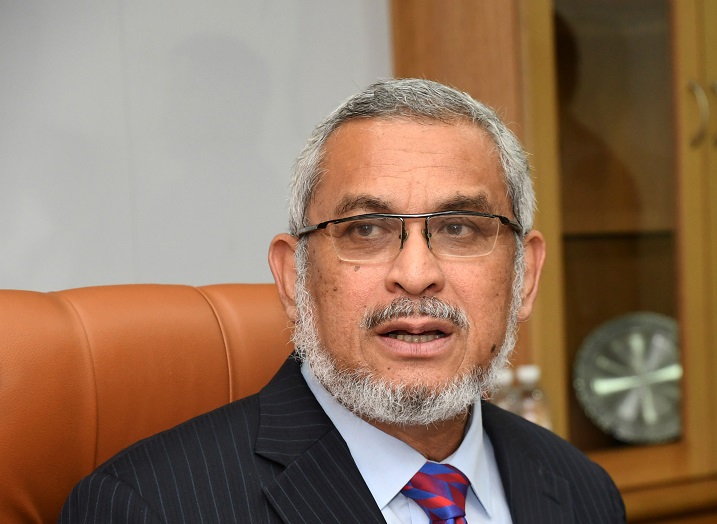 KUALA LUMPUR (June 11): The Federal Territories (FT) ministry cannot do without controversial company Yayasan Wilayah Persekutuan (YWP), said FT minister Khalid Samad today, in the latest instalment of the Rimba Kiara development saga.
Speaking to reporters, Khalid also defended his position as chairman of YWP as a mandatory requirement, as stipulated in YWP's Memorandum and Articles of Association (MAA).
"The abolition of YWP will affect the people as it is the only platform for the ministry to have welfare events in the absence of a state government," Khalid was quoted as saying.
According to the FT minister, RM12 million had been set aside for social welfare programmes this year. So far, RM2 million had been spent out of that budget. YWP's areas of focus include education, economic, social, religion and technology, according to an information sheet handed out to media.
"Future plans include proposals for international seminar on urban poverty, allocation of RM1.5 million for Tahfiz and Chinese independent schools, micro-funding for petty traders and [to] promote urban farming."
Khalid's latest defence of YWP and his role in the company comes amid persistent criticism that his chairman's role at YWP presents a conflict of interest, given he is also the FT minister.
YWP is a company limited by guarantee that was set-up in April 1986 and has no shareholders. According to Article 5 of its MAA, no part of YWP's income or assets should be paid to its board of trustee members.
The issue of conflict arose as YWP came under the spotlight for its role in the controversial Taman Rimba Kiara development, which was proposed and approved by Khalid's predecessor.
The development is a joint venture between YWP and Memang Perkasa Sdn Bhd, a unit of Malton Bhd. According to the joint venture agreement, YWP is entitled to a fixed sum of RM160 million from the project.
Part of the development plan is to provide affordable housing to 100-odd families living in the Taman Tun Dr Ismail (TTDI) longhouses near the Rimba Kiara Park.
The longhouse families were former workers of the Bukit Kiara Estate. They were relocated to the area in the early 1980s on the promise of permanent housing to follow, but efforts have not taken off in the decades since.
Local residents nearby had been protesting against the development, in particular the TTDI residents association (RA). Apart from the drastic increase in density from the scale of the proposed development, major concerns revolve around the land site being developed.
According to the TTDI RA, the 12-acre development site was at one point part of a larger tract encompassing the Rimba Kiara Park. The entire parcel was intended to be gazetted as a public space under the Kuala Lumpur Development Plan 2020.
However, land title searches found that the parcel was subsequently given a plot number and carved into two smaller parcels — one on which the Rimba Kiara Park sits and the other being the 12-acre site being developed.
In May last year, Kepong MP Lim Lip Eng lodged a report with the Malaysian Anti-Corruption Commission (MACC) over 64 parcels of land sold by the Kuala Lumpur City Hall (DBKL) between 2013 and 2018, including 12 parcels that were acquired by YWP without open tender.
The 64 parcels span 424.29 acres overall, with a total transaction value of RM4.28 billion. The 12 parcels acquired by YWP totalled 12.22 ha.
In response to Lim's MACC report, Khalid said there is no need to freeze any land-related transactions by YWP, pending an investigation.
"If the intention was to freeze all transactions made through such deals, then Lim should not concentrate on YWP only. It's not fair as other companies got lands though the same procedure too," Khalid reportedly said in August 2018.
Last April, Khalid said the developers had agreed to scale down the Rimba Kiara project from eight blocks of 1,800 luxury serviced apartments, to four blocks.
Earlier today, Segambut MP Hannah Yeoh called out the conflict of interest again in a Facebook posting, noting there are new videos and public statements "almost every week" to convince the public that the scaled-down proposal is good for the public.
"This is precisely why the conflict of interest issue was raised. Why the need for special officers and special newspaper going the extra mile to defend a venture of Yayasan Wilayah Persekutuan, whose chairman is also the FT Minister?"
"I wonder if other developers in KL receive the same level of effort and resources to justify their developments?" Yeoh wrote on her Facebook page, which has over 300,000 followers.