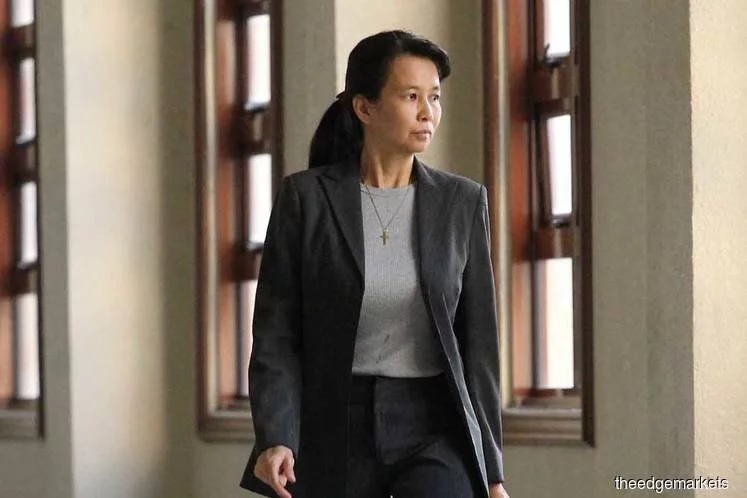 KUALA LUMPUR (July 22): Former AmBank relationship manager Joanna Yu Ging Ping told the High Court here today that former prime minister Datuk Seri Najib Razak's current accounts at the bank were often in overdraft, which led her to contact former SRC International Sdn Bhd managing director Nik Faisal Ariff Kamil — the mandate holder for the accounts — to resolve the issue.
Yu is a witness in Najib's trial on the alleged misappropriation of money from SRC. Najib is facing three charges of criminal breach of trust, one for abuse of power and three more for money laundering of RM42 million SRC funds.
The funds as stipulated in the charge were RM27 million and RM5 million that were transferred into his accounts on Dec 26, 2014 and RM10 million on Feb 10, 2015.
Today, Yu said that in the event Nik Faisal cannot be reached, she would instead contact fugitive businessman Low Taek Jho, or Jho Low, to assist in addressing the overdraft.
Yu said this during examination-in-chief by deputy public prosecutor (DPP) Datuk V Sithambaram.
"Why did you contact Jho Low when he was not the account holder or mandate holder?" asked Sithambaram.
Yu replied: "He wasn't the mandate holder but he facilitated the account opening. At one time he was the contact between the account holder (Najib) and the bank until the mandate to Nik Faisal was given."
The DPP asked: "Is there any other reason for you to deal with Jho Low, who is not an account or mandate holder?"
Yu said: "He seemed to be in touch with both the account and mandate holder. When I couldn't reach Nik Faisal, I would text Jho [Low] and I will get a phone call from Nik Faisal."
Yu said that while Low was not a mandate holder, he would often advise Yu whenever there were insufficient funds.
However, she said the bank never received any written instructions from Low, as only written instructions from the mandate holder can be processed.
Yu said that as a mandate holder, Nik Faisal was authorised to make enquiries on the status and details of Najib's accounts, to confirm all cheques issued for amounts exceeding RM250,000 and to collect all cheque books and bank statements in relation to the accounts.
Sithambaram asked: "Is it possible for Nik Faisal to withdraw or take out money from Najib's current or savings account?"
Yu responded: "Not with the mandate that was given to him. He can't."
Yu said the three AmBank current accounts with numbers ending 880, 906 and 898 were often in overdraft, which required the accounts to be supplemented with money from other accounts.
Yu said she would contact either Nik Faisal or Low whenever the account is in overdraft and the issue would be resolved.
She said that given Najib's status as the prime minister and finance minister of Malaysia at that time, the bank would not automatically dishonour cheques made from his accounts despite the accounts being overdrawn.
The DPP asked the witness why she did not contact Najib personally when Nik Faisal was not available. Yu said the bank was following the mandate letter which was issued and that she did not have direct access to the former premier.
"Sometimes the branch will bring our attention to Datuk Seri Najib's accounts when there is an overdraft, and sometimes we see cheques presented from an account that does not have enough money.
"If we don't do this, the PM' cheques would have to be returned. We don't think returning the prime minister's cheques to be good, because when you issue cheques, you must have funds. We wouldn't want it to seem like the prime minister of Malaysia did not have sufficient funds," she said.