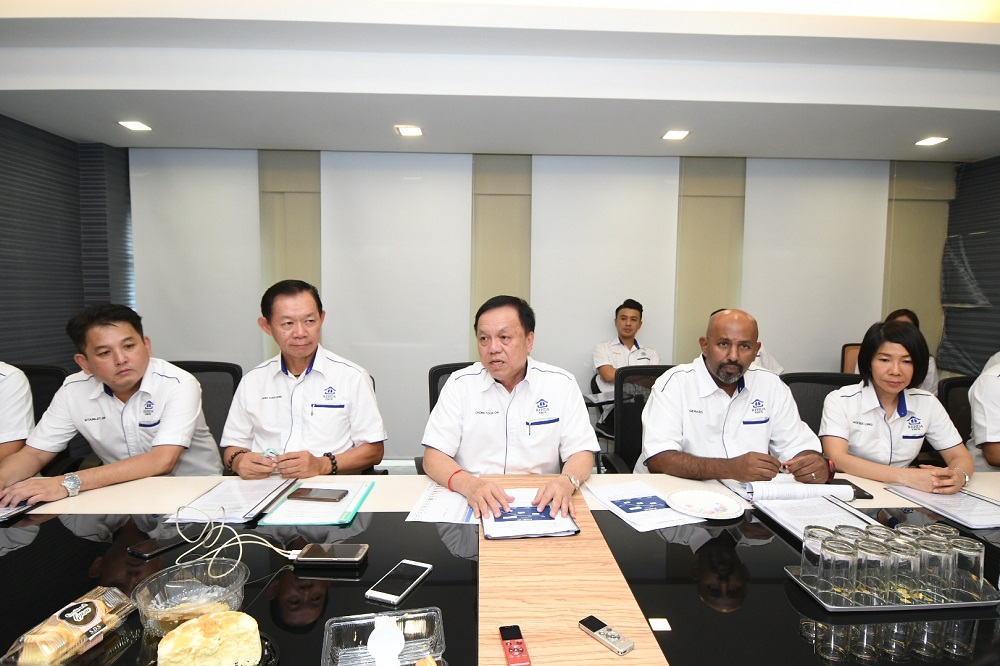 JOHOR BAHRU (Aug 6): Putrajaya has to review the current housing policies and take a holistic approach in handling housing issues in the state, the Real Estate and Housing Developers Association Malaysia Johor Branch (REHDA Johor) said today.
REHDA Johor chairman Datuk Steve Chong Yoon On said in order to find a solution to problems confronting developers and to regain investors' confidence, all stakeholders "need to work together to create vibrancy to the long quiet Johor housing market".
Committee members of REHDA Johor highlighted key problems faced by industry players in the state during media briefing today – they are the lack of a transparent Bumiputera units release mechanism, rising compliant cost of construction, inflexible price threshold for foreign purchasers and the difficulty for local buyers to secure mortgage loans.
Chong explained that these issues have been plaguing the Johor property market for years and the committee members felt that state's property market will not improve if both the public and private sectors do not take measures to fix the problems.
"We are not pointing fingers at any party, but current market conditions have changed and we need more flexible housing policies and all stakeholders, including banks and property valuers, need to have an open mindset to solve the problems," stressed Chong.
For instance, the house prices could be more affordable if government agencies could help reduce the compliance cost, he said.
As for the Bumiputera quota issue, Rehda Johor branch deputy chairman Wong Kuen Kong noted that as the times have changed, the industry now needs a more transparent, flexible and time efficient release mechanism for the developers to clear their inventories.
The Bumiputera units allocation in Johor could be as high as 50% but it is estimated that only 20% of the Bumiputera buyers are eligible to purchase these units, so, a developers' revenue could be impacted owing to an unclear timeline for the release of the remaining units, he added, using data from a study by Universiti Teknologi Malaysia (UTM) this year.
Currently, there are no clear guidelines on the release of Bumiputera units in Johor, with developers having to apply to the state government for such a release.
Chong noted that as at 1Q2019, Johor has accumulated 51,000 unsold properties worth around RM36 billion, with an estimated 16,000 being Bumiputera units.
Rehda Johor immediate past branch chairman Datuk Hoe Mee Ling pointed out that another issue affecting investors' interest in Johor Bahru properties is the price threshold for foreign purchasers. This has been set by the authorities at above RM1 million.
Singaporean and other foreign buyers are interested in investing in new properties in Johor Bahru but the price threshold as well as current slow demand condition have prompted them to take a wait-and-see approach.
She added that the weakening ringgit against the Singapore dollar, which is now at around RM3 (compared with RM2.53 at August 2014) has resulted in many Singaporean property investors making less profits, with some even suffering losses after converting their profits to the republic's currency.
Nevertheless, Rehda Johor is still seeing demand growth supported by local genuine homebuyers but the majority of them are eyeing properties priced between RM500,000 and RM750,000, and located close to major business hubs.
This means the properties held by foreign purchasers, with prices above RM1 million, will be difficult to sell as the asking price is above the majority of buyers' budgets.
Chong noted that if the threshold for foreign buyers can be reduced, it could spur investors' interest, hence attracting another segment of buyers to the Johor region.