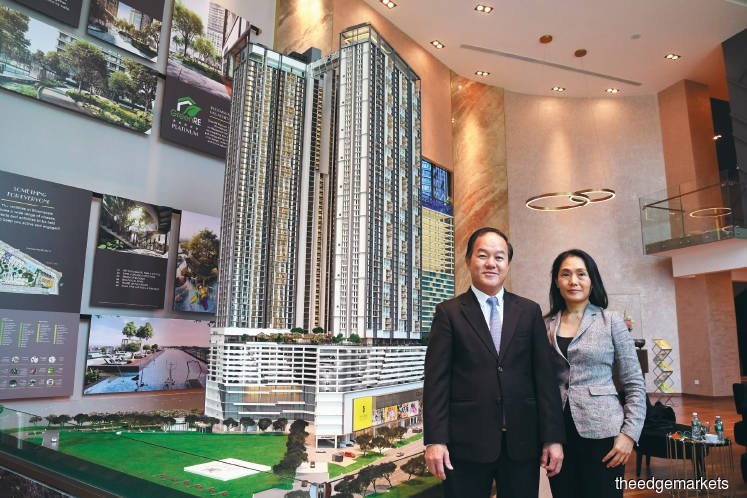 KUALA LUMPUR (Aug 26): Having already met its order book replenishment target of RM1.2 billion for 2019, construction firm Kerjaya Prospek Group Bhd is expected to see a significant rise in job wins this year compared with 2018, boosting its earnings visibility for the coming years.
Last year, the group targeted new job wins of RM1 billion and achieved RM989.8 million.
In an interview with The Edge Financial Daily, Kerjaya Prospek executive chairman Datuk Tee Eng Ho declined to disclose any revised order book target for 2019, but said the group's growth prospects are positive for the rest of this year.
"We have already secured RM1.2 billion order book, so the prospects for this year should be all right. We are quite positive that we will see more growth [going forward]," he said, adding that the group's outstanding construction order book stands at RM3.5 billion.
Tee said Kerjaya Prospek is currently bidding for RM1.5 billion worth of construction jobs, which include infrastructure work and high-rise residential building jobs in the Klang Valley and Penang.
He said historically, the success rate of clinching a new job is 20%. Thus, the group could potentially win an additional RM300 million worth of jobs.
Tee also shared that Kerjaya Prospek is hoping to get a slice of the East Coast Rail Link (ECRL) project as the group had registered its interest, following the revival of the project along with an increase in civil works participation for local contractors from 30% to 40%.
In June, the government said that more than 1,000 construction companies nationwide are eyeing the 40% civil work portion of the RM44 billion project following a prequalification exercise to identify potential subcontractors.
For the financial year ended Dec 31 2018 (FY18), Kerjaya Prospek reported a 11% rise in net profit to RM138.42 million, from RM124.74 million in FY17. Revenue rose 11.8% to RM1.07 billion from RM955.67 million.
For FY19, the group saw its net profit for the first quarter ended March 31 increase 8.6% to RM35.12 million, from RM32.35 million a year earlier, as revenue rose 3.5% to RM264.18 million from RM255.14 million.
Turning to Kerjaya Prospek's property development business, Tee said the group will launch two projects in the second half of next year in Shah Alam and Dutamas, Kuala Lumpur with an estimated gross development value of RM250 million and RM400 million respectively.
The group is currently waiting for the approval from the government, which he expects to come in sometime this year.
On the group's maiden property project in Genting Permai, near Genting Highlands, Tee said there will be a change in the development plan as the group is planning to convert two-thirds of its commercial units into a hotel.
"We have just submitted the application. We have changed two [out of the three] floors into a hotel to get some recurring income in the future, due to the fact that the area is good for tourists, as 21st Century Fox is coming [to Genting Highlands]," he said.
"This is our first venture into hotels…The hotel will have 90 rooms, subject to approval. We expect to get approval by next month," said Tee.
Despite the amendment, he said the gross development value of the project remained unchanged at RM300 million, with the commercial units worth RM30 million and residential units worth RM270 million.
Tee stressed, however, construction will remain as Kerjaya Prospek's main focus, while property development activities will be pursued by GSB Group Bhd, in which Tee, his wife Datin Toh Siew Chuon and his brother Tee Eng Seng are the substantial shareholders with a 40.82% indirect stake held via Javawana Sdn Bhd.
He said he will continue to lead Kerjaya Prospek, while GSB will be run by Toh.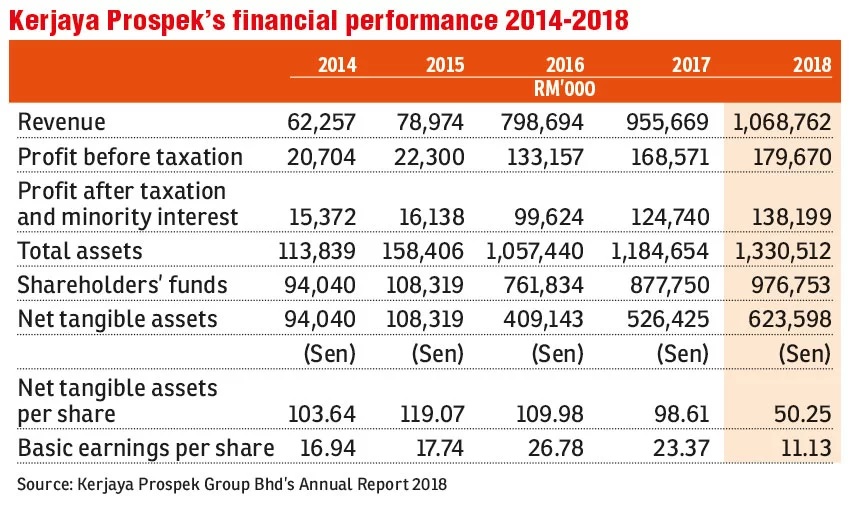 This article first appeared in The Edge Financial Daily, on Aug 26, 2019.