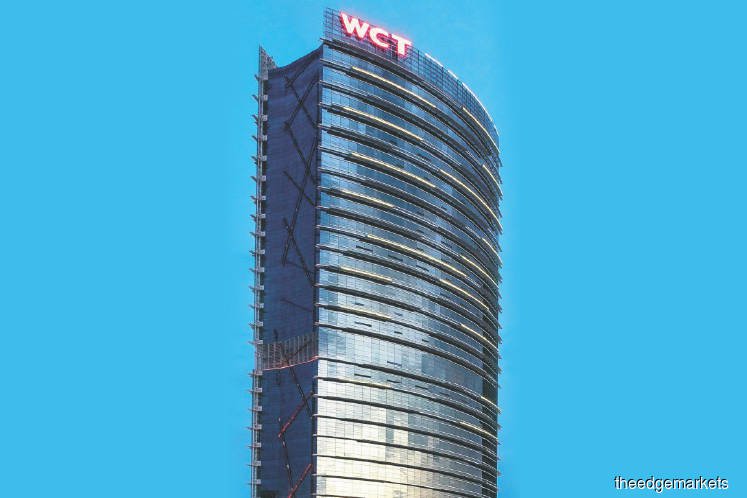 KUALA LUMPUR (Aug 27): WCT Holdings Bhd's net profit dropped 47% to RM22.7 million for the second quarter ended June 30, 2019, from RM42.45 million a year earlier amid lower contribution from its engineering and construction division.
The construction group's revenue for the quarter declined 33% to RM450.11 million from RM669.9 million in the previous year.
For the first half of the financial year, net profit fell 21% to RM63.02 million from RM79.52 million in the preceding year, while revenue was down 20% at RM964.76 million from RM1.21 billion.
The engineering and construction division reported lower operating profit of RM71 million for the period, compared with the RM98 million reported in the previous year.
"The lower revenue and operating profit recognition are mainly due to some of the existing projects which are nearing completion and the newly secured jobs which are still in early stages of construction," said the group.
Meanwhile, the property development segment saw lower operating profit of RM45 million versus RM47 million in the preceding year, which was attributed to the sale of undeveloped lands in 2018.
On the other hand, the property investment and management segment saw improvement in performance, reporting operating profit of RM50 million against RM36 million in the previous year, mainly due to improved occupancy level of Paradigm Mall in Johor Bahru and higher rental income from Bukit Tinggi Shopping Mall in Klang.
On its prospects, the group said the engineering and construction segment will be supported by its strong order book, with the group to focus on project execution as well as new construction jobs.
The property development segment plans to launch new projects, subject to market conditions, catering to the demand for more affordable residential units.
In the meantime, the group will continue in its efforts to reduce its unsold properties as well as divesting some of its idle land banks to improve its operating cash flows.
WCT said the property investment and management segment will continue to improve occupancy levels and tenancy mix, while also enhancing its investment properties.
"The group will continue to embark on its de-gearing initiatives to strengthen its financial position and improve its gearing level. Barring any unforeseen circumstances, the board is of the view that the group will be able to deliver satisfactory financial results in the current financial year," said the group.
WCT's share price fell 2 sen or 1.98% to 99 sen, giving it a market capitalisation of RM1.4 billion.