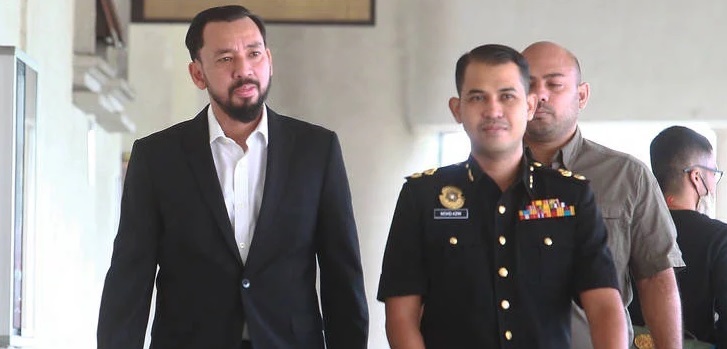 KUALA LUMPUR (Sept 4): Prosecution witness Datuk Amhari Effendi Nazaruddin (pictured, left) told the High Court here today that Datuk Seri Najib Razak had in 2016 assigned him to meet Mubadala Investment Co group CEO Khaldoon Khalifa Al Mubarak to settle the 1Malaysia Development Bhd (1MDB)-International Petroleum Investment Co (IPIC) dispute outside the International Court of Arbitration.
Abu Dhabi investment arm Mubadala Investment is seeking payment from 1MDB for bonds, which was guaranteed by IPIC under a binding term sheet. Reuters reported on Jan 22, 2017 that Mubadala Investment was formed by merging Mubadala Development Co and IPIC to strengthen their financial clout in an era of low oil prices then.
It was reported then that Khaldoon, a prominent executive who sits on several companies' boards, was chief executive of Mubadala Development prior to the merger.
Today, Amhari, who is former special officer to the ex-prime minister, said Najib wanted him to settle the IPIC dispute before it became an issue ahead of Malaysia's 14th General Election (GE14), which was held on May 9, 2018.
Amhari said today: "This issue may hamper the two-way ties between the two countries (Malaysia and Abu Dhabi) and brings with it a political risk to the coming GE14, as the issue regarding 1MDB had not disappeared and is widely discussed worldwide."
"Najib wants me to go to Abu Dhabi to verify with the people there to resolve the issue without going to the international court. This is one of the covert work that Najib has entrusted me to do, as the issue of the 1MDB debt to IPIC is widely discussed," the witness said.
According to Amhari, following Malaysia's failure to comply with the binding term sheet, IPIC wanted to bring the issue to the International Court of Arbitration in Paris, France.
Amhari said that for this reason, fugitive businessman Low Taek Jho planned for another settlement agreement to prevent the Malaysian Government from being dragged to the International Court of Arbitration. Low is also known as Jho Low.
"Following my meeting with Najib, and upon reaching home, I received a BlackBerry message from Jho Low telling me to meet Khaldoon in Abu Dhabi. Khaldoon had expected a Malaysian to see him.
"Jho Low gave me Khaldoon's email to inform him (Khaldoon) of Malaysia's intention to discuss the hearing at the international court. Najib knew the problem over the IPIC debt as well as Jho Low.
"They are both involved directly to ensure that I would discuss with Khaldoon. Now I know that this action was for damage control," Amhari said.
Meeting Khaldoon in Abu Dhabi
Amhari said that within two weeks he met Khaldoon in Abu Dhabi. Khaldoon complained that Malaysia had promised a lot of things but did not fulfil it, the witness said.
Amhari said: "From there, I knew that he was referring to the binding term sheet agreement which had been signed earlier which we did not comply fully. We discussed this issue at Khaldoon's office based on the talking points given by Jho Low.
"The result of the meeting is that we agree that Khaldoon and I become the facilitators for both countries as the back channel for the dispute so that it would not to be brought to the International Court of Arbitration. This is if there is an agreement and Malaysia agrees to the next payment. This was the secret mission which I did on Najib and Jho Low's instructions."
The witness said the discussion for an agreement to not go through the International Court of Arbitration was managed by 1MDB and IPIC through their respective lawyers.
Amhari said that from time to time, he would receive updates on the status of 1MDB-IPIC dispute from lawyers representing both companies.
"Khaldoon and IPIC's lawyer Martin Edelman contacted me to explain the situation. The agreement, which was supposed to be signed before the end of 2016, failed as both countries could not agree to some of the clauses. I was informed officially that negotiations were halted when I was overseas after being informed by Khaldoon by phone," Amhari said.
Amhari said that on April 2017, he received an email and a phone call from Edelman, who informed that negotiations were resuming.
"This shocked me as I thought the negotiation would not resume as informed by Khaldoon. I think it is certain that there were other individuals or new channels that resulted in new negotiations be held and this included Jho Low. I met Arul Kanda Kandasamy (1MDB former president and chief executive officer) and was informed of the current status of the negotiations.
"Finally, IPIC and 1MDB signed the settlement agreement in the middle of 2017," he said.