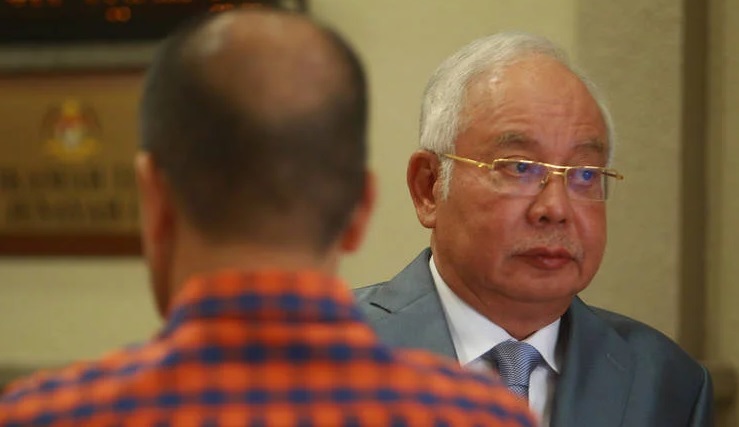 KUALA LUMPUR (Sept 4): Former prime minister Datuk Seri Najib Razak (pictured) had told his special officer and fugitive financier Low Taek Jho, aka Jho Low, to cut infrastructure deals involving rail and gas pipelines with China's state-owned enterprises to bail 1Malaysia Development Bhd (1MDB) out of its mounting debts, said a key witness in the 1MDB-Tanore trial today.
The projects included a proposed Bangkok-Kuala Lumpur high-speed rail, a petroleum pipeline from Port Klang to Kuala Kedah, the East Coast Rail Link (ECRL), the Trans-Sabah Gas Pipeline, the Multi-Product Pipeline (MPP) and the development of federal territory Labuan into an offshore banking and tourism hub, Datuk Amhari Effendi Nazaruddin told the High Court.
The witness, who once worked as a special officer for Najib, said he was sent to China on a 'secret mission' by his then-boss to influence the country to help pay 1MDB's debts.
In return, China's state-owned enterprise would be given a hand or work on several infrastructure projects in Malaysia.
Amhari described his appointment as a diplomatic representative of Najib in his capacity as Malaysia's Prime Minister, to verify investments to be made between Malaysian and China companies.
He described his mixed feelings about going on this "mission".
"Although I respected Najib's directive, this is the most difficult moment in my job. I was worried over being involved directly in Najib and Low Taek Jho's plan to cover up on the loss of 1MDB funds and the repayment of the International Petroleum Investment Co (IPIC) debts or the preparation of political funds.
"As the directive came directly from Najib, I did not dare to disagree with the directive," the eighth witness told the court.
Amhari said he travelled to China and paid for the fare using his own credit card and did not claim from the government.
However, Najib later reimbursed him for the fare.
"Once I was there, [only then] did I know that Jho Low would be present in this discussion. Also, the talking points that were to be discussed were given to me by Jho Low, and it seems these terms had already been discussed beforehand.
"The confidential instructions from Najib were made after the 1MDB fundraising issue was widely circulated. Najib directed me to China to represent him to confirm the economic relations of both countries including China-Malaysia investments.
"However, based on what Jho showed me through talking points and action plans, this deal and joint venture is an investment that will help repay 1MDB's bailout like 1MDB's debt repayment to IPIC," Amhari said.