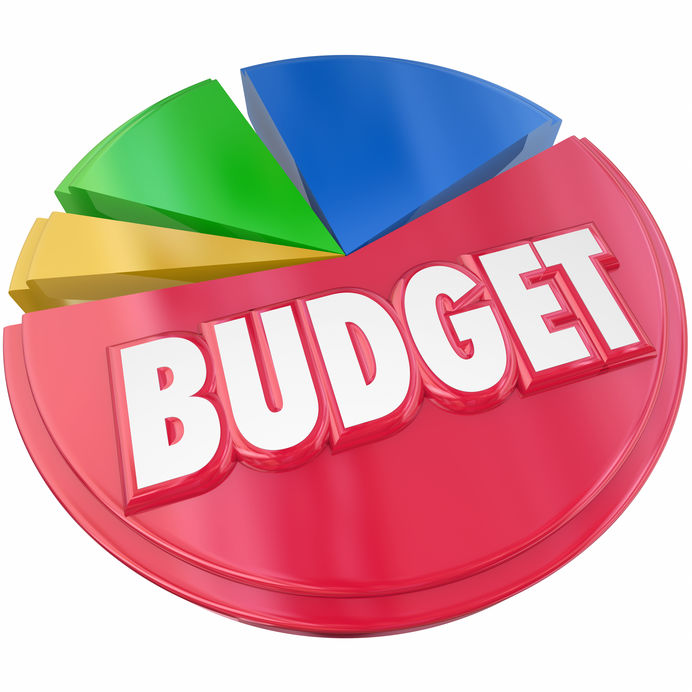 It seems a large number of property owners have been disturbed by the current Real Property Gains Tax (RPGT) and they are hoping to see it reduced or removed, according to a poll conducted by EdgeProp.my.
The RPGT which had seen a new schedule of rates take effect at the beginning of this year is hurting property owners by trimming their profit margin.
Therefore it is no surprise that a majority of property owners who responded to the poll conducted from Sept 12 to 25, 2019 are hoping to see an adjustment to the existing RPGT regime.
Read also
Budget 2020 survey: Connectivity, the main priority of homebuyers
Budget 2020 survey: More than six months' wait for a buyer
Budget 2020 survey: More innovative home ownership schemes tops Budget 2020 wish list
Budget 2020 survey: Extend incentives to secondary market
A total of 900 respondents took part in the poll in a run-up to Budget 2020 which will be tabled in Parliament on Oct 11.
Property owners formed the majority of the respondents at 713 or 79.2% while the remaining 20.8% or 187 respondents were not. Among the 713 property owners, 74% or 526 of them did not agree with the current RPGT which was announced in Budget 2019 whereby property transactions from the sixth year are imposed RPGT of 5% for individuals and 10% for companies, effective since Jan 1, 2019.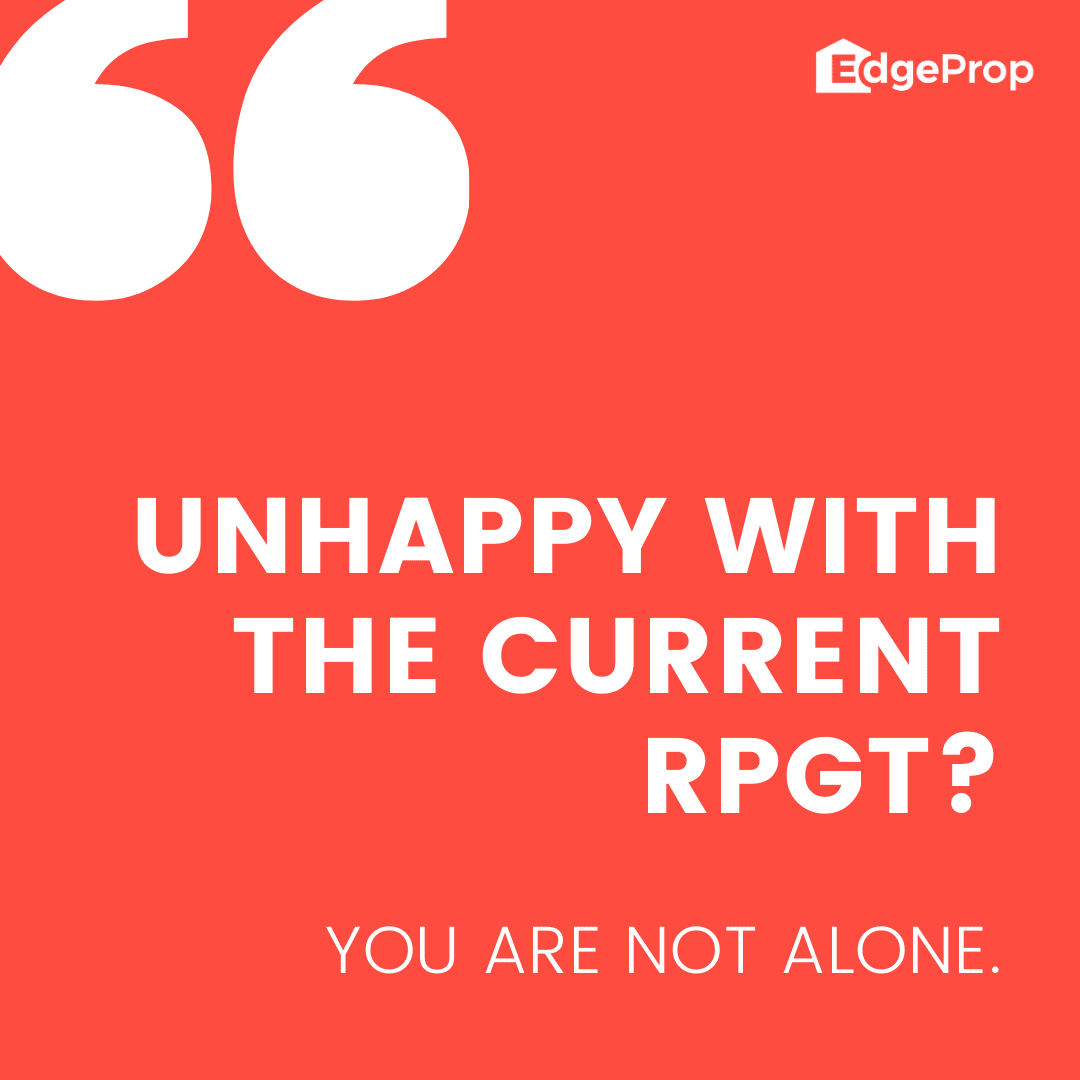 In the previous RPGT regimes from 2014 to 2018, no RPGT was imposed on transactions done from the fifth year onwards.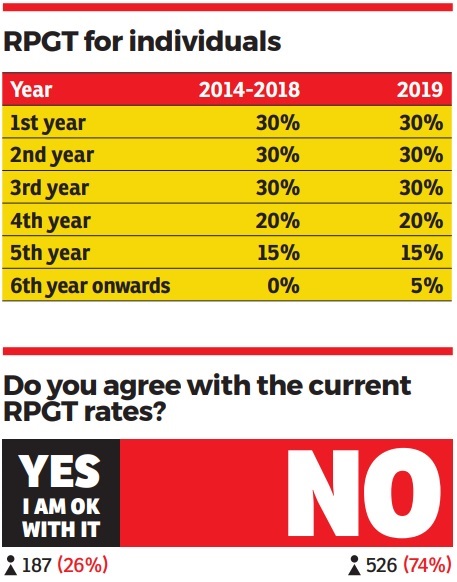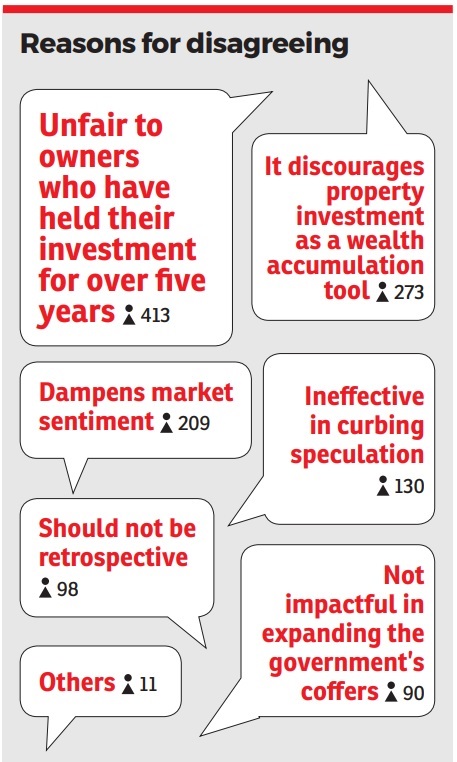 As many as 413 respondents said the current RPGT is unfair to owners who have held on to their investments for over five years as it did not take into consideration that they were genuine buyers and not speculators.
Another 273 respondents said the current RPGT discourages property investment as a wealth accumulation tool while 130 respondents believed the perpetual tax is not an effective way to curb speculation. As many as 98 respondents also questioned the government's move to make the tax retrospective.
One homeowner said he felt property owners are being "punished" for selling their homes to upgrade to those that better suit their needs.
"It's our investment, why tax us for upgrading? We are selling the current house to get a bigger house as the size of the family grows, selling of current property doesn't mean we are getting profit. This is an initial investment we put in to get the funds for upgrading to a better house in the future," said one of the respondents.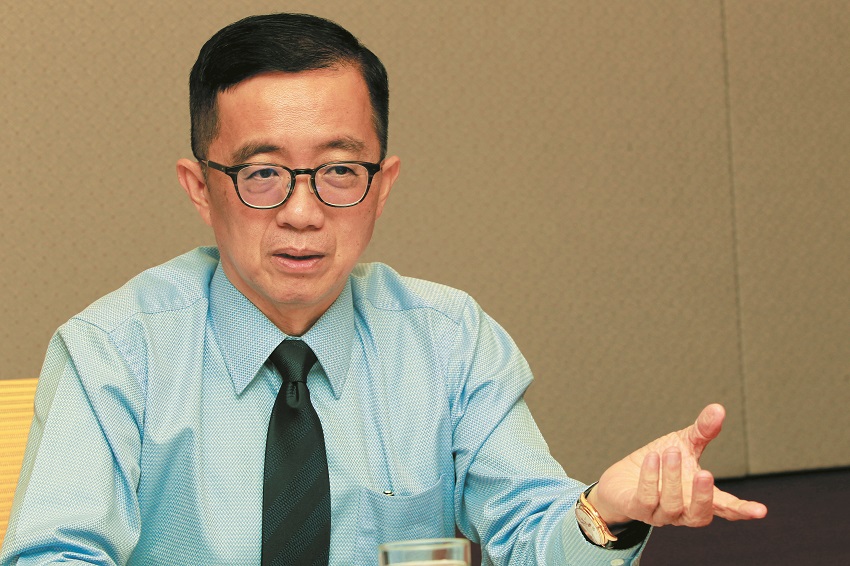 Another owner opined that the Malaysia property market is not as vibrant as some advanced countries, hence the 5% perpetual RPGT will make property investment less attractive especially for those who plan to buy properties as a means to raise funds for their retirement.
One respondent noted that the RPGT puts a dampener on sub-sales when the "government should instead encourage secondary market transactions instead of focusing on primary market sales".
Indeed, as many as 209 respondents found the RPGT has dampened market sentiments whereas the government should have introduced measures to stimulate the market which has been experiencing a slowdown since 2015.
Although RPGT contributes to government revenue, 90 respondents felt that the current RPGT has little impact in expanding the government coffers.
It was reported in July that the government has collected some RM91.86 million in RPGT for the disposal of properties of more than five years.
Meanwhile, 26% or 187 respondents said they had no issue with the current RPGT, with one of them saying the current rate is "not high enough".
More catalysts needed
Among the respondents who disagreed with the current RPGT, 148 or 28% suggested that the government revert to the previous RPGT which worked effectively in encouraging long-term investments. Meanwhile, 142 or 27% of these respondents called on the government to impose RPGT only on property owners who sell their properties within three years of ownership. About 18% or 96 respondents believed the RPGT should only be imposed on foreign buyers while 14% or 75 respondents wanted it to be abolished in order to stimulate the prolonged market downturn. Only 57 of them or 11% said the current RPGT rate for property disposal in the sixth year onwards should be reduced.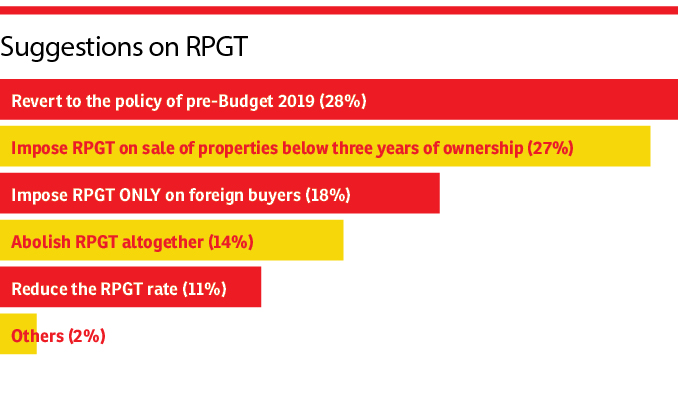 Interestingly, there were also respondents who saw a need for the government to consider a value tax or vacancy property tax instead of curbing speculation through RPGT.
"My personal view is to go back to the previous tax regime, which is more effective in curbing speculation while encouraging people to invest in properties. I don't think there's a need to reduce the number of holding years," Real Estate and Housing Developers' Association Malaysia (Rehda) vice-president Datuk N K Tong tells EdgeProp.my.
Furthermore, he says making RPGT an "evergreen tax" may affect Malaysia's attractiveness to investors who are looking for long term investments.
Instead of focusing on one single policy, Rehda president Datuk Soam Heng Choon sees an urgent need to have more stimulus measures that could spur market demand.
"The market looks forward to an expansionary Budget 2020 that could encourage more spending, especially on big ticket items," he said during a media briefing recently.
Respondents' profile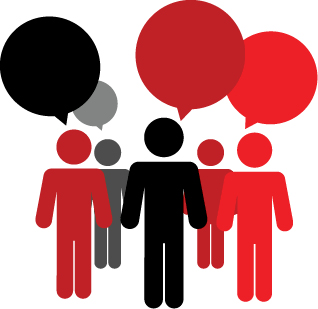 The EdgeProp.my Budget 2020 survey ran online from Sept 12 to 25, 2019. As many as 900 respondents participated in the five-minute poll which was conducted to find out what the market hopes to see in the upcoming Budget 2020 which will be tabled on Oct 11, 2019.
It is also to seek their views on the current property market, their main concerns and suggestions on how the current slow market could be given a boost.
Among these 900 respondents, close to 35% of them are aged between 35 and 44 years old while close to 30% are aged between 25 and 34 years old.
About 17.8% of the respondents are from the 45 to 54 years age group while 3.2% were senior citizens above 65 years old. There were only 2.3% who were aged between 18 to 24 years old.
Looking at income levels, close to 40% of the respondents earned above RM5,000 to RM10,000 a month while about 32% earned less than RM5,000 a month. Another 18.8% of them had a monthly income of between RM10,000 and RM20,000, while 9.5% of them drew an income of above RM20,000 a month.

This story first appeared in the EdgeProp.my pullout on Oct 4, 2019. You can access back issues here.