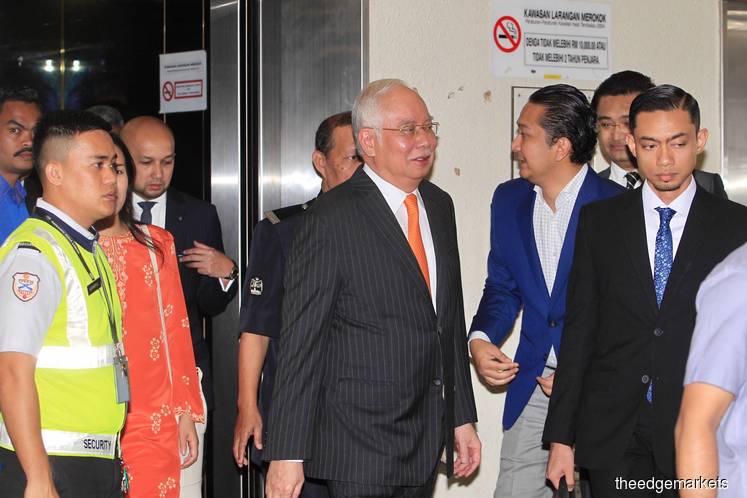 KUALA LUMPUR (Nov 11): Justice Mohd Nazlan Ghazali said Retirement Fund Incorporated's (KWAP) RM2 billion loan to SRC International Sdn Bhd would not have been approved without the government guarantees and early disbursement of the loan would not have been done if the accused was not PM or Finance Minister at the time.
Justice Nazlan is relating the events leading to the approval of the loan, the additional loan and the government guarantees.
The High Court judge said the accused, Datuk Seri Najib Razak, wielded considerable power, and the insertion of Article 117 gave him control of SRC.
He pointed out that former second finance minister Ahmad Husni Hanadzlah tried to intervene in SRC but was prevented by Najib from doing so.
Najib had expedited the disbursement of funds to SRC and since then the company has defaulted on its loan payments to KWAP.
The court also found Najib prevented SRC from checking on its investments in the Swiss Bank.
"In view of the totality, such involvement is beyond the ordinary. It demonstrates a private and personal interest in SRC.
"This proves interest as stipulated under Section 23 of the MACC Act 2009," Justice Nazlan said.
The judge further said Najib also approved a short-term loan when SRC cannot pay the KWAP loan.
This shows Najib had abused his office for gratification.
"The accused's interest in SRC can be seen in its formation in January 2011 and until the money was disbursed to his account in December 2014 and February 2015. The accused had interest in SRC where he had total control, resulting in RM42 million deposited into his accounts, which is a result of gratification," said Justice Nazlan.
"It is for the accused to rebut the evidence and I find the element of abusing his position has been proven and as such a prima facie case should be called," he said.
The Edge is reporting the proceedings of the 1MDB-Tanore trial live.