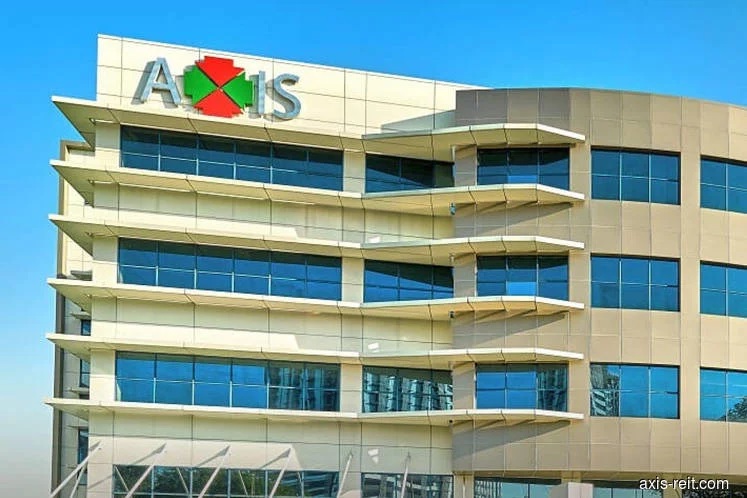 KUALA LUMPUR (Dec 9): Axis Real Estate Investment Trust (REIT) is in talks with several parties on buying more assets, a clear indication that it does not intend to slow down in its acquisition spree.
This is despite the trust having completed developments and acquisitions worth over RM600 million over the past two years, bringing its total assets managed to more than RM3 billion.
"We are looking at other acquisitions," Axis REIT Managers Bhd chief executive officer-cum-executive director Leong Kit May told The Edge Financial Daily.
"We are always combing through the market for potential acquisitions, particularly warehouses and manufacturing facilities in our core areas ... We will share more details once we sign the letter of offer," she said.
Leong stressed that there is still very strong demand for industrial properties in Malaysia, especially warehouses and manufacturing facilities.
"Looking at these two types of industrial properties, I think current demand is very strong. For warehousing, it is because of the growth in the e-commerce space, while manufacturing itself is a very resilient sector," she said.
Axis REIT had announced seven acquisitions this year – all of them industrial properties – valued at a total of RM288.3 million. They are located in Shah Alam and Klang in Selangor, Nilai in Negeri Sembilan, Kota Kinabalu in Sabah, Bayan Lepas in Penang, and Nusajaya in Johor.
"The seven acquisitions that we lined up are still very much for warehousing and manufacturing. With that, the percentage of those [facilities] should also further strengthen [when completed]," Leong said.
Axis REIT is also currently undertaking a RM15.8 million built-to-suit development of a single-storey warehouse facility with office space for Federal Express Services (M) Sdn Bhd in Batu Kawan, Penang.
This will help boost the trust's portfolio, which as at end-September consisted of 47 properties measuring 9.5 million sq ft in net lettable area (NLA) with an average occupancy rate of 92%. Net yield stood at 7.9%.
According to Leong, 1.64 million or 17.28% of the 9.5 million sq ft in NLA are due for lease renewal next year. Despite the deadline, nearly one-third of the 1.64 million sq ft space has been renewed so far this year.
"As for the space that is coming up [for renewals] this year, it is almost close to 90% renewed … We have registered a quite high space renewal rate by existing and new tenants," she said, adding that the trust has a stable weighted average lease expiry of six years.
Asked if Axis REIT is looking to expand overseas soon, Leong said there is enough in the logistics space in Malaysia to keep the trust occupied locally for the time being.
"I think our core focus will still be very much Malaysia. For overseas, we have to consider many other factors including its operating environment, political stability and exchange rates being the key factor," she explained.
Leong said Axis REIT expects its seven acquisitions to be completed by the first half of 2020 and help contribute to its earnings thereafter.
"We don't give earnings guidance but overall, if you track our performance, you will see that our earnings will continue to be very stable in growing.
"This is because of the combination of completed acquisitions and the ones that are coming on stream. At the same time, in terms of our organic growth on the existing portfolio of 47 properties, we have registered positive rental reversions of close to 3% in the first nine months of this year," said the 43-year old certified accountant.
On the private placement undertaken by Axis REIT, involving up to 37.12 million new units or a 3% stake in the Employees Provident Fund or Retirement Fund Inc, Leong said it would raise RM63.84 million, of which RM63.14 million will be used to repay borrowings to make way for future acquisitions.
This follows its first tranche of general mandate placement of 13% of its total issued units completed in October 2019 that helped raise RM273.63 million for the same purpose. Axis REIT's total bank financing as at end-September stood at RM1.19 billion.
"The placement was to de-gear. What it provides is a war chest. We needed to reduce our gearing from this point onwards to have headroom for future acquisitions," Leong said.
Post-completion, the trust's gearing will be reduced to 29% from 40% previously, before rising again to 35.8% with the completion of its seven acquisitions lined up, still well below the regulatory limit of 50% for Malaysian REITs.
As at end-September, Axis REIT's trust's portfolio consisted mainly of warehouse logistics (44% of NLA) and manufacturing facilities (31%), with the rest being offices, hypermarkets, and other industrial types. The trust's footprint can be traced in Selangor (54.7%), Johor (26%), Penang (7.9%), Pahang (5.3%), Negeri Sembilan (4.6%), and Kedah (1.5%).
For the third quarter ended Sept 30, 2019, Axis REIT's net property income (NPI) rose 1.8% on year to RM47.87 million from RM47.03 million, after adding three more properties to its portfolio during the period. Total income increased by 2.9% to RM53.86 million.
For the cumulative nine-month period, the REIT's NPI rose 13.2% to RM144.52 million from RM127.65 million for the year-ago period, as total trust income grew 11.7% to RM161.83 million from RM144.89 million. Property income rose to RM160.95 million versus RM144.34 million previously.
Hong Leong Investment Bank Research analyst Nazira Abdullah expects Axis REIT to report better fourth quarter results with the full quarter contribution from its newly acquired properties in Batu Kawan and Nusajaya, which were completed in the third quarter. The research house has a "buy" call on Axis REIT with a target price of RM2.03. Units in Axis REIT settled unchanged at RM1.76 at last Friday's closing.
"Our valuation is based on FY20F (financial year 2020 forecast) dividend per unit on targeted yield of 4.7%, which is derived from one standard deviation below two-year historical average yield spread between Axis REIT and 10-year Malaysian Government Securities yield.
"We like Axis in view of increased popularity in industrial properties, high occupant tenancy in its diversified portfolio and also one of the few syariah-compliant REITs," the analyst added.