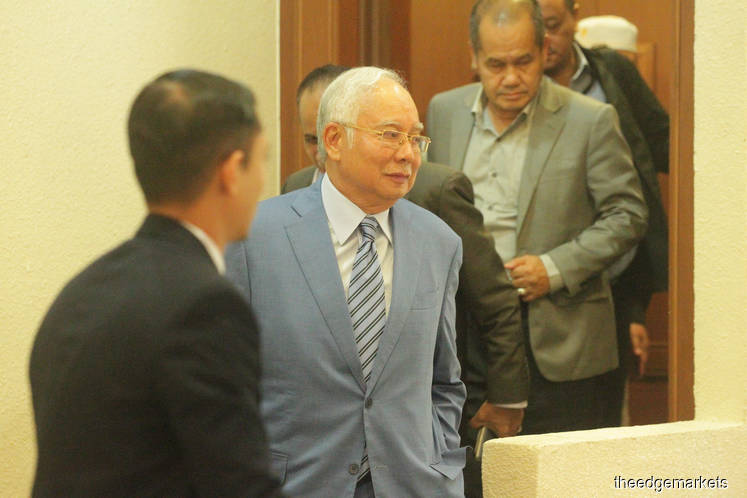 KUALA LUMPUR (Dec 18): Former prime minister Datuk Seri Najib Abdul Razak backtracked on his previous claim that his signatures in several documents related to 1Malaysia Development Bhd's (1MDB) former subsidiary SRC International Sdn Bhd were forged and manipulated, admitting today that he could not confirm whether the signatures on the documents were his or not.
He maintained that there is a need for a writing expert to verify the authenticity of the documents and the signatures.
In the cross-examination this morning, the prosecution tried to portray the former premier's claim of forgery in nine documents that had been tendered as evidence in the trial as an afterthought.
The former premier and Pekan MP was grilled by appointed prosecutor Datuk V Sithambaram over nine documents that contain signatures Najib claimed could have been forged.
Sithambaram started the session by pointing out that seven of the questionable documents were given by the prosecution to the defence on Oct 18, 2018 and the other two on Jan 1, 2019, and hence it was not possible for the former premier to only dispute the documents only after defence was called.
In fact, Sithambaram pointed out that when Najib was shown some of the documents during the investigation by the Malaysian Anti-Corruption Commission (MACC), the former premier did confirm that they were his signatures.
Sithambaram: When you were shown the photocopy of the documents (by MACC), you confirm it was your signature.
Najib: At that time, I confirmed it was my signature because it looked similar (seolah-olah) to my signature.
Sithambaram: At the time when you were shown the documents, you confirm without any reservation at that stage.
Najib: Yes, at that stage.
Sithambaram: So after sitting in court and hearing the cross-examinations, you decided to say your signature was forged.
Najib: I disagree.
Sithambaram: You never said you had doubts [when you confirm with MACC] because the forgery issue only came in the defence stage.
Najib: I disagree. I thought at the time it was my signature.
Sithambaram: So it could be your signature, or it could not be your signature
Najib: Yes.
Sithambaram: You're not sure if it's forgery so you need an expert to confirm.
Najib: Yes.
Sithambaram: I put it to you that the only person that can verify your signature is you.
Najib: I disagree.
Sithambaram: I put it to you that your present doubt cannot be true.
Najib: I disagree.
During his witness statement, Najib claimed that his signatures were forged, saying he did not believe that the documents presented to him during the trial were the same as the ones he saw or signed on behalf of the Minister of Finance Inc.
Najib said matters highlighted in some of those documents were related to SRC's operational matters, which he said were the company's directors' responsibility and discretionary matters.
The disputed documents that contain the signatures the former premier is contesting were his are:
1MDB meeting minutes relating to its subsidiary companies
1MDB meeting minutes by its representatives holding a director's circular's resolution dated Sept 15, 2011
meeting minutes of SRC dated April 23, 2012
meeting minutes of SRC dated Feb 17, 2012
another SRC meeting minutes dated Feb 17, 2012
form of transfer of securities for SRC dated Feb 14, 2012
director circular resolution of SRC and shareholder meeting minutes dated Feb 17, 2012
another batch of SRC meeting minutes dated Feb 17, 2012, and
transfer instruction with AmBank dated Dec 24, 2014.
The former premier wanted an Australian expert be called by his defence, to verify whether the signatures in the documents were indeed his.
He said he cannot verify on his own whether the signatures on those documents were indeed his as they were photocopy documents. Najib, however, admitted that he did not request the original copies of the documents when they were shown to him by MACC.
Najib is facing seven counts of criminal breach of trust, abuse of power and money laundering involving RM42 million from SRC.
He faces a 20-year jail term and a fine of RM5 million or five times the amount of money laundered, whichever is higher, if found guilty.
The Edge is reporting the proceedings of the SRC trial live.
Users of The Edge Markets app may tap here to access the live report.