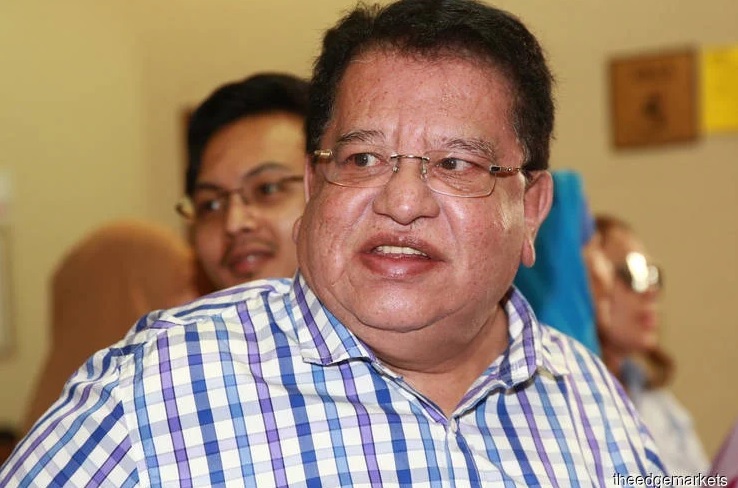 KUALA LUMPUR (Jan 17): Datuk Seri Tengku Adnan Tengku Mansor (pictured) told the court today he was a successful businessman man prior to being a minister and so "did not need" the RM2 million alleged kickback he got from a businessman in 2016, which he said was just a political donation to Umno.
Tengku Adnan, also known as Ku Nan, was reading from his witness statement as he took the stand at the High Court here to defend himself against a bribery charge levelled against him over the money he received from Tan Sri Chai Kin Kong, the managing director of Aset Kayamas Sdn Bhd.
He was told to enter his defence last October, after the court ruled that the prosecution had established a prima facie case against him, with credible evidence to prove the charge.
Today, Tengku Adnan said his company Tadmansori Holdings Sdn Bhd, which started with RM100,000 as paid-up capital, now has a RM100 million paid-up capital.
"With humility, I wish to state that I do not need the RM2 million money for myself. Before I joined the Cabinet in 2001 upon the request of the then prime minister, I was a successful businessman. I was involved in various businesses, namely real estate, logging, manufacturing, trading, agricultural, hotel, livestock and food businesses," he said.
Tengku Adnan also said he had declared his assets to the then prime minister, during his stint as a Cabinet minister, adding he had already amassed substantial assets then.
"The only reason I referred to the above-mentioned Declaration of Assets to the Prime Minister is not to boast but to state that I am very comfortable financially and absolutely had no intention to receive the RM2 million political donation money for my own use," he said.
The money he received from Chai was to cover a RM2 million advance he gave Umno on Chai's behalf to fund the party's expenses in two by-elections, as Chai had pledged to donate the sum to the party.
"Chai informed me that he agreed to donate money amounting to RM2 million to Umno for both by-elections. However, he required a little time to raise funds and would pass the money to me later. I informed Chai that I would advance the RM2 million to Umno first since I trusted Chai to keep his pledge of RM2 million, so I used my money for the advance to pay for Umno's expenses for both by-elections," he said.
The by-elections he was referring to were at Sungai Besar and Kuala Kangsar, which had to be held following the death of its incumbent members of parliament, Datuk Noriah Kasnon and Datuk Wan Mohamad Khairil Anuar Wan Ahmad, respectively, in a helicopter accident in Sarawak earlier that year.
Tengku Adnan also said he had been tasked with raising RM5 million for the by-elections at the time and had asked Chai, his friend for over 30 years, to help out.
"He had been making donations to Umno/Barisan Nasional since I was appointed as the executive secretary of Umno in 1999," he said of Chai.
"I have to use my own money first to pay for Umno's expenses. He (Chai) only managed to hand me a RM2 million cheque a few days before the polling date," he added. On Tengku Adnan's request, the cheque was issued by Chai to Tadmansori Holdings.
Tengku Adnan has been charged on Jan 23 under Section 165 of the Penal Code for accepting the RM2 million from Chai via a Hong Leong Islamic Bank cheque belonging to his company, which was deposited into the CIMB Bank account of Tadmansori Holdings on June 14, 2016, when it was known that Aset Kayamas had links to his official duties as the then Federal Territories Minister.
If found guilty, Tengku Adnan faces up to two years in jail or a fine, or both.
The defence will call six witnesses once Tengku Adnan has been cross-examined by the prosecution, which is led by Deputy Public Prosecutor Julia Ibrahim. Counsel Datuk Tan Hock Chuan represented Tengku Adnan.
The hearing continues on Jan 20 before High Court judge Mohamed Zaini Mazlan.