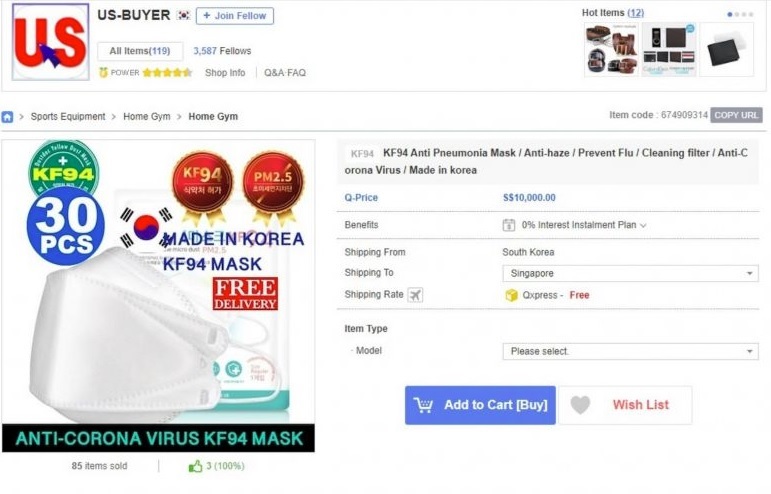 KUALA LUMPUR (Jan 29): Online mall Qoo10 listed an advertisement in Singapore (pictured) selling 30 "anti-coronavirus" masks for S$10,000 (about RM30,000) on Jan 29, but the listing has since been taken down, the Straits Times reported.
According to the report, the listing claimed that the masks were also "anti-pneumonia" and "anti-haze" and was advertised for sale at S$10,000 from Jan 27 to 29 before it was removed.
"We do not condone and will not tolerate merchants who escalate prices to unreasonable levels in an attempt to profit off the general public's worry and panic, or even as a joke," Qoo10 general manager Sam Too told the Singapore-based daily.
"Merchants found guilty of such behaviour may be temporarily suspended as part of our investigation process," Too clarified.
He added Qoo10 will contact the merchant "to understand if there are any legitimate reasons for such a pricing".
In Malaysia, the Domestic Trade and Consumer Affairs Ministry announced that it will closely monitor and take necessary action to ensure sufficient supply of face masks in the market to help keep the 2019 novel coronavirus (2019-nCoV) infection in check, Bernama reported yesterday.
Minister Datuk Seri Saifuddin Nasution Ismail said this is currently the ministry's top priority.
"We will closely monitor the issue and then deal with the importers (to increase import) as well as ask local manufacturers to increase output (to meet the demand)," Saifuddin said.