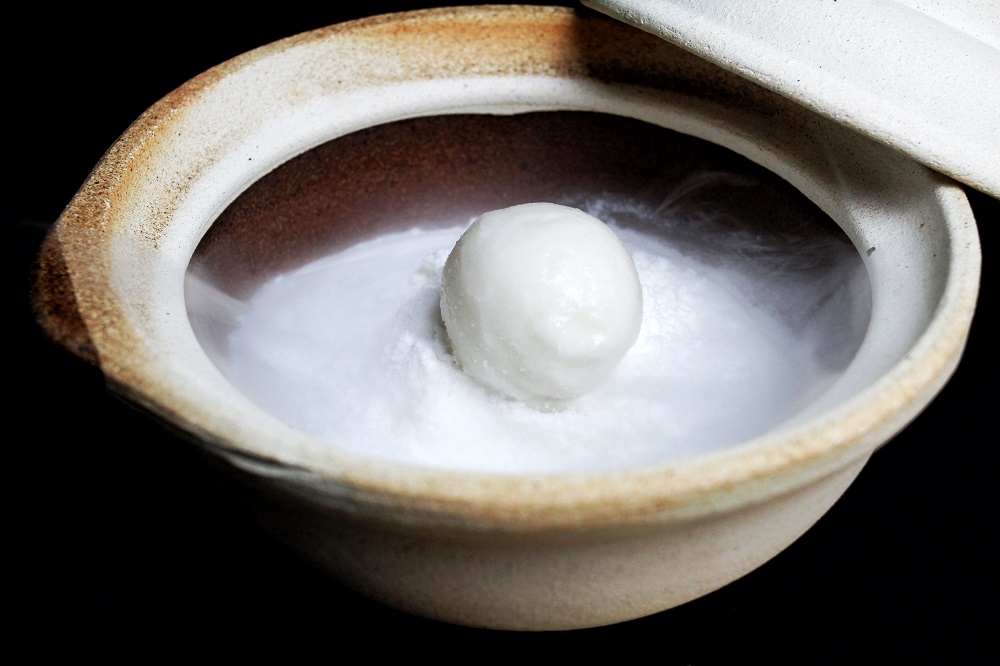 Claypot Rice (RM25)
Desserts do not have to be perennially sweet, and the Claypot Rice at MadHatter Desserts demonstrates this view. Instead of sweet, this dessert has a nutty roasty taste. At first sight, a puff of smoke escapes from underneath the lid of the claypot when it is opened, giving a magical effect and a light charcoal smoky aroma reminiscent of claypot rice which is traditionally cooked over charcoal.
In the concave, the starkly white-on-white concoction belies a myriad of flavours waiting to be unveiled.
The dessert is composed of rice milk and bamboo leaf sorbet, rice milk snow ice, chewy Job's tears tossed in coconut and glutinous rice pudding, rice milk jelly, rice crunches and bamboo leaf foam.
Rice milk is infused with bamboo leaves to give the sorbet a subtle bak chang (rice dumpling) taste. Although one may not be able to distinguish the bamboo leaf taste, as MadHatter Desserts owner, Marcus Low puts it "you could definitely tell that something is missing if it is not there". Most ingredients in the dessert are organic, except for the rice crunches.
It takes a long time (approximately 36 hours) to make this dessert, as the process includes soaking the rice and making the ice cream. Low tries to use local ingredients and for the Claypot Rice, he uses Beras Adan (white rice) from Sarawak to make the rice milk, and local Job's tears.
Bubur Cha Cha (RM23)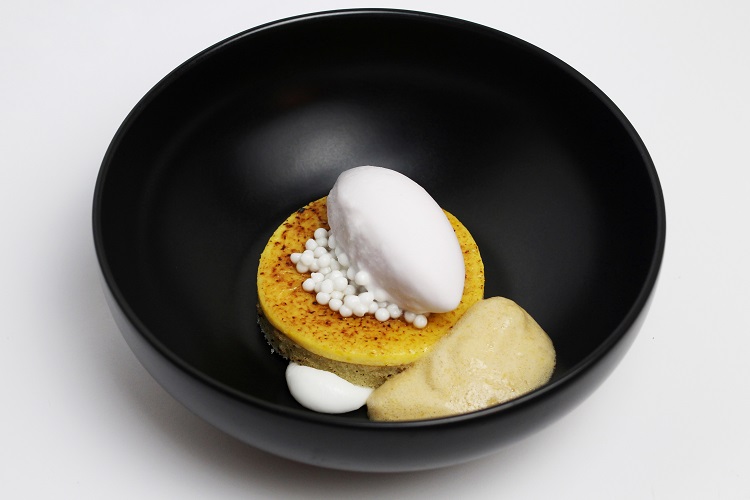 This Bubur Cha Cha looks nothing like the bubur cha cha we are familiar with simply because it is a cake version encompassing the deconstructed flavours of the traditional sweet soup or tong sui.
The Bubur Cha Cha at MadHatter Desserts wowed the judges on reality cooking show Masterchef Asia Season 1 in which Low emerged runner-up.
The top of the cake comprises bubur cha cha ice cream, coconut pearls (replicating sago) and pumpkin creme brulee with a crispy sugar shell all balanced on top of a sweet potato and yam genoise cake. The stack is accompanied by coconut gel (made of coconut and agar-agar) and gula melaka foam on the side to provide an asymmetrical look to this elaborate dessert.
The shiny white coconut pearls are made by dripping coconut agar-agar cream into cold oil to form small white spheres. Although the whole process is time-consuming, every step adds to the dish, be it in taste, texture, look and of course, love, says Low.
"There are enough portions of every single element in this dessert, for you to consider tasting everything separately, before eating them together," he adds.
MadHatter Desserts
19, Jalan SS 21/60, Damansara Utama, 47400 Petaling Jaya, Selangor.
T: +6012 370 4327
FB: @MadHatterDessertsKL
IG: @MadHatter_Desserts
This report is part of the "Contemporary desserts with a Malaysian twist" segment in Live! 2020.
This story first appeared in Live! 2020 magazine. Download your copy of the magazine here.