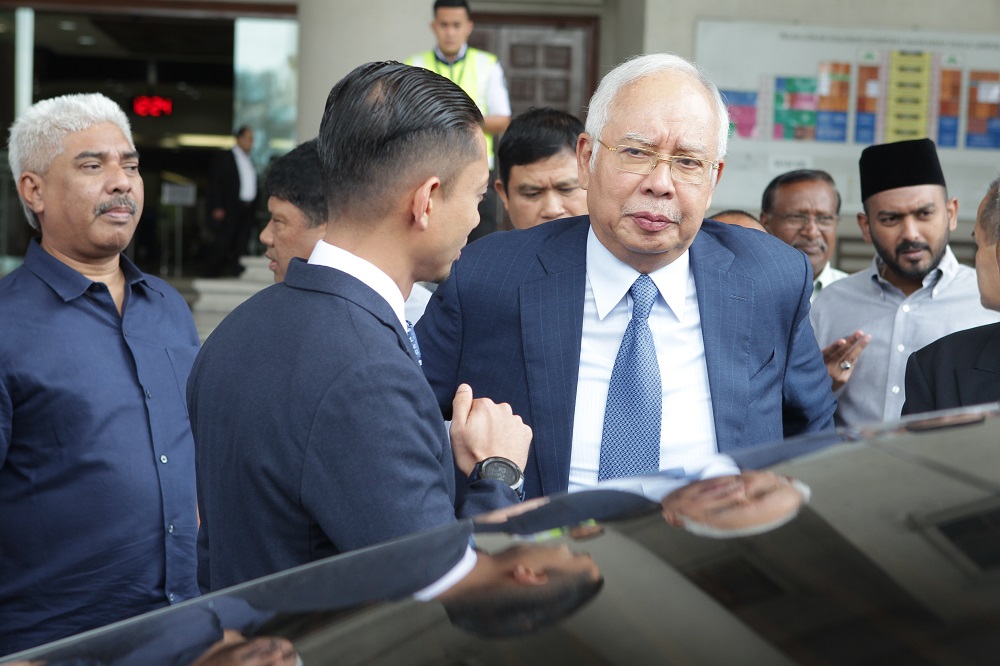 KUALA LUMPUR (Feb 17): The High Court will hear submissions next week in the SRC International Sdn Bhd trial to compel a Malaysian Anti-Corruption Commission (MACC) officer to be interviewed before he takes the witness stand to testify in court.
MACC investigator assistant commissioner Mohd Nasharudin Amir, who was the investigating officer in former prime minister Datuk Seri Najib Razak's (pictured) 1MDB case, was slated to be the seventh witness for the defence in this trial.
However, this morning lead defence lawyer Tan Sri Shafee Abdullah had informed Justice Mohd Nazlan Mohd Ghazali that the witness was uncooperative and had declined to be interviewed by the defence prior to taking the stand.
Shafee told the judge that they could not interview the MACC investigating officer as the officer himself had called off a meeting scheduled for Feb 15.
"He did not want to see or speak with anybody," Shafee said.
He then explained the importance of interviewing the witness as it is vital for a fair trial for Najib's defence.
"It is a precondition for us to call a witness so we can interview them. Any witness called without interviewing would be total negligence. He can turn out to be a kamikaze witness that destroys our case in a fair or unfair manner," he explained.
Previously, the defence indicated that it would be calling an investigating officer from the commission for the purpose of producing certain documents, including statements from certain individuals that were interviewed by MACC.
Najib is fighting charges of abuse of power, criminal breach of trust and money laundering in relation to RM42 million from SRC, which wound up in his personal bank accounts.
Ad hoc prosecutor Datuk V Sithambaram, however, pointed out that the witness was present in court and was ready to testify.
"What the defence is saying is that they want to interview the witness. Whether the witness is going to be telling the truth or not, that will be decided later on," he said.
Shafee then asked the judge if he could compel the witness to be interviewed by the lawyers prior to his testifying.
"We have the right to interview the witness so we can get from him the relevant evidence so that no nonsense evidence come into court in order to ensure a fair trial," Shafee said.
Meanwhile, Attorney-General Tan Sri Tommy Thomas said any decision by the court on this would have far-reaching effects.
"This is a witness that does not want to be interviewed by either party. In those circumstances, the witness should be entitled to a lawyer of his own choice and for the lawyer to come and submit on his behalf," said Tommy.
Justice Nazlan then set next Monday to hear both Najib's defence team and the prosecution's submission.
Najib is charged with receiving RM27 million and RM5 million on Dec 26, 2014, and another RM10 million on Feb 10, 2015.