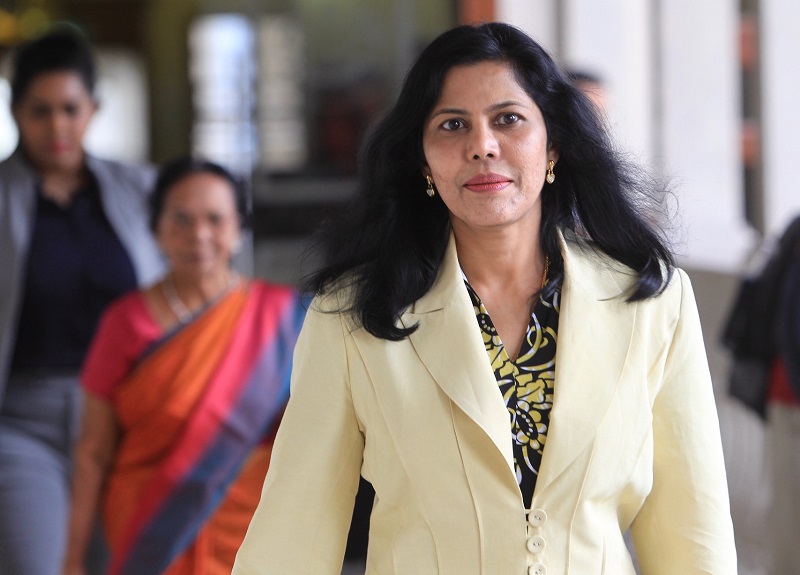 KUALA LUMPUR (Feb 18): The lawyers representing Tun S Samy Vellu's companion Meeriam Rosaline Edward Paul today, questioned findings that the former MIC president is mentally disordered.
Following an in-chambers hearing at the High Court today, for the application by Meeriam to intervene in the suit filed by Datuk S Vell Paari against his father Samy Vellu, lawyer Ramesh Sivakumar said the report produced does not comply with statutory provisions in the Mental Health Act.
"If you look at the report prepared by the plaintiff, we take the position that it does not comply with the statutory requirement. Section 54 is clear. It requires certain matters to be mentioned in the report, for it to be admissible [in court].
"We'll be taking our position, once we are given leave to intervene in this matter," Ramesh said.
Lawyer RSN Rayer, also representing Meeriam, said Samy Vellu is mentally fit and has provided affidavits to support their position.
"We have exhibited affidavits to show that as recent as last week during a Thaipusam function, he was in Batu Caves.
"Our contention is that he is mentally fit and he's mentally capable of managing his own affairs. It is now up to the plaintiff to rebut the submission which we have made for the court to decide," said Rayer, who is also DAP member of parliament for Jelutong.
Meanwhile, the lawyers said Vell Paari is opposing Meeriam's application, as he is of the position that she has no right to intervene.
Insisting Meeriam is Samy Vellu's lawful wife, Ramesh said she is entitled to intervene in the application, adding if Vell Paari's action stood unopposed, the court would not be appraised of the relevant facts as to whether Samy Vellu is a mentally disordered person.
Meeriam said she hoped to see Samy Vellu today and had last spoken with him on June 14, 2019. She said he "spoke well, without any misunderstanding".
"After that, Vell Paari blocked and changed [Samy Vellu's phone] number. I tried numerous times to go to his office or house or even the place where he goes for drinks. I'm just not able to see him. I don't know any other way to see him.
The in-chambers hearing today was not completed, and Justice Datuk Indera Mohd Sofian Abd Razak has fixed March 20 as the next date for the plaintiff to finish his submissions.
Lawyer David Matthews represented Vell Paari, and Datuk Prem Ramachandran represented Samy Vellu.
Vell Paari, 57, named his 82-year-old father as the sole defendant in an originating summons filed at the High Court on Dec 2.
He is seeking a court order for an inquiry to be held under Section 52 of the Mental Health Act, to determine whether his father is a mentally disordered person.
This is aimed at determining as to when the former senior minister has allegedly started to be mentally disordered and whether he can give instruction to his solicitors and when he could be incapable. It is also aimed at discovering the properties owned by the father.
Vell Paari in his affidavit in support, said his mother and sister are aware of the application made in this court.
He cited findings by one Professor David Ames and Dr Bharathi that significantly demonstrate prima facie that his father is a mentally disordered person.
Vell Paari said he had been managing his father's affairs and his estate since late 2017. He also claimed Samy Vellu is not able to access funds from his bank accounts, as the bankers are aware of his condition and are not prepared to follow his instructions.