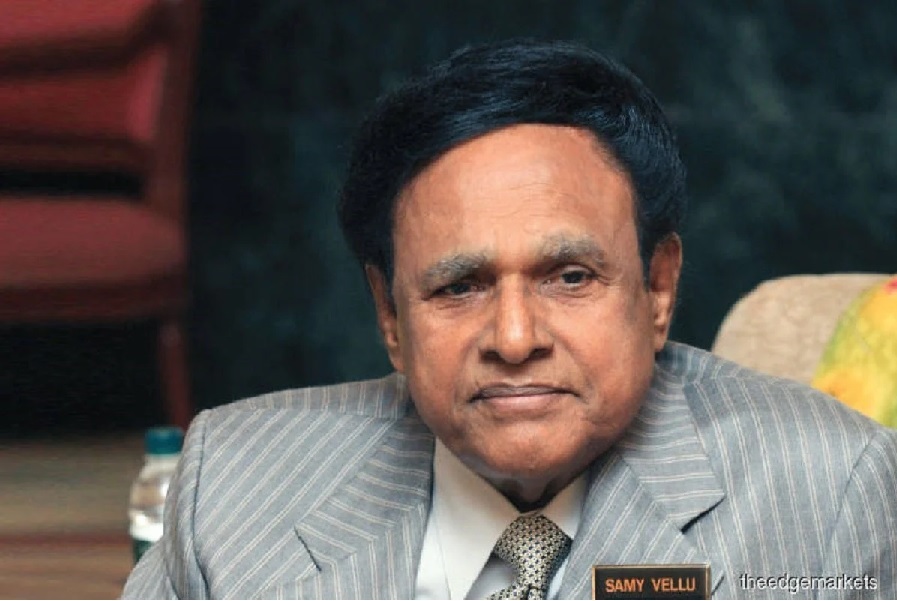 KUALA LUMPUR (Oct 2): Datuk Seri S Vell Paari has made an application through his lawyers at the High Court today for a sealing order in the case between him and his father Tun S Samy Vellu (pictured).
Vell Paari made the application in a suit he filed against Samy Vellu to determine whether the former MIC president's mental state would cause him to be unable to manage himself and his affairs.
In cause papers sighted by theedgemarkets.com, the application made by Vell Paari is in accordance with Section 52 of the Mental Health Act 2001.
It states that all cause papers, affidavits including exhibits, medical reports, letters and other documents which have been filed in the court in regard to Samy Vellu will not be made available for testing or to make copies in any form other than for the use of the plaintiff or defendant.
They had also applied for in-camera proceedings for the case. In-camera proceedings are carried out in private, in the absence of the public and the press. Essentially the proceedings are conducted through video conferencing to safeguard the privacy and for the protection of the accused.
Part of the application also includes that dates for the case will not be published to the public and that only the plaintiff and defendant are to be notified of proceedings.
Proceedings for this application were held this morning before Justice Wong Chee Lin. However, it is not known if this application was granted as the media were not allowed into the proceedings today.
Some of the reasons stated for the sealing order is that Samy Vellu is a high profile public figure and private information about his mental health should not be divulged to the media.
Vell Paari also claims that there is a real danger that this information, if made public, will be used by external parties who have a vested interest in the case.
He also added that this is a family matter which, if allowed to be reported, will be against their right to privacy.
Vell Paari had filed an originating summons at the KL High Court last December wanting the court to conduct an inquiry under Section 52 of the Mental Health Act, to determine his father's mental health and capability to manage his own finances.
Get the latest news @ www.EdgeProp.my