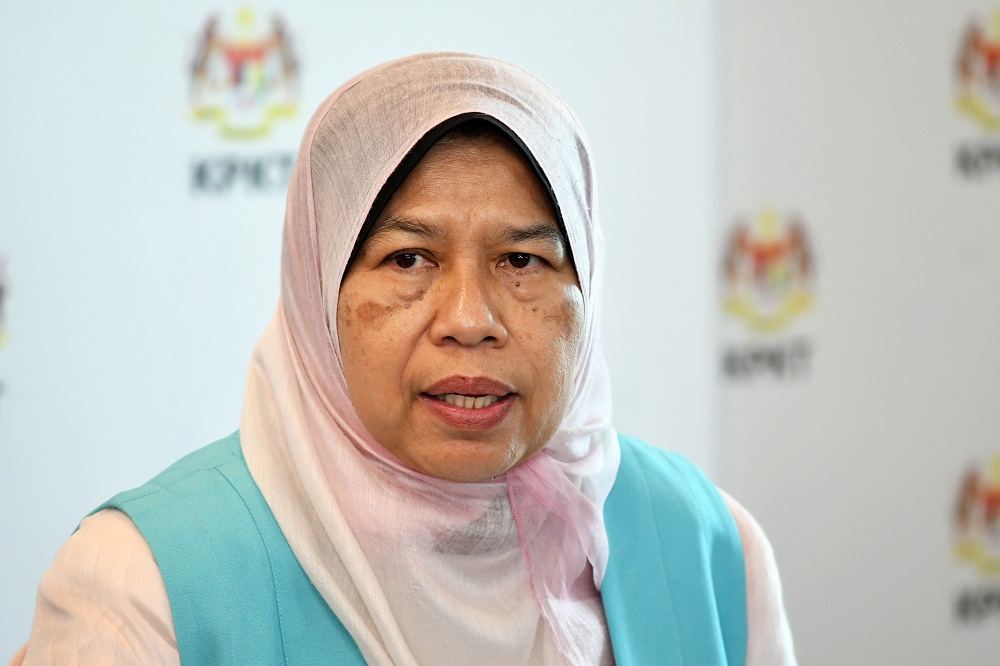 KUALA LUMPUR (April 1): Housing and Local Government Minister Zuraida Kamaruddin has defended large scale sanitisation operations that say roads being doused in disinfectant, Malaysiakini reported today.
According to the report, she said the manner that COVID-19 spreads is not yet fully known by science, so it is better to disinfect more places than to risk missing some areas.
"Thus far, there is no accurate formula on how this coronavirus spreads. One moment it's coughs and sneezes, this and that, maybe it's airborne and so on…
"So, if we spray the roads, it is not an issue because we cannot miss anything […]
"I think it is better to be careful and spray more places and to cover fewer places. This is just a precaution, if they think spraying (disinfectant) on roads is just a waste of money," she told a news segment on TV Alhijrah yesterday.
She was responding to criticism from several health experts who questioned the need to disinfect roads to prevent COVID-19 infection.
The New Straits Times quoted former deputy Health director-general Dr Lokman Hakim Sulaiman as saying: "Even if road surfaces are contaminated, how could they get to your face? By people scrubbing their hands on the contaminated road surfaces and touching their faces?"
Lokman and other experts said sanitation operations should focus on commonly touched surfaces instead.
However, according to Malaysiakini, Zuraida said this was being done already.
She explained that while one team is cleaning the streets, hazardous materials teams were sent to "high risk" areas to wipe down doors, windows, and other areas.
The cost of each operation is less than RM1 million, she said, because 100,000 litres of disinfectant had been donated to the cause through corporate social responsibility initiatives.
Also, there are additional cost savings by using existing human resources who are already on the payroll of the agencies involved.
She did not respond to a question on what chemical was used as a disinfectant.
According to the World Health Organisation, COVID-19 is spread primarily through respiratory droplets, which can be inhaled by a person standing within one metre of an infected person.
The droplets can also land on various surfaces near an infected person. These can contaminate another person's hands if touched, and cause an infection if the hand subsequently touches the eyes, nose, or mouth before being washed or sanitised.
Following a report that the virus could persist for hours in the air, the WHO had re-emphasised that healthcare workers should take "airborne precautions" such as wearing N95 respirators when handling COVID-19 patients.
This is because certain medical procedures - such as attaching a ventilator to a patient - will produce aerosols. Nonetheless, it urged caution in interpreting the study's findings and its relevance to real-world situations.
The WHO also said that viable viral particles had been detected in faecal material in one small study but notes that there have been reports of faecal-oral transmission so far.
As for the health ministry, the director-general Dr Noor Hisham Abdullah (above) yesterday said he would engage with local councils on the correct way to perform disinfection works.
Responding to this, Zuraida said he would speak with Noor Hisham at the National Security Council's daily meeting this morning.
She said the committee handling the disinfection works includes representatives from the Health Ministry, Fire and Rescue Department, Alam Flora, SW Corp, Solid Waste Management Department, the armed forces, and the police.
The committee had already been briefed on the correct procedure on how to perform disinfection works.
"Nevertheless, if the health director-general wants to give another briefing, it's no problem because there may be things we have overlooked," she said.
Stay calm. Stay at home. Keep updated on the latest news at www.EdgeProp.my. #stayathome #flattenthecurve
Click here to see residential properties for sale in Putrajaya.