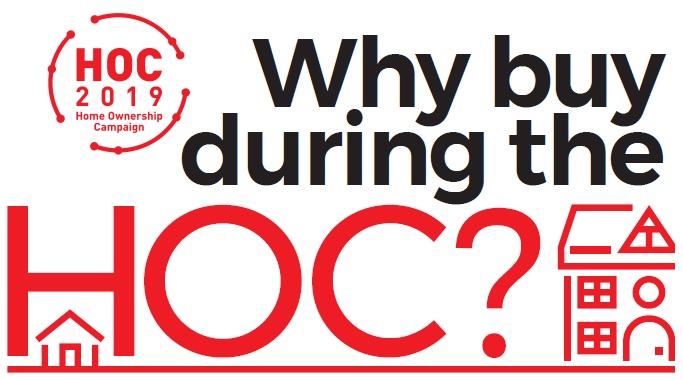 PETALING JAYA (May 1): The Home Ownership Campaign (HOC) has contributed to an improvement in Malaysia's overall property market performance in 2019 and should be reintroduced to provide a much needed boost to the property sector in light of the current downturn amid the Covid-19 pandemic.
Read also
Concerns over property overhang should not stop new developments
Promote Malaysia before promoting projects, developers told
Efficient Bumiputera units release can help reduce property overhang
Supply of serviced apartments being reduced amid overhang
At the EdgeProp Malaysia's Facebook Live Fireside Chat: "The Malaysian property market picked up in 2019! Could this be its last hurrah?" today, panellists Real Estate & Housing Developers' Association (Rehda) Malaysia president Datuk Soam Heng Choon, Rehda vice-president and Selangor Branch chairman Zulkifly Garib and Rehda Johor Branch chairman Datuk Steve Chong Yoon On all attributed the growth in property transactions in the country last year mainly to the HOC. EdgeProp Malaysia managing director and editor-in-chief Au Foong Yee served as the moderator.
Overall, according to the 2019 Property Market Report, the Malaysian property market had shown marginal improvement last year (2019) with a total of 328,647 transactions worth RM141.40 billion recorded which was an increase of 4.8% in volume and 0.8% in value year-on-year (y-o-y). There were 209,295 residential property transactions worth RM72.42 billion recorded last year, an increase of 6.0% in volume and 5.3% in value from 2018.
Selangor state had a total of 66,548 property transactions worth RM46.5 billion of which 52,000 units worth RM25 billion were residential property transactions.
Zulkifly said Selangor recorded the highest number of residential transactions among all the states last year.
"It is not surprising. When the HOC was introduced last year, according to Rehda records, Selangor Rehda members had successfully achieved RM16 billion worth of sales from 24,000 residential transactions last year. That was excluding transactions of properties priced at RM300,000 and below, as well as those from non-Rehda members," he said.
Soam also believed the HOC helped in driving market demand. "HOC has effectively helped in boosting demand and clearing inventory. We have requested an extension because it does reduce the input cost of developer and output cost of buyers to encourage transaction, and it has proven to work based on the data seen in the 2019 Property Market Report," he said. The report was released by the Valuation and Property Services Department on April 29.
Citing a survey conducted by Rehda among its members recently, Soam said the top wish of the developers surveyed was for the extension of the HOC as it could reduce homebuyers' cost. Another suggestion to help buyers was to extend the housing loan tenure to 40 years.
Rehda has also called for property cooling measures to be lifted to draw property investors.
"We have been asking the government to remove the RPGT (Real Property Gains Tax) for at least the next two to three years and suspend the loan-to-value ratio which is capped at 70% for borrowers purchasing their third homes so that people who have the ability to buy more properties are encouraged to do so," said Soam.
Stay calm. Stay at home. Keep updated on the latest news at www.EdgeProp.my #stayathome #flattenthecurve
Stay safe at home and get more property insights at EdgeProp.my
For the full report on the virtual Fireside Chat read the May 8, 2020 issue of Edgeprop.my pullout.
Interested to know more about what's happening in the property market? Click and watch our previous Fireside Chats:
- "Will Malls Be Empty In The New Normal?"
- "Will the Malaysian property sector survive this mother of all crises?"
- "Undervalued Properties: Opportunities or Risk?"
#myedgeprop #epfiresidechat