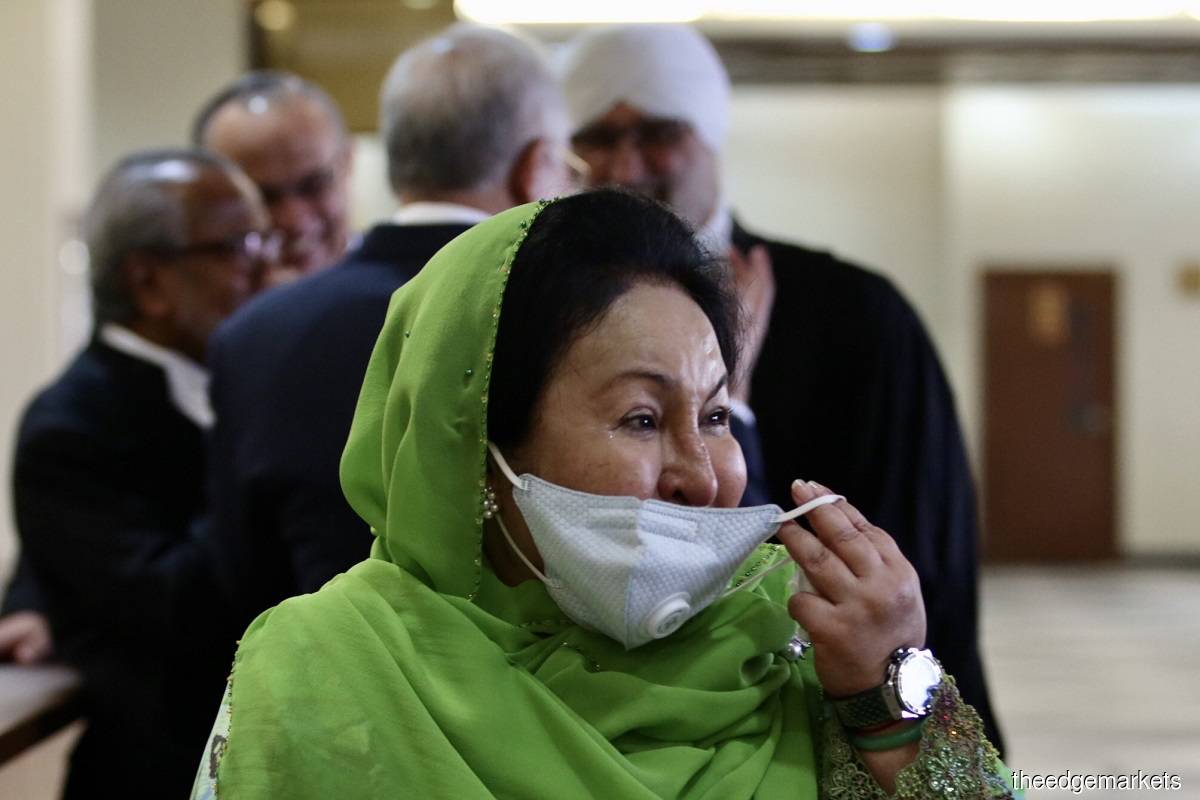 KUALA LUMPUR (July 15): The cash contribution to Datin Seri Rosmah Mansor (pictured) by Jepak Holdings Sdn Bhd was intended as a commission for her help in securing a solar hybrid project, the High Court heard today.
However, Rosmah's aide Datuk Rizal Mansor had suggested to Jepak managing director Saidi Abang Samsudin and consultant Rayyan Radzwill Abdullah that the contribution be offered as a political donation to Rosmah's husband and former prime minister, Datuk Seri Najib Razak.
Testifying in Rosmah's graft trial, Rayyan agreed with defence lawyer Datuk Akberdin Abdul Kader that the idea of a political donation to the prime minister had been proposed by Rizal.
"Is it right to say that the donation, which is intended for the prime minister, would be received by Rosmah, as you could not approach the prime minister?" Akberdin asked the witness.
Rayyan replied: "To put it in a nice way, yes, but the main purpose [of the payment] was [to serve as a] commission [to Rosmah]."
Rayyan said he and Saidi met Rizal sometime between January and February 2016 to discuss the terms of the payment to be made to Rosmah, during which Rizal advised that an offer of between 10% and 15% of the project's value of RM1.25 billion be made.
He said a few days later, he and Saidi went to Rosmah's Langgak Duta residence to make the offer in exchange for her help, and Rosmah responded by saying: "The political situation right now requires a lot of funds."
Akberdin asked the witness whether this amounted to an agreement to the offer.
Akberdin: Do you agree that during that meeting between January and February 2016, Rosmah did not ask for the 10%?
Rayyan: From my perspective, she did not ask for it.
Akberdin: I put it to you, and according to my instructions, that as this happened about three years ago, she did not say "the political situation right now requires a lot of funds" and so on, as the meeting finished quickly and the sentence could not be attributed to her?
Rayyan: In my recollection, this was the phrase [used by Rosmah]. It may not be verbatim.
Rayyan said later on the same day, he and Saidi went to meet Rizal separately at a café, where Rizal communicated Rosmah's wish for the percentage to be increased to 15%.
"The next day Rizal contacted me and said the 15% contribution was final and could not be changed," the witness said.
Rayyan was testifying in Rosmah's trial, which entered its 17th day today. Rosmah is facing charges of soliciting RM187.5 million from Jepak between January and April 2016, and receiving RM5 million and RM1.5 million in 2016 and 2017, respectively.
The trial continues tomorrow.
Stay safe. Keep updated on the latest news at www.EdgeProp.my