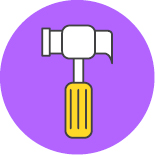 Is a developer still liable to rectify defects that appear way after the defects liability period (DLP)?
According to Chur Associates founder and managing partner Chris Tan, the DLP is not a deadline to claim for defects and hence the answer is 'yes'.
Read also
How not to destroy the value of a property
Is your property healthy?

"If someone did something wrongly, it is still wrong even after the DLP. As long as you can prove that it is a defect and not wear and tear, and it can be traced back to the party that caused this defect, you can still submit a claim. It may take longer because after the DLP, there is no retention fund for such rectifications anymore so the developer will take a longer time to do so," Tan offered.
He was responding to a query from a viewer of EdgeProp Malaysia's Virtual Fireside Chat titled "Stop! Are you destroying your property value?" held on the evening of July 9. Also joining the discussion was Architect Centre accredited building inspector and trainer Anthony Lee Tee and Muslim Real Estate Consultants Association of Malaysia (PEHAM) president Ishak Ismail.
The Facebook Live session was moderated by EdgeProp Malaysia editor-in-chief and managing director Au Foong Yee.
Ishak pointed out that under the Strata Management Act, developers must place a deposit with the Commissioner of Buildings (COB) for building defects rectifications.
View July 9, 2020, EdgeProp Malaysia's Virtual Fireside Chat "Stop! Are you destroying your property value?"
"Residents, Joint Management Bodies and Management Corporations must know that such a fund exists and if the developer does not rectify the defect, the COB may use this deposit to rectify the defect," he said.
When it comes to property maintenance, the adage prevention is better than cure often holds true. Lee believes that a defect which is not nipped in the bud early will cause major and costly issues in future.
For instance, a design defect that causes rain water to splash into the lift lobby may not seem like a big deal but will damage the lift in the long run due to the constant moisture.
"It is best to consult a professional especially when it comes to things hidden behind walls and areas or things that you can't have access to," said Lee.
The Fireside Chat was organised by EdgeProp.my with Nippon Paint Malaysia as the partner. The supporting sponsors were Panasonic Malaysia; KipleLive, a wholly-owned subsidiary of Green Packet Bhd and Matrix Concepts Holdings Bhd. The event is also supported by The Edge.
Stay safe. Keep updated on the latest news at www.EdgeProp.my
This story first appeared in the EdgeProp.my e-Pub on July 17, 2020. You can access back issues here.