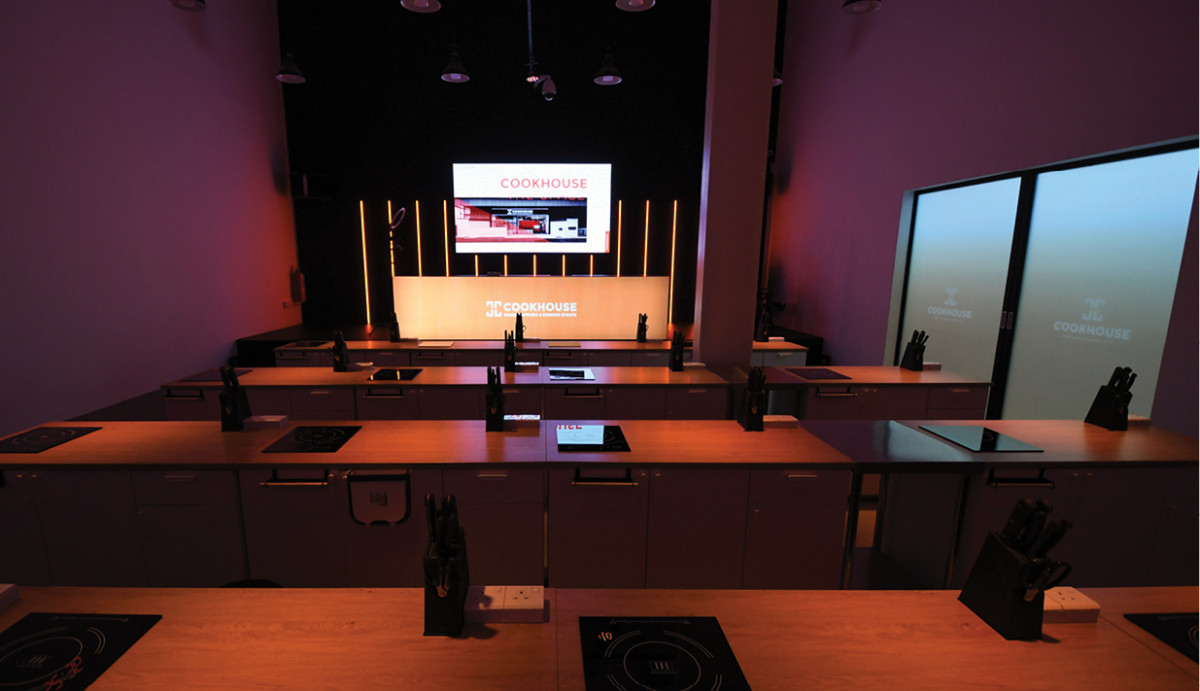 One may be more familiar with co-working spaces and perhaps, the more recent — cloud kitchens. This new start-up is several concepts rolled into one. Enter COOKHOUSE, the country's first integrated and independent shared kitchen facility. Nestled in the mixed development neighbourhood of PJS 3 in Petaling Jaya, Selangor, COOKHOUSE serves as a platform for aspiring food and beverage (F&B) entrepreneurs as well as established ones.
With a contemporary design theme and orange tones adding a vibrant touch to the facility, COOKHOUSE is the brainchild of Huen Su San — its founder, who has many years of culinary experience helming several Korean eateries in the Klang Valley. Besides that, she also owns the event space, Glasshouse at Seputeh, Kuala Lumpur and dabbles in the construction sector as a cement specialist.
The entire 10,000 sq ft facility at COOKHOUSE PJ consists of five private kitchen studios, a large shared kitchen area (Asian, Western, baking kitchens), prep kitchen, dish-washing station, packing station, food photography studio, pantry, demo kitchen/café, walk-in freezer/chiller, dry storage, cooking event area, loading and delivery pick-up zones. All of these cater to a wide range of culinary offerings from Asian to pastries to batch productions.
Although primarily a shared kitchen facility, COOKHOUSE PJ also houses a small co-working space on the upper floor of the building.
Being located on a rented industrial lot in Petaling Jaya South (PJS), Huen tells EdgeProp.my that it translates to cost-savings to COOKHOUSE PJ's 'residents' — as they are called — while being strategically located near Bandar Sunway, Subang Jaya and Jalan Klang Lama. "We can offer competitive price plans for our residents as we are able to capitalise on the [favourable] industrial rental rates," says Huen.
Rental plans range from single-day use at RM200 per pax per day; weekly use from RM500 per pax per week; shared kitchen plans from RM900 per pax per month; and private kitchen studios from RM3,000 per month.
All rentals are inclusive of water, WiFi and other utility charges except for private studios where the electricity and gas are charged via individual metering.
As of mid-July 2020, the private kitchen studios have been fully leased.
Expansion plans
"We chose this location (PJS 3) for its high-density population surroundings and prevalent food delivery options. We are also looking at expanding COOKHOUSE to 10 more locations by year end," shares Huen, adding that they are looking at the Kuala Lumpur city centre (KLCC) and central Petaling Jaya (near Damansara Uptown and SS2) as the next immediate locations.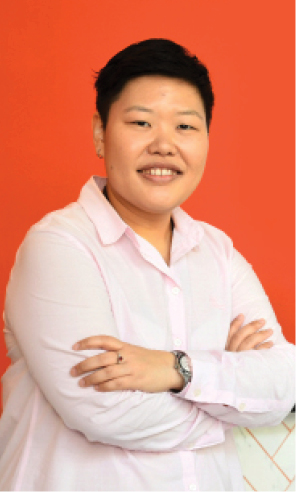 This outlet in PJS is a strictly halal-only establishment while selected future outlets will cater to non-halal ones. Huen also noted that rental packages for the other kitchens will differ slightly based on locations and their base rentals for the facilities.
"COOKHOUSE PJ was about 90% completed before the Movement Control Order (MCO) and was originally planned to be launched right after Hari Raya Aidilfitri," she shares. The launch date was then moved to July 23.
"During the MCO, cloud kitchens were a hot topic. Thus, we put up our website during that time, gathered feedback and planned tours of the facility post MCO. The first 'residents' came onboard early June.
"But we did not do this (establish COOKHOUSE) expecting the Covid-19 pandemic or MCO although it spurred food operators to recognise or start looking for alternative solutions. It also led to questions like: If I am heavily reliant on delivery business now, is it cheaper to operate from brick and mortar or from a shared kitchen?
"During my years in the F&B industry and managing a central kitchen, the high cost of investment set back my businesses in terms of growth.
"Additionally, I noticed that people are happy to embrace the co-working concept for its low start-up costs. If people find value in that, what more in a shared kitchen?" says Huen.
Getting the real estate hassle out of the way
COOKHOUSE differs from other cloud kitchen establishments in the country as it serves as a platform for budding entrepreneurs looking to dabble in the F&B industry. Huen notes that they do not have to spend a hefty sum in renovating brick-and-mortar establishments and procuring the often-pricey kitchen equipment.
"We support the new start-ups. They can come here and experience the wide range of machinery and equipment provided by reliable suppliers. The same goes for larger establishments as well. Additionally, we take on the maintenance of the spaces as well via an in-house team. There's another headache gone," she offers.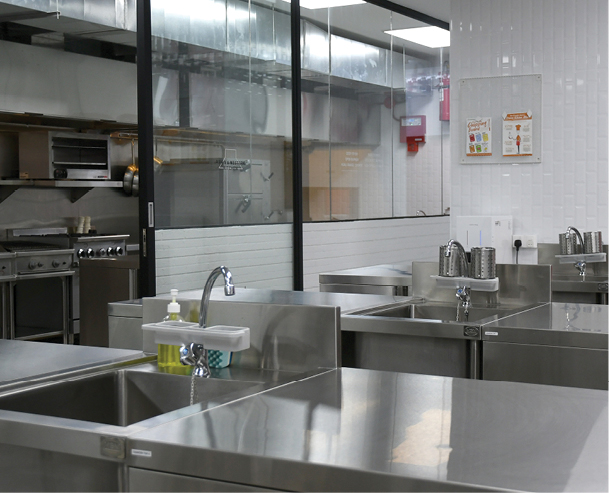 "COOKHOUSE encourages partnership and collaboration for building a robust ecosystem. We do not limit or control our residents (exception: no durians allowed!). At the same time, we partner with companies such as Unilever for food ingredients solutions where residents can benefit from bulk purchase pricings," shares Huen.
The shared kitchen start-up also collaborates with tech companies such as MrSpeedy and SOCAR among others on the logistical side.
"COOKHOUSE is established on different perspectives. We are just providing the facilities and infrastructure for rental with hopes to give a boost to the entrepreneurs and shorten their learning curve. They also get to enjoy the fruits of partnerships such as bulk purchase pricing, favourable credit terms, delivery platform and community support," she adds.
"Although the cloud and shared kitchen industry is still in its infancy, we see consumer habits changing. The market realises the convenience of opting for food deliveries. With the infrastructure ready, the industry will push ahead strongly," she opines.
Huen believes that, "investing in the right thing goes a long way". For instance, the ease of maintaining the property and facilities -- new start-ups might end up spending too much on building their own kitchens or renovating their stores. "Here, they can use our kitchens and have the leeway to try out for menu development and more, minus the costs," she says.
Stay safe. Keep updated on the latest news at www.EdgeProp.my
This story first appeared in the EdgeProp.my e-Pub on July 24, 2020. You can access back issues here.