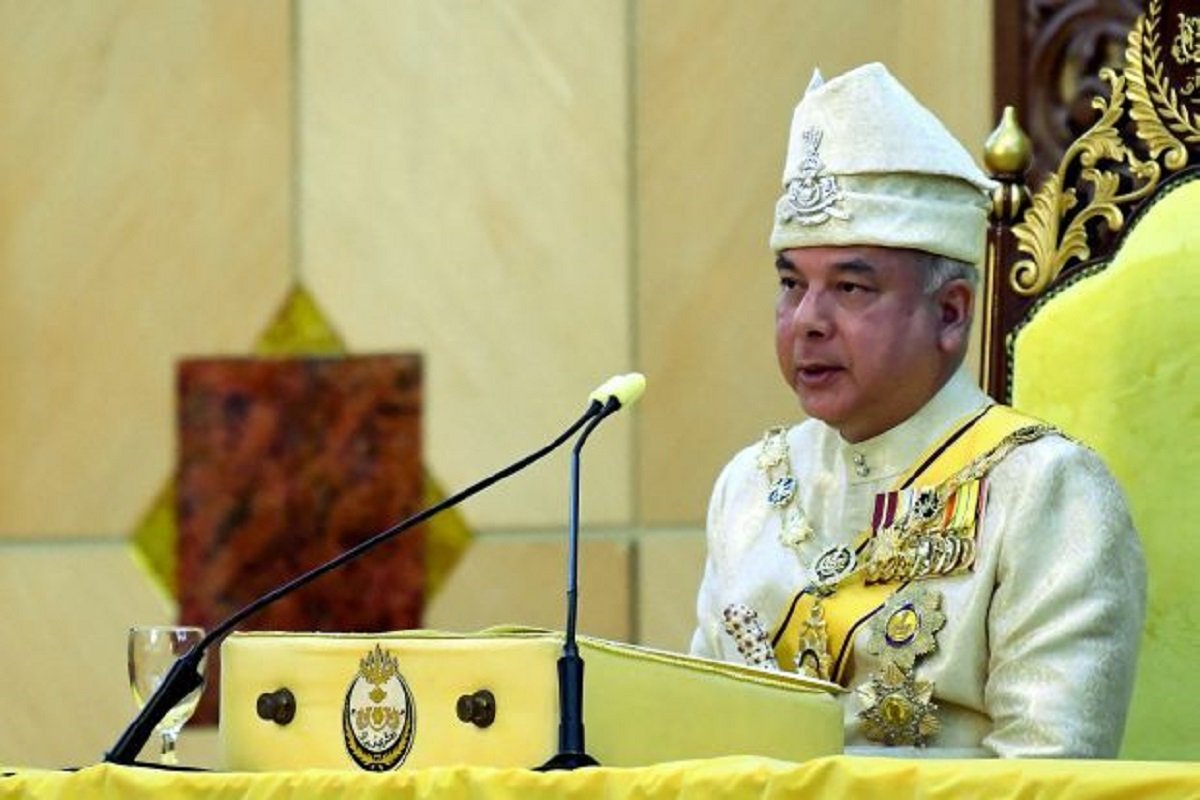 KUALA LUMPUR (Dec 10): The appointment of the third Menteri Besar of Perak within the past two years is not a feat that should be taken pride in, said Sultan of Perak Sultan Nazrin Muizzuddin Shah today.
His Majesty pointed out that it will be recorded in history as a reflection of failure of state leadership rather than a success; a failure of consolidating consistent support in order to focus on governing the state in the best way possible for the benefit of the people.
"Since the 14th general election, the swearing-in ceremony for Menteri Besar has been held three times; this will be a new history that has never happened in any previous term of the State Assembly. But this is not a history to be proud of, this will be recorded in history as a reflection of failure rather than success," he said today during his speech at the state's MB swearing-in ceremony.
Umno Liaison Committee chairman Datuk Saarani Mohamad, who is also the Kota Tampan assemblyman, took his oath of office as the latest Perak Menteri Besar today.
In his speech, Sultan Nazrin reminded that state assemblymen have been chosen by the rakyat to help improve their living conditions, provide various needs and services, improve their economic status, as well as help meet social needs as much as possible.
"Everyone under areas of the State Assembly, whether they are represented by assemblymen from Perikatan Nasional (PN) or Pakatan Harapan (PH), whether they are Malay, Orang Asli, Chinese, Indian, whether they are Muslims, Christians, Hindus or Buddhists, or those who adhere to various beliefs, have the same needs, bear the same suffering, have the same hopes, and hope for the same attention.
"All the people in this state, Malay, Orang Asli, Chinese, Indian; Islam, Christianity, Hinduism and Buddhism; all come from the divine creation; all of them are the people of His Majesty the Sultan of Perak; all want a peaceful and prosperous state, with a government that administers justice and builds harmony, so that the people live in a spirit of mutual respect and harmony," he said.
With the appointment of the new Menteri Besar, Sultan Nazrin wished that the Menteri Besar crisis in Perak is over.
He said since the crisis started on Dec 4 — with the oust of previous menteri besar Datuk Seri Ahmad Faizal Azumu — he has met with various parties from among the legal experts, government officials, individuals and most of all political leaders from PN and PH.
"All of them had pure intentions and goals to help so that the crisis could be addressed. Various suggestions, views and opinions have been presented, with the intention of helping me unravel the clutter that we were facing. To all of them, I would like to express my highest appreciation," he said.
Previous Perak menteri besar Ahmad Faizal was ousted after a confidence motion brought before the State Assembly was defeated by 48 votes against and 10 votes for with one spoilt vote. The motion was tabled by Pengkalan Baru assemblyman Datuk Abd Manap Hashim of Umno.
Following that, Sultan Nazrin summoned leaders and several assemblymen on Monday to Istana Kinta in Ipoh to find out who commanded the majority in the State Legislative Assembly.
Yesterday, leaders from the PN coalition agreed to nominate Saarani as the coalition's new Menteri Besar candidate. This was then approved by Sultan Nazrin.
Get the latest news @ www.EdgeProp.my
Subscribe to our Telegram channel for the latest stories and updates