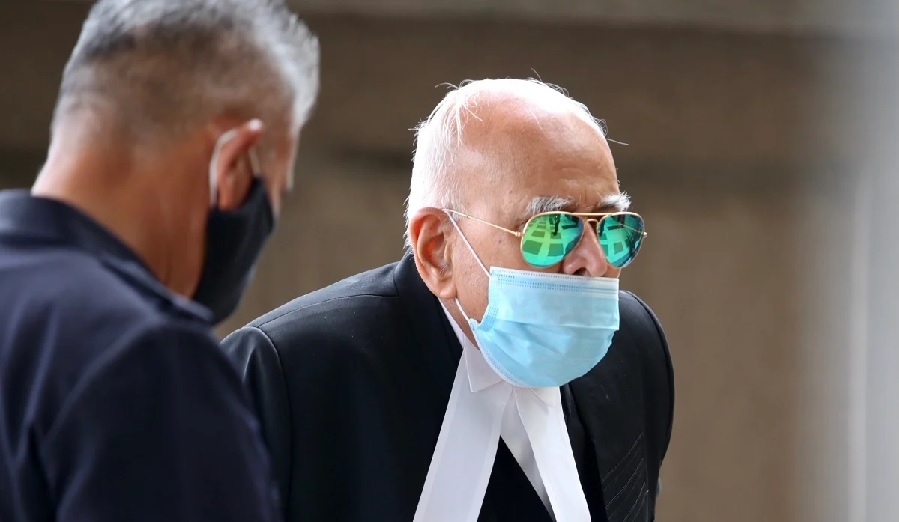 KUALA LUMPUR (May 11): Datuk Seri Gopal Sri Ram (pictured) wants to defend his appointment as lead prosecutor in the corruption trial of Datin Seri Rosmah Mansor, who is seeking to remove him from the trial in which she is accused of soliciting and receiving millions of ringgit in bribes.
Rosmah had last week filed two applications before the High Court, one to nullify proceedings of her trial, where she has been called to enter her defence, and the other is to challenge the appointment of Sri Ram as the lead prosecutor.
In case management before the judge presiding over the trial, Justice Mohamed Zaini Mazlan, deputy public prosecutor Mohamad Mustaffa P Kunyalam — in the absence of Sri Ram — informed the court of Sri Ram's intention of leading the prosecution in arguing against the two applications.
Rosmah's lawyer Datuk Jagjit Singh then objected to this, claiming that one cannot argue his own cause, as Sri Ram is trying to do.
"Coming from a former Federal Court judge, he should know better," Jagjit said of Sri Ram, who is a retired Federal Court judge.
Jagjit said this is a "mockery" and is "highly improper" on Sri Ram's part.
However, Mustaffa said there has already been a set precedent which allows Sri Ram to defend these two applications. The prosecutor cited Datuk Seri Anwar Ibrahim's second sodomy case where private lawyer Tan Sri Muhammad Shafee Abdullah was allowed to argue against his appointment at that time.
However, Rosmah's other lawyer Datuk Akberdin Abdul Kader said Anwar's case and this case have different ingredients as Sri Ram's fiat comes under challenge.
Justice Zaini set June 3 to hear arguments against both applications. He, however, did not make any decision on Sri Ram's appearance to argue his appointment and left it to both parties to come to a consensus.
He also told both parties to file their submissions by May 28.
Rosmah, 69, is charged with soliciting a RM187.5 million bribe through her personal aide Datuk Rizal Mansor between January and April 2016, in exchange for helping then Jepak Holdings Sdn Bhd managing director Saidi Abang Samsuddin to secure a RM1.25 billion hybrid solar energy project.
She also faces two charges of receiving a total of RM6.5 million — comprising RM1.5 million and RM5 million from Saidi between Dec 20, 2016 and Sept 7, 2017 at her official residence in Seri Perdana, Putrajaya and also her private residence in Jalan Langgak Duta.
Justice Zaini had on Feb 18 ordered Rosmah to enter her defence after finding a prima facie case against her graft charges and fixed nine days beginning June 9 to hear her defence.
He reminded both counsels to be ready for the trial to resume on June 9 despite the application hearing on June 3.
"I would also advise both parties to be prepared on June 9 for the continuation of the trial, in the event these applications are not in her (Rosmah's) favour," Justice Zaini added.
According to the application documents, Rosmah, who is former prime minister Datuk Seri Najib Razak's wife, wants the corruption proceedings that began in November 2018 until the close of the defence's case declared null and void.
Rosmah is also seeking a declaration that Sri Ram's appointment as lead prosecutor in the trial is "illegal, irregular and defective".
"The appointment through the said fiat (appointment letter) cannot take effect retrospectively as it prejudices on the rights of the applicant (Rosmah) guaranteed under law.
"The fiat cannot be used for the prosecution over the solar case as Sri Ram was only appointed as senior deputy prosecutor for prosecution cases [involving] 1Malaysia Development Bhd (1MDB) as the fiat notes," the defence's notice of motion said.
According to the notice of motion, the defence asked for Sri Ram to be barred from being part of the prosecution in any capacity in Rosmah's corruption trial.
The defence also requested that the trial be temporarily disposed of, according to the document.
Get the latest news @ www.EdgeProp.my
Subscribe to our Telegram channel for the latest stories and updates