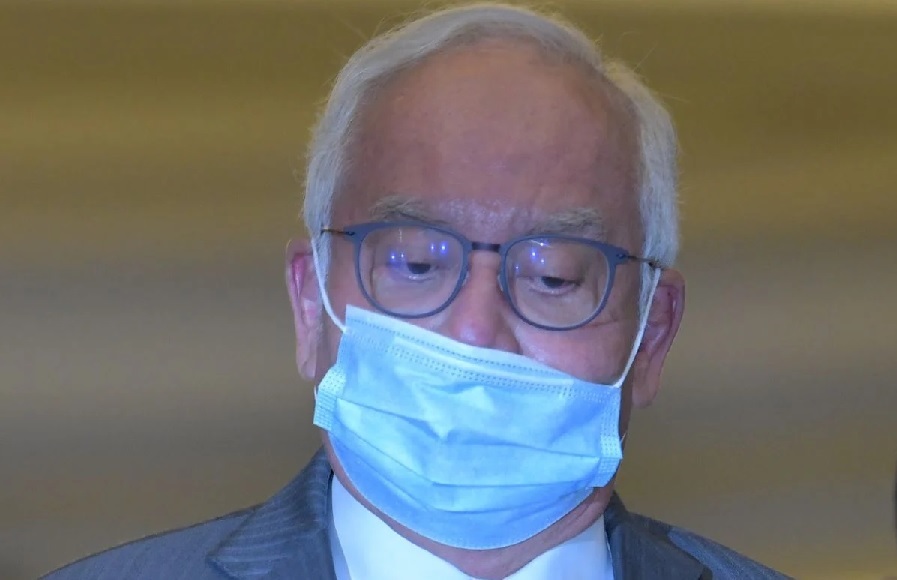 KUALA LUMPUR (May 19): The judge in the 1MDB-Tanore trial today stopped former premier Datuk Seri Najib Razak's (pictured) lawyer from asking a witness to verify purported forged signatures in bank documents.
Lawyer Wan Aizuddin Wan Mohammed had questioned former 1Malaysia Development Bhd (1MDB) CEO Mohd Hazem Abdul Rahman about signatures from transfer instructions of 1MDB's subsidiary 1MDB Global Investment Ltd (1MDB GIL), whereby hundreds of millions dollars were transferred out to shell companies, among others.
Hazem had testified that he did not know that US$3 billion raised via a bond issuance by 1MDB GIL in 2013 was transferred out of the company's BSI Bank account in Switzerland.
When asked if he had sanctioned these transfers, Hazem said he did not know about them, and that some of these transfers included US$35 million to Yayasan Rakyat 1Malaysia (YR1M), the corporate social responsibility arm of 1MDB.
Wan Aizuddin then asked Hazem about 1MDB chief financial officer Azmi Tahir and the sovereign wealth fund's executive director of finance, Terence Geh, who had purportedly sanctioned the transfer of the funds into various entities as well as shell companies Cystenique Investment Fund and Devonshire Funds Ltd.
Azmi and Geh were authorised signatories of 1MDB GIL, said Hazem, prompting Wan Aizuddin to ask him to verify the signatures of the two men as they looked like a "cut and paste" job.
Wan Aizuddin asked the witness to compare the size of the signatures, and the curves in them, with the two signatories' signatures in other documents
Deputy Public Prosecutor Akram Gharib objected to this line of questioning, saying the witness is not a handwriting expert and is in no capacity to verify whether the signatures are "copy and paste".
Agreeing with Akram, Justice Colin Lawrence Sequerah said that asking Hazem to authenticate the signatures would place him in an "unfamiliar position".
"This is beyond his expertise, you can submit on this at the end of the trial," Collin said.
Even so, Hazem responded that in his opinion, the signatures did not look identical.
Out of the US$3 billion, a sum of US$2.721 billion was disbursed into the account of 1MDB GIL with BSI Bank in Lugano, Switzerland. The balance went towards the payment of fees to Goldman Sachs.
From the US$2.721 billion, a sum of US$1,060,606,065 was paid into the account of two fiduciary funds, namely, Devonshire Funds Ltd and EEMF. Devonshire received US$646,464,649 in five tranches over two days (March 20 and 21, 2013). EEMF received US$414,141,416 in three tranches, within the same two days.
Devonshire transferred US$430 million to Granton Property Holding Ltd, which is a company controlled by Eric Tan, who is fugitive financier Jho Low's partner.
On the same day Granton transferred the whole of that sum to Tanore Finance, also a company controlled by Tan. On the same day, (March 21, 2013), Devonshire transferred US$210 million to Tanore Finance Corporation. Then, between March 22 and 25, 2013, EEMF transferred US$250 million to Tanore, which therefore by that date had US$890 million in its hands.
Between March 21 and April 10, 2013, Tanore transferred US$681 million to Najib's account.
In the 1MDB-Tanore trial, Najib is charged with four counts of power abuse to enrich himself with RM2.3 billion from 1MDB and 21 counts of laundering the same amount. He faces up to 20 years' imprisonment if convicted.
Get the latest news @ www.EdgeProp.my
Subscribe to our Telegram channel for the latest stories and updates