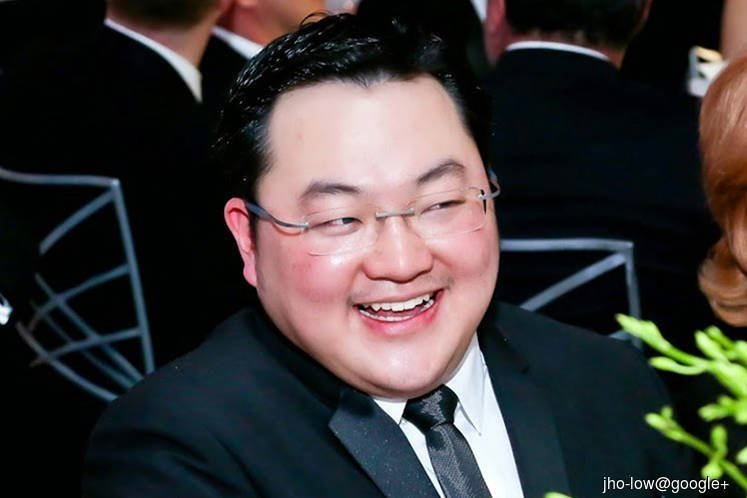 KUALA LUMPUR (May 20): Former prime minister Datuk Seri Najib Razak's lawyer likened fugitive financier Low Taek Jho (Jho Low) (pictured) to "an octopus with plenty of tentacles" at the High Court today in seeking to highlight Low's elaborate plan to siphon off billions of dollars from 1Malaysia Development Bhd (1MDB).
Tan Sri Muhammad Shafee Abdullah, who is defending Najib against power abuse and money laundering charges in the 1MDB-Tanore trial, said this when emphasising Jho Low's influence in manipulating people globally.
"Jho Low is like an octopus with plenty of tentacles reaching throughout the globe, that's what we want to show," Shafee said when responding to a question posed by Justice Collin Lawrence Sequerah to another defence lawyer Wan Aizuddin Wan Mohammed's line of questioning towards a prosecution witness, 1MDB former CEO Mohd Hazem Abd Rahman.
Wan Aizuddin had been reading excerpts from a 2017 news report in The Edge which carried the full statement of facts in a case between the Singapore attorney-general and Falcon Private Bank's Singapore branch manager Jens Fred Sturzenegger.
Sturzenegger was convicted in relation to millions of US dollars originating from 1MDB and flowing to and through Falcon Private Bank accounts of four entities allegedly ultimately controlled by Low.
Wan Aizuddin was reading portions of the statement of facts to Hazem to show him what Jho Low had done. However, the witness said he had no knowledge of this.
This was when Justice Sequerah asked Wan Aizuddin the purpose of reading out chunks of the statement.
Wan Aizuddin said the portions of the statement is relevant to his client's defence to show that the real thief is Jho Low.
Shafee then stood up to back up his lawyer to say that they were referring to The Edge article because Singapore authorities had turned down their requests to get the full court transcripts of the case.
The 42-year-old Swiss, who was the branch manager of Falcon Private Bank in Singapore, was jailed 28 weeks and fined S$128,000. Falcon is owned by Aabar Investments PJS, a company owned by the Abu Dhabi government.
The charges against Sturzenegger have shed light on what happened at Falcon after more than US$1.265 billion was moved to four accounts at the Singapore branch in March 2013, and from there flowed to other accounts. The US Department of Justice has said the US$1.265 billion came from proceeds from the US$3.0 billion bonds issued in March 2013 by 1MDB Global Investments Ltd (1MDB GIL).
Hazem denied being ambiguous about fund transfers to protect Jho Low
As Hazem was CEO at that material time when the US$3 billion bonds had come into 1MDB GIL and had been siphoned in a matter of weeks by Jho Low, Wan Aizuddin had asked him if he was working with Jho Low to siphon the funds.
Hazem disagreed with the lawyer but said he did have reservations about the outflow of money despite not making any formal complaint about it.
The US$3 billion bonds were raised for a purported joint venture (JV) between 1MDB and Aabar in equal shares. The JV company was called ADMIC. The purpose of this alleged JV was to develop TRX, or the Tun Razak Exchange, in Kuala Lumpur.
The sum was disbursed into the account of 1MBD GIL with BSI Bank at Lugano in Switzerland.
From that, a sum of US$1.06 billion was paid into the accounts of two fiduciary funds, namely Devonshire Funds Ltd and EEMF. Devonshire received US$646.46 million in five tranches over two days (March 20 and 21, 2013). EEMF received US$414.14 million in three tranches, also within the same two days.
On March 21, 2013, Devonshire transferred US$430 million to Granton Property Holding Ltd, which is a company controlled by Eric Tan, Jho Low's partner in the scam. On the same day Granton transferred the whole of that sum to Tanore Finance — also a company controlled by Tan. Also, on the same day, Devonshire transferred a sum of US$210 million to Tanore Finance Corporation. Then, between March 22 and 25, 2013, EEMF transferred US$250 million to Tanore which therefore by that date had US$890 million in its hands.
Between March 21 and April 10, 2013 another company, Tanore Finance Corporation, transferred US$681 million Najib's account.
The JV never took off and the companies that the money was siphoned off to were all controlled by Jho Low and his associates.
Hazem today admitted that while he had the opportunity to ask Aabar about fulfilling its end of the JV, he did not reach out to the company because another Jho Low associate, Jasmine Loo, was handling it.
Wan Aizuddin: There was an opportunity for you to follow up with the JV. You weren't being hindered or blocked from following up with Aabar?
Hazem: No, but it was being done by Jasmine.
Hazem also said that while he had contact with Mohamed Badawy Al Husseiny, who was with Aabar, he did not ask him about the JV because he felt that they were not interested in the venture.
"I felt that they were not interested in it," Hazem said.
He said there was nothing he could do if they did not want to honour the terms of the JV, adding that while he may have had contact with Badawy, he could not force them to raise their funds.
Najib is facing 25 charges in the trial, which will continue on Monday (May 24). The charges comprise four counts of abuse of power involving RM2.3 billion worth of 1MDB funds that are said to have been siphoned through Tanore Finance Corp, and 21 counts of money laundering.
Last year, he was found guilty of seven criminal charges — comprising one count of abuse of power and three counts each of criminal breach of trust (CBT) and money laundering — involving RM42 million from SRC International Sdn Bhd, a former 1MDB subsidiary, that ended up in his personal accounts.
He was sentenced to 12 years in jail and a fine of RM210 million for the abuse of power offence, and 10 years of imprisonment for each of the CBT and money laundering charges. The court, however, ordered the jail sentences to run concurrently, which means Najib would have to spend only 12 years behind bars. He is appealing the conviction and sentences.
Get the latest news @ www.EdgeProp.my
Subscribe to our Telegram channel for the latest stories and updates