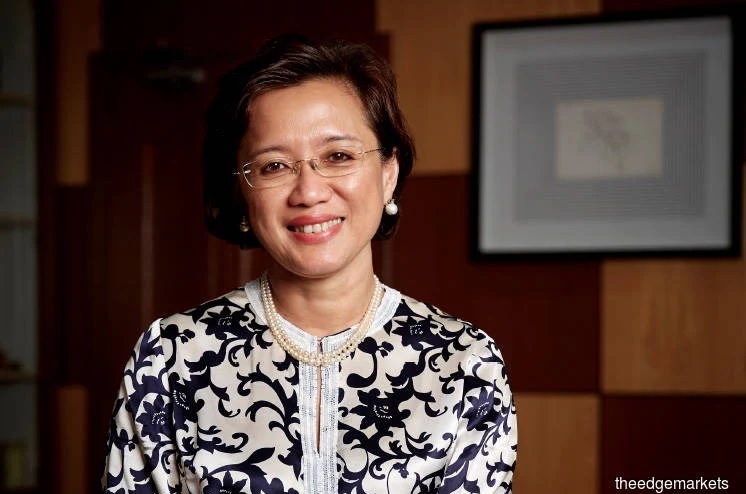 PETALING JAYA (June 8): Malaysia needs clear guidelines on the ventilation system in buildings as cleaner indoor air could curb the spread of the coronavirus, said World Health Organization (WHO) Science Council member and infectious diseases expert Prof Datuk Dr Adeeba Kamarulzaman (pictured).
"Industry experts and leaders need to step up as well. Do not sit back and wait for the government to draw up the policy." These words are part of the clarion call made by Adeeba in a phone interview with EdgeProp.my on June 8.
Read also
Act now before it's too late - Poor indoor air ventilation kills
In late May, as reported by Bloomberg, WHO and the US Centers for Disease Control and Prevention (CDC) have accepted the scientific findings that coronavirus is airborne, and scientists are now calling for ventilation systems to be improved to fight the pandemic.
Besides WHO and CDC, there have been various guidelines published by the European CDC and recently on May 25, Singapore came up with its updated guidance note on improving ventilation and indoor air quality in buildings.
"For the past 18 months or so, the focus has been mainly on surface transmissions and direct or close contacts [for Covid-19]," said Adeeba, who is also the chairperson of the Malaysian AIDS Foundation.
In fact, she noted that the ventilation guidelines should have been drafted a long time ago as it could have huge economic implications. For instance, it could serve as guidance for restaurants and retailers in enhancing indoor air quality and thereby support measures to reopen these establishments safely.
For example, shopping malls may need to consider allowing eateries to spill onto walkways and prevent crowding in enclosed spaces.
"I am less worried about the larger establishments like shopping complexes and office buildings with ample spaces, where there is less people-density. It is the smaller individual shops and also restaurants where people take their masks off during eating that I am worried about," she emphasised.
She advised the public to start by embarking on simple measures like leaving doors and windows open.
"It is going to be an expensive exercise, but it is imperative for the long term and the guidance needs to be out as soon as possible especially for the commercial sector," stressed Adeeba.
What you can do at home
As for residential homes, Adeeba suggested adequate ventilation too.
"Nowadays, we see most homes are air-conditioned and laden with carpets. It is a far cry from the well-ventilated houses during the old days with fewer carpets, more louvres and no dependence on air-condition. We should live according to our climate settings," highlighted Adeeba.
For a start, she makes it a habit to open all doors and windows to ventilate her entire home first thing in the morning.
"The only place with air-conditioning is the bedroom. But even during pre-Covid days, we usually use fans and opt for natural ventilation. It is healthier that way," she shared.
Alas, she lamented that there is still a lot of confusion, misplaced emphasis and overall, a lack of understanding over the matter. Plus, there is still not enough acknowledgement from the people at the top that airborne transmission is the main mode of Covid-19 transmission and subsequently take action in ensuring adequate indoor ventilation.
"Many I think are still unclear about how the virus is transmitted. The risk of transmission in a poorly ventilated indoor setting is so much higher – 18 times in fact – than the outdoors," stressed Adeeba.
Of vaccine apathy and Ivermectin
Separately, regarding people's hesitancy on taking the Covid-19 vaccine due to fear of side effects, Adeeba replied some people may not consider the Covid-19 vaccine to be important nor high in their priority lists.
"They are not hesitant, but may not be well-educated enough on the subject of Covid-19 to realise how important and life-saving the vaccination is. Other reasons they are not coming forward for vaccination may also be logistics, difficulty in registering and such.
"We need to rope in community and religious leaders to go down to the ground [to encourage vaccination] and I'm glad to see this is now happening," said Adeeba, adding that a different communication approach is needed instead of solely focusing on alleviating fears over side effects.
Last week in a Sinar Harian programme, she said Covid-19 is set to be the second-highest cause of death in Malaysia after heart attack. She also quoted a study conducted by the Institute for Health Metric and Evaluation of the University of Washington in the US which found that the Covid-19 death toll in Malaysia may reach up to a staggering 26,000 by September based on the current trajectory. The same study also estimated that the daily death rate would go as high as 200 cases towards the end of August.
On her thoughts on the Ivermectin clinical trials embarked by the Ministry of Health (MOH), she is keeping her mind open on it.
"At present there is no conclusive good quality trial data that suggest that we should be recommending this drug for either treatment or prophylaxis of Covid-19, and therefore we need larger and better clinical trials and studies over the matter," Adeeba opined.
She also pointed out that India has dropped the usage of Ivermectin from its MOH guidelines.
On June 5, Health director-general Tan Sri Dr Noor Hisham Abdullah mentioned that while Ivermectin has been approved by the US Food and Drug Administration as an anti-parasitic drug for treating several neglected tropical diseases, including onchocerciasis, strongyloidiasis and helminthiases, there is insufficient evidence to recommend its use as routine treatment on Covid-19 patients.
However, Noor Hisham added that MOH has begun clinical trials (as per WHO recommendations) in 12 of its hospitals to study the use and efficacy of Ivermectin for high-risk Covid-19 patients in the country.
Get the latest news @ www.EdgeProp.my
Subscribe to our Telegram channel for the latest stories and updates