Housing and lifestyle are inextricably linked. As lifestyles change, so do the types of housing that become available. Realising that the modern form of living greatly emphasises how homes can respond to occupiers' needs for comfort, socialising, and recreation; more and more housing products are being tailored towards the creation of a vibrant, liveable and sustainable living environment.
This is particularly obvious in newly launched vertical residences, where a variety of design solutions and innovative concepts are being applied to meet the modern home lifestyle expectations of individuals as well as communities.
However, in contrast to high-rise properties that have gone through drastic changes in terms of design, layout and concept; terraced houses – being the most preferred housing type for Malaysians – still reflect the conventional habitation of a house.
Many common features of terraced houses still inherit the design concept prevalent in the 20th century, which, to a certain extent, is rarely suited to the current modern lifestyles, and is often criticised for its poor ventilation, lighting, and thermal comfort that could degrade its liveability.
Since the development of terraced houses is driven by the economy of scale, and is mainly based on the efficient use of land and setbacks, the resulting narrow and deep floor plan tends to hinder daylight penetration. Coupled with the "boxy" design aimed to fit the use of air-conditioners or to so-called "protect" dwellers' privacy, daylight quality in the inner space is considerably low.
Besides, a limited fenestration at the front and rear facades results in small window-to-floor ratio openings, leading to a very constrained allowance for natural ventilation. This further causes a low air change rate that contributes to the poor indoor air quality and thermal comfort.
Rethinking usage of back lane
Moreover, the constricted spatial planning in terraced housing – where each dwelling unit is within the defined boundary along the rigid lines of the gridiron layout – not only discourages the interaction between neighbours, but also leaves residents with no access to private green open spaces outside their immediate houses. The only green space allocated at the front is normally paved and converted to a needed car porch.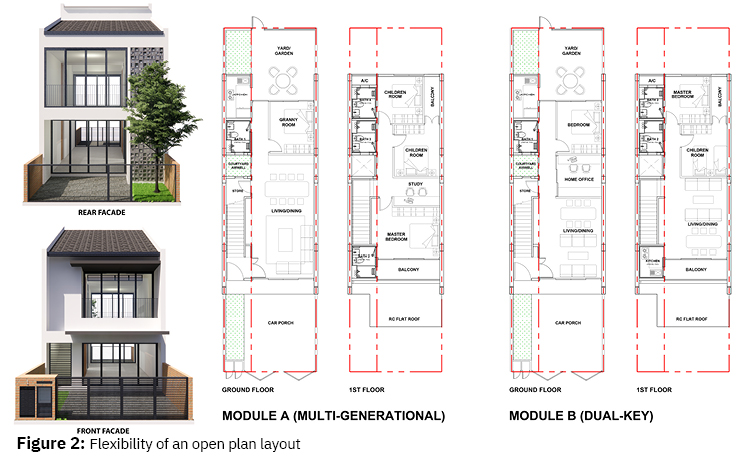 Similarly, the contained and relatively small backyard is either abandoned due to security reasons or sacrificed to give way for a kitchen extension. Thus, residents of terraced housing end up restricted within the defined boundaries of their own fenced units. Eventually, the concept of community living, which used to mark Asian societies, has given way to individualistic lifestyles.
Meanwhile, the back lane – which is the narrow road separating two rows of houses – could have functioned as an extra socio-spatial area for neighbourhood fostering and family bonding ties, but in reality, it always turns out to be a wasteful common area ignored by residents.
Due to concerns on security as well as for the ease of maintenance, the back lane is mostly kept empty and bare. With no aesthetic elements added to enhance its attractiveness, coupled with minimal care from residents themselves, the back lane is portrayed as an annoying, dirty, disgusting, and unhealthy alley, which could give rise to issues like crime, hygiene and disease. This further strips its potential function as an area for social gatherings.
Introducing the flexi-zone
The major design dilemma found in terraced houses today is that the layout tends to be divided into smaller "rooms" with specific purposes, which is definitely far off the 21st century demand for an open plan that can accommodate dynamic changes.
Most importantly, once the front and rear orientations of the building are determined, the overall function of the interior spaces is fixed. Very little room is left to cater for a more flexible arrangement that can meet the dwellers' contemporary and future needs.
For example, the typical layout of a terraced house usually comprises a "front room" as a living area kept separately for receiving guests; a "middle room" featuring a dining area and a space for a stairwell; and a "back room" intended as a kitchen, storage, or bathroom tucked away out of sight.
Clearly, this layout results in a "middle room" that suffers from a lack of natural light and poor air movement, not to mention a great reduction of sense of space due to the stairwell that separates both the living and dining area. Since the "back room" has been designated as a kitchen, storage, or bathroom that involve fewer occupancy hours and daily activities, windows and doors at the rear building are normally kept closed for the sake of security. This further leads to poor ventilation and daylighting of the interior spaces.
One should realise that the positioning of the staircase, kitchen, and bathroom is an important decision that would define the following phases of a housing design configuration, as these are inflexible elements which once placed, can hardly be removed.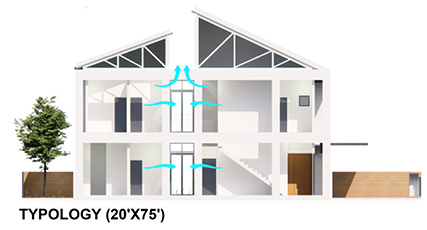 The comfort, liveability, and sustainability of terraced housing can be enhanced greatly if there is a right allocation of space for these inflexible elements in the housing design. By allocating and aligning these inflexible elements into a distinct "service zone", a larger, independent, and dynamic open-plan is created. This "flexi zone" not only provides flexibility to occupants to make changes to their living spaces with minimal costs and less destructive alterations; but also ensures an unblocked sense of space, air, and light across the entire floor (Figure 1).
Most importantly, such a division creates an effective layout configuration where all essential services are centralised and tucked at one side, making it convenient and efficient for plumbing and piping services. The overall construction efficiency of the building is also increased, in case the industrialised building system (IBS) is adopted.
Unlike other typical terraced housing products with definitive front-rear orientations, the proposed one is basically dual-fold – a double frontage house – where living and dining can be flexibly positioned either facing the car porch or rear garden which indirectly promotes more comfortable outdoor dining.
More flexibility needed
In contrast to functionalism – the principle that buildings should be designed based solely on the purpose and function of the building – flexible usage is the credo of the proposed layout. Simply by using sliding doors or drywall partitions, and with easy carpentry works, the longitudinal "flexi zone" can be configured into various plans to cater for a variety of purposes over time, be it the changes of household demography or the residents' changing lifestyles.
Starting from a conventional family-oriented home that comprises a dining room, a living room, a study room at the ground floor and three bedrooms upstairs, it is possible to divide the same housing unit into a multi-generational suite when the family members are growing (Figure 2). The list of possibilities goes on.
With this staircase disposition, the house can feature two entry doors, which can be used as an independent entrance to access the upper floor. This becomes a rather flexible solution, as the double-storey terraced house can be transformed into a dual-key housing unit – two separated three-bedroom units – by changing a bathroom pod into a kitchen pod upstairs and by converting the front bedroom into a living room (Figure 2).
Alternatively, it can even be converted into a "work-from-home" station, featuring an "enclosed studio residence" upstairs and a "home office" downstairs. Such an arrangement not only enables the owner to stay fully focused while working, but also allows the owner to enjoy his or her own privacy at the same time, as it provides a separate space to meet clients and colleagues without entering the main home.
Internal courtyard promotes airflow
Another feature of the proposed design is the introduction of an internal courtyard, serving as a microclimate modifier to mitigate high temperatures, channel breezes, and adjust the degree of humidity. By positioning the courtyard in the middle of the longitudinal layout, an internal open porch exposed to the sky is created, which not only acts as a source of airflow thermal comfort to the residence, but also functions as a natural solar chimney that craves daylight.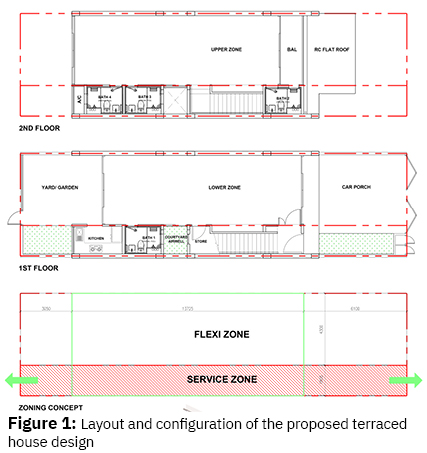 When people are not allowed to freely mingle around outdoor spaces (during the lockdown), how their compact homes can be made more outdoors is of crucial importance. The internal courtyard can become an active zone for exercising or for various activities within confined spaces.
With the presence of natural elements within the courtyard, significant environment benefits can be further harnessed to support a healthy lifestyle. This air well courtyard can also serve as an accessible-ready element where a platform lift can be installed easily for aging or handicapped family members in the future, if any.
In this proposed design, the provision of a sizeable backyard creates an additional socialising space at the back of the house, which is flooded with natural light. This space can be used as a semi-outdoor convivial family area everyone desires.
As for the kitchen, by positioning it next to this multi-functional semi-outdoor space, a large and open kitchen that connects living and dining, topping most homeowners' wish lists, is formed. This overcomes the problem of small, confined, and poky kitchens requiring extensions in most terraced houses.
To further add value to this backyard, the back lane that is directly attached to it can be livened up with a well-designed landscape. Since the back lane is open and unfenced, private spaces (each individual backyard) are undefined and merge with the public spaces. This setup can definitely facilitate leisure and recreational activities, improve the health of its users with therapeutic effects, as well as foster community interaction.
Most importantly, the setting for outdoor recreational pursuits for urban residents can provide enjoyment especially to the elderly, handicapped, and the children who are more dependent on near-home recreational spaces. This is most relevant for terraced housing as it can provide a comfort, clean, and safe private escape for the occupants to move more freely than inside the building.
Thus, a terraced house is redefined.
Dr Foo Chee Hung is MKH Bhd manager of product research and development and Ar. Jerry Tan Yu Hoe is the Principal of YHDA/Yuhoe Design Architect.
This story first appeared in the EdgeProp.my E-weekly on July 30, 2021. You can access back issues here.
Get the latest news @ www.EdgeProp.my
Subscribe to our Telegram channel for the latest stories and updates