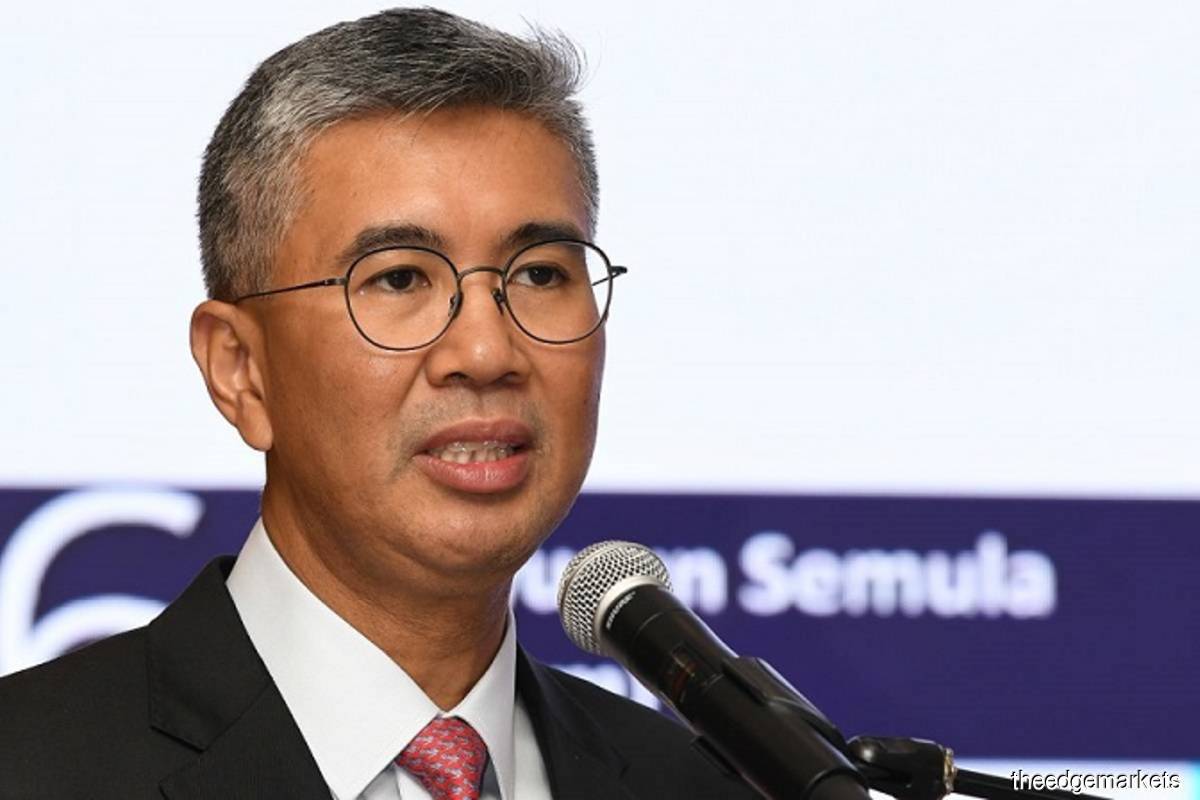 KUALA LUMPUR (Oct 11): The government on Monday tabled the Temporary Measures for Government Financing (Coronavirus Disease 2019) Amendment Act 2021 Bill to increase the federal government's statutory debt limit from 60% to 65% of gross domestic product (GDP).
Finance Minister Tengku Datuk Seri Zafrul Abdul Aziz said the additional money was also meant for wage subsidies and projects under the 12th Malaysia Plan (12MP).
He said the extra money was crucial for business continuity, economic recovery and people's welfare, adding that the people would suffer if the bill was not passed.
"Most importantly, this will ensure continued support from all parties, especially to ensure that the low-income B40 group and affected Malaysian families receive assistance to ease their burden.
"It also aims to strengthen public health systems, particularly to contain transmission Covid-19 outbreaks and treat Covid-19 patients, and support economic continuity, especially for small and medium enterprises (SMEs) and micro-enterprises.
"Apart from strengthening the country's economic situation, the situation is improving following the success of the National Covid-19 Immunization Program (PICK), legislative amendments and such increase in the statutory debt ceiling will also be more open to the oriented Budget 2022 allocation the welfare of Malaysia, outlined by the diversity of business types and economic activity," he said in Parliament on Monday.
Since the Covid-19 pandemic hit the country, the government has spent RM530 billion under various stimulus packages, including both fiscal and non-fiscal measures, which have benefited more than 20 million people and 2.4 million businesses, Tengku Zafrul said.
"With over 450 programs and initiatives through all packages, I admit that there is still room for improvement," he said.
"I would like to say a thousand thanks to the members of the House for the advice given from the ranks of the government and the opposition. When people are in need, we must put aside all differences to tackle this pandemic together and return the rays to the Malaysian family," he said.
Tengku Zafrul also added that an increase in government debt both this year and in 2022 was necessary for a continued economic recovery.
RM45 billion needed for Covid-19 Fund, says Tengku Zafrul
An additional RM45 billion is needed under the Covid-19 Fund (KWC-19), as the Ministry of Finance has proposed to increase the expenditure under KWC-19 from RM65 billion to RM110 billion in Parliament on Monday.
The additional funds will be used as follows:
RM12.7 billion to cover additional allocations of the Wage Subsidy Program from RM18.3 billion to RM31 billion through the PEMERKASA stimulus package, PEMERKASA Plus, and PEMULIH
RM15.8 billion to cover additional allocations of Bantuan Prihatin Nasional from RM25.2 billion to RM41 billion, taking into account the approval of the appeal as well as increased grants under PEMERKASA and PEMERKASA Plus
RM2 billion to increase funding for small projects for small entrepreneurs in classes G1 to G4 from RM4 billion to RM6 billion in line with the government's efforts to increase economic activity while boosting the national economy
RM3.6 billion for the additional allocation of the PRIHATIN grant to small and medium entrepreneurs (SMEs) from RM2.4 billion to RM6 billion
RM1 billion to increase the maximum amount for microcredit under Bank Simpanan Nasional and TEKUN Nasional as well as changing of name to Micro Credit Loan amounting to RM2 billion.
RM4 billion to increase the allocation for the Health Ministry for Covid-19 related expenditure from RM5 billion to RM9 billion.
RM5.9 billion to increase social assistance support for the vulnerable group from RM110 million to RM6.01 billion.
Get the latest news @ www.EdgeProp.my
Subscribe to our Telegram channel for the latest stories and updates