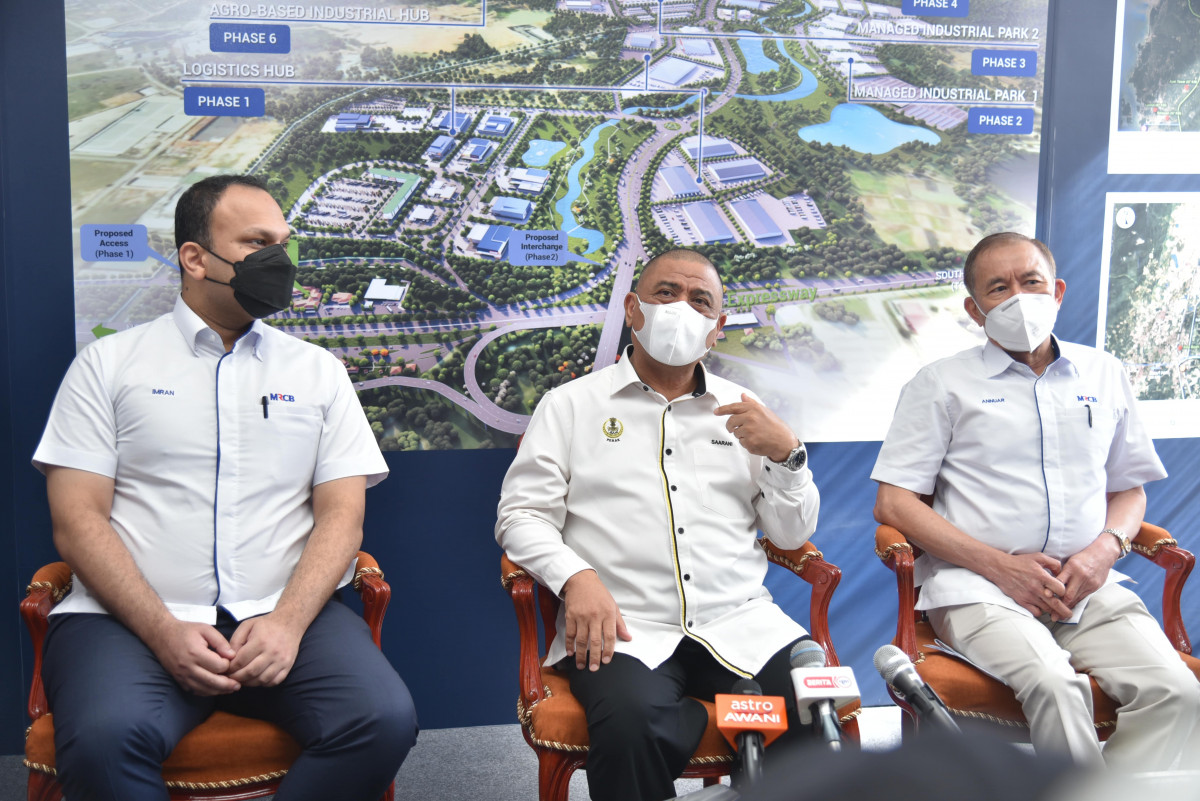 IPOH (June 10): Malaysian Resources Corporation Berhad (MRCB) has launched Ipoh Raya Integrated Park, marking the developer's first foray into the industrial and logistics market.
The development will be led by MRCB's property division, MRCB Land.
In a statement, MRCB said the 832.38-acre integrated park diversifies it away from a focus on green high-rise commercial and residential transit-oriented developments. It added that the development will have a very positive impact on the local economy and is projected to create approximately 15,000 new job opportunities in the area.
Perak Menteri Besar Dato' Seri Haji Saarani Mohamad was present at the launch event on Thursday (June 9) where Memorandums of Understandings (MoUs) were signed with three strategic partners of the development -- Aerodyne Group, Hi Wealth Labs Sdn Bhd and Lorry.com.
"We welcome and fully support the development of the Ipoh Raya Integrated Park in Perak. As we work towards economic recovery, we have outlined several key areas of focus for the state, including attracting potential investors, creating job opportunities and accelerating the adoption of technology.
"The Perak Government is working closely with various agencies and private sectors to achieve our targets and now with the introduction of the Ipoh Raya Integrated Park, we are confident that Perak will continue to build and gain recognition as an important hub for investors and multi-national corporations alike," said Haji Saarani at the launch.
"The Ipoh Raya Integrated Park will lay the groundwork for our entry into industrial and logistics
development, a segment of the market where we believe there will be much demand over the next few years from multinational corporations looking for large, strategically located, bespoke
developments meeting their sustainability requirements," MRCB Land chairman Tan Sri Mohd Annuar Zaini noted.
He added that the development and the tie-in with the strategic partners are also in line with the company's policy of supporting Bumiputera companies and providing an avenue for upcoming technological firms to hone their skills and offerings.
The development is strategically situated 14km south of the Ipoh city along the major national highway, North South Expressway and adjacent to the East-West Highway.
Transportation hubs such as the Ipoh and Batu Gajah Komuter (KTM) stations, Sultan Azlan Shah Airport and Lumut Port as well as residential and commercial centres of Simpang Pulai and Ipoh are within a 15km radius of the integrated park.
The energy-efficient integrated logistics park will incorporate eco-sustainability practices, including the Green Building Index (GBI) certified structures, green streets and an activated Central Park.
Additionally, innovative solutions including the adoption of Industrial 4.0, 5G enabled Internet of Things (IoT) and smart factory systems will be introduced.
The Ipoh Raya Integrated Park will consist of six phases with several key development areas
such as an agro-based industrial hub; logistics hub; managed parks 1, 2, and 3; accommodation facilities; technical, vocational education and training facilities.
Phase 1 of the integrated park -- the logistics hub, is targeted for completion in 2028.