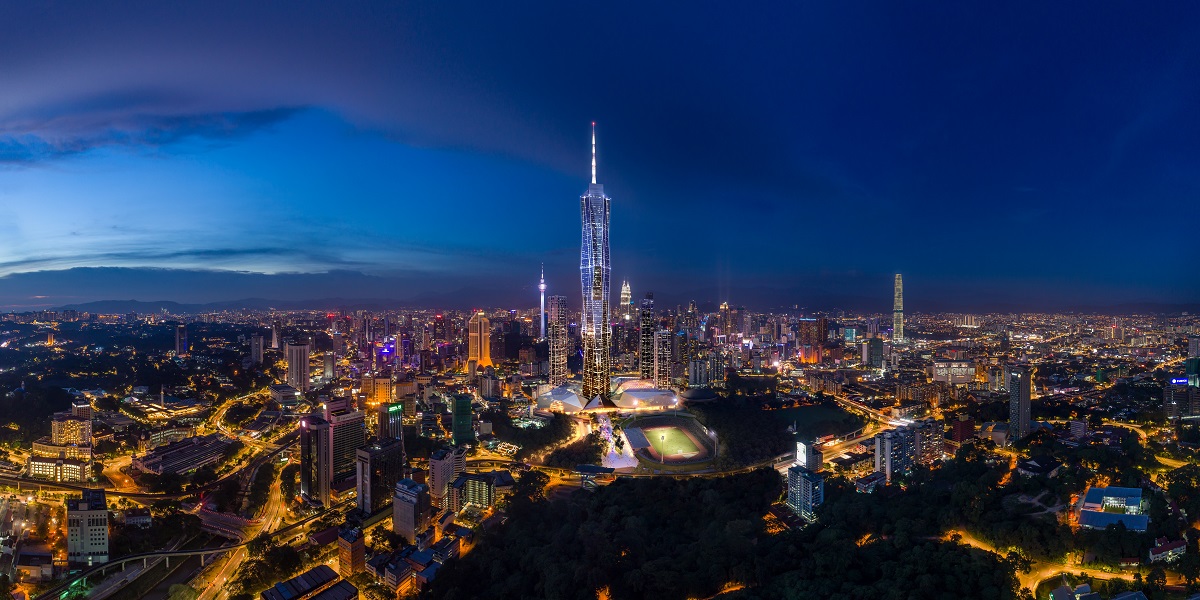 Berada 500 meter di atas tanah, The View at 118 adalah dek pengamatan tertinggi di Asia Tenggara, menawarkan pemandangan panorama yang menakjubkan dari Kuala Lumpur
Hanya mengambil masa 65 saat untuk sampai ke The View at 118, dek pengamatan Merdeka 118 dari lantai bumi, menurut Tengku Datuk Ab. Aziz Tengku Mahmud, ketua pegawai eksekutif PNB Merdeka Ventures Sdn Bhd semasa lawatan media ke menara kedua tertinggi di dunia semalam.
Lift ini, yang direka dengan panel kaca, memberikan anda pemandangan Kuala Lumpur semasa anda naik ke dek pengamatan. "Ketika naik, kelajuan diatur pada lapan meter setiap saat. Pada perjalanan turun, kita mengurangkan kelajuan kepada enam meter setiap saat," kata Tengku Aziz.
Berdiri 500 meter di atas tanah, The View at 118, terletak di tingkat 115 dan 116X, adalah dek pengamatan tertinggi di Asia Tenggara, menawarkan pemandangan panorama yang menakjubkan dari ibu kota, terutamanya pada waktu malam.
Selain dek pengamatan, terdapat Edge Walk di tingkat 116X yang akan menggembirakan pencari sensasi. Anda akan berjalan di lantai kaca dari satu hujung ke hujung lain, di luar bangunan hanya dengan pengikat keselamatan.
Di satu sisi fasad, terdapat sebuah kotak kaca tertutup yang membolehkan anda keluar dari bangunan ke lantai kaca, menawarkan pemandangan bandar di bawah kaki anda.
Menara berpuncak 40 tingkat ini awalnya dimaksudkan sebagai antena penyiaran, tetapi kemudian diubah menjadi tarikan pelancong lain. Di dalamnya, terdapat tangga berliku di mana anda boleh mendaki lagi 60m, hampir sepertiga perjalanan ke atas, ungkap Tengku Aziz.
Kadar penghunian hampir 70%
Dengan Permodalan Nasional Bhd (PNB) dijadualkan untuk berpindah pada akhir tahun ini, diikuti oleh Maybank dalam tempoh 12 bulan yang akan datang, dan Park Hyatt Kuala Lumpur akan memulakan operasi pada pertengahan tahun depan, kadar penghunian menara Merdeka 118 hampir mencapai 70%, kata Tengku Aziz.
Mencapai ketinggian 678.9m, Merdeka 118 mempamerkan ruang pejabat kelas A premium dari Tingkat 8 hingga 96. Dalam menara yang bersedia untuk masa depan ini, PNB akan menggunakan 17 tingkat, manakala Maybank akan menduduki 33 tingkat.
"Fakta bahawa kami adalah bangunan lestari, saya rasa kami menetapkan piawai industri untuk ciri-ciri kelestarian. Jadi, mana-mana syarikat antarabangsa dan Malaysia yang ingin memenuhi aspirasi ESG mereka patut mempertimbangkan (Merdeka 118), dan kami di sini untuk memenuhi aspirasi tersebut," kata Liza Karim, naib presiden Komunikasi PNB Merdeka Ventures.
Merdeka 118 adalah menara pertama di Malaysia yang berusaha mencapai penarafan platinum hijau tiga kali dengan pensijilan kelestarian antarabangsa. Di antara ciri-ciri kelestariannya, menara ini menggunakan pencahayaan LED 100%, menyimpan air hujan dan air kelabu untuk kegunaan bukan minum, memasang panel solar di atas bumbung yang menyediakan air panas untuk hotel, dan meletakkan difusor di lantai pejabat untuk membolehkan udara sejuk semula jadi mengisi ruang tersebut.
Kini selesai 97.8%, Tengku Aziz menambahkan bahawa ikon baru Kuala Lumpur dijangka menerima kira-kira 10,000 pekerja setiap hari, dan dilengkapi dengan kira-kira 8,000 tempat letak kereta dan 89 lif.
Menara mega ini merupakan sebahagian daripada pembangunan Merdeka 118, yang terdiri daripada Stadium Merdeka, Stadium Negara, 118 Mall, Masjid Merdeka, Merdeka Boulevard di taman linear 118, Little M (pusat jagaan kanak-kanak PNB), Muzium Tekstil Merdeka, dua menara kediaman Merdeka, dan menara kediaman perkhidmatan Oakwood Premier Kuala Lumpur.
Mencari untuk membeli rumah? Daftarlah untuk EdgeProp START dan dapatkan ganjaran eksklusif dan baucar untuk PEMBELIAN rumah di Malaysia (utama atau sekunder)!
Artikel ini diterjemahkan dari bahasa Inggeris. Anda boleh membaca artikel asal di sini.