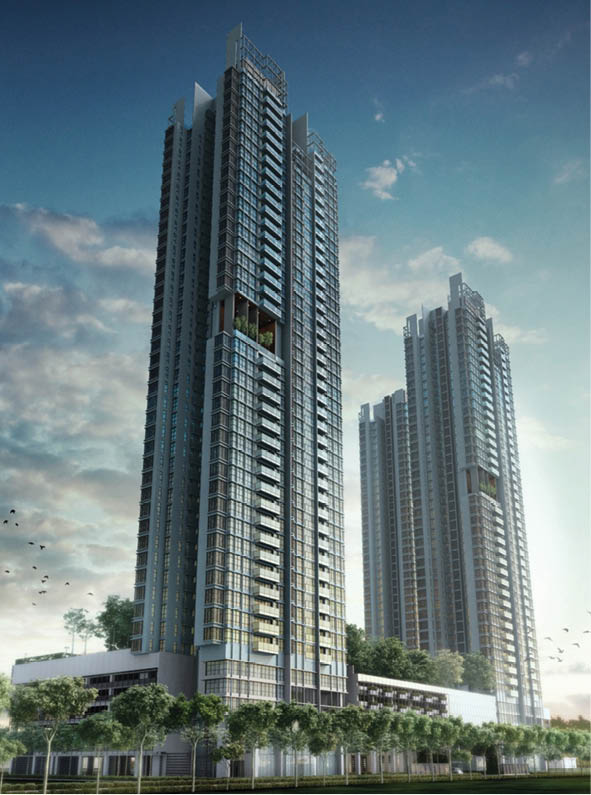 KUALA LUMPUR (July 25): The slowdown in the property sector has prolonged for over a year. Most analysts opine that the weak consumer sentiment and banks' stringent lending policy will continue to pose earnings risk to property developers.
Even after Bank Negara Malaysia's recent cut in the overnight policy rate by 25 basis points, analysts are not convinced that the move will be enough to revive much of the property market.
The question of how resilient property companies are still lingering among the investing fraternity.
"We think it is important for property companies to have a strong balance sheet, cash and flexibility to weather the downturn of the market," said TA Securities' analyst Thiam Chiann Wen.
Indeed, cash is king in times of uncertainties. A sizable cash pile would be a good buffer against the fall in sale revenues.
A random check on 32 property companies with a market capitalisation between RM300 million to RM2 billion, only six companies' cash ratio is higher than one.
The six are SHL Consolidated Bhd, Plentitude Bhd, TAHPS Group Bhd, Land & General Bhd (L&G), Amcorp Properties Bhd and Daiman Development Bhd. Tambun Indah Land Bhd's cash ratio is at 0.99 based on the latest balance sheet. (see chart)
Cash ratio is a gauge of companies' ability to cover their short-term liabilities.
L&G is among the few companies that has a cash ratio of higher than one, at 2.22 times, indicating more than sufficient cash on hand to pay off short-term debt.
L&G is on a net cash position of RM288.5 million, which is 67.4% of its current market capitalisation of RM427.9 million.
The company's cash pile had grown significantly to RM525.9 million as of March 31, 2016 from RM398.3 million a year ago. In fact, the cash pile has more than doubled from RM183.8 million two years ago.
On the other side of its balance sheet, L&G's borrowing was at RM83.1 million as at March 31.
As for companies' prospects, L&G had, at the beginning of this year, planned to launch three developments with an estimated total gross development value (GDV) of RM1.67 billion. The launches are the Astoria serviced apartments in Ampang, phase 2 of the Damansara Foresta service apartments in Bandar Sri Damansara and the first phase of landed development, Taman Sena in Seremban.
The group's net profit for fourth quarter financial year ended March 31, 2016 (4QFY16) was close to eight times higher at RM55 million from RM7.1 million in 4QFY15. The company has been profitable in the last ten years.
Like other property stocks, L&G's share price has tumbled from its five-year high of 62.9 sen in August 2014 to a low of 33.5 sen in March this year.
L&G has declared dividend regularly since 2014. On May 30, the board declared a single-tier final dividend of two sen, reflecting a dividend yield of about 5.12% — even higher than some of the Real Estate Investment Trusts (REITs) on Bursa Malaysia.
Meanwhile, SHL Consolidated has the highest cash ratio at 3.25 times among the companies under review. It also has a trailing dividend yield of 7.43%.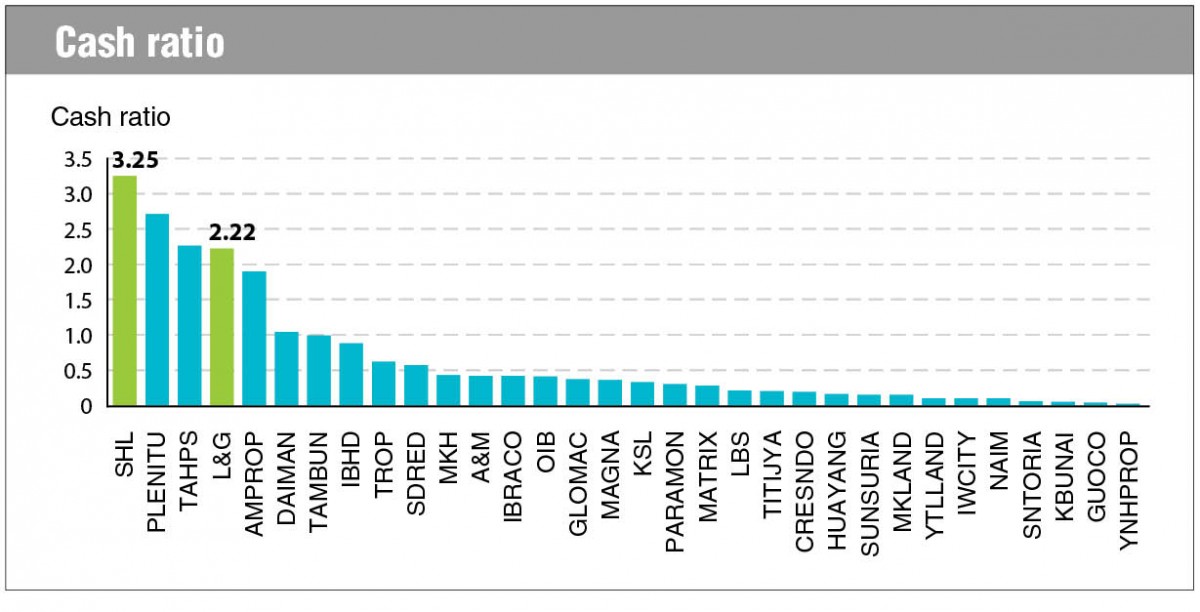 SHL Consolidated is rather unique with its build-then-sell (BTS) business model. Because of the BTS model, the company needs to maintain a strong balance sheet. It is mainly on affordable housing — one segment that analysts believe will continue to see demand despite the slowdown.
While it is still early to say if the company will continue with its dividend payout, SHL Consolidated's cash balance at RM305.9 million is expected to strengthen its financial footing in current slowdown.
The company's management has managed to reserve more cash while meeting its dividend payout ratio of at least 70% for the past three years, at least.
Nonetheless, the slowdown in the property market led to the decline of 19% in its net profit to RM84.54 million, or 34.92 sen per share, for the financial year ended March 31, 2016 (FY16) from RM104.56 million, 43.19 sen per share, the year before.
Interestingly, SHL Consolidated's share price is considered rather resilient compared with its peers in the property industry. The stock has been hovering in the band between RM2.80 and RM3.40 since 2015. It was last traded at RM2.97. Year to date, SHL Consolidated has gained by 2.07%.
This article first appeared in The Edge Financial Daily, on July 25, 2016. Subscribe to The Edge Financial Daily here.