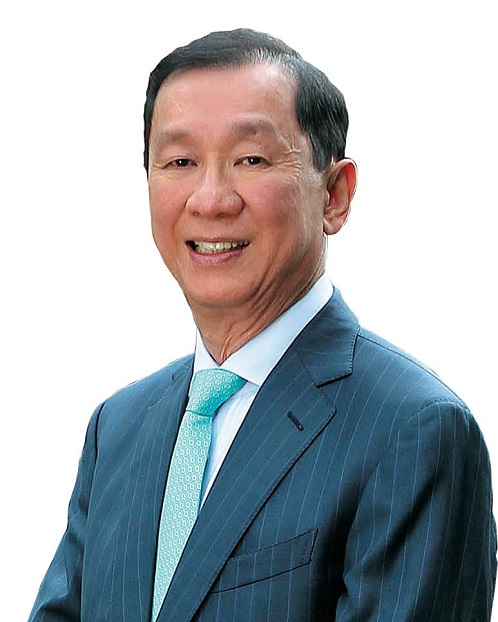 TAN Sri Danny Tan Chee Sing, the founder and former group executive vice-chairman of Tropicana Corp Bhd (formerly Dijaya Corp Bhd), is a seasoned developer.
The 61-year-old established the company as Dijaya Corporation in 1992 and it changed its name to Tropicana Corp Bhd in 2003. Last year, he retired and left the running of the company to Datuk Yau Kok Seng who is group CEO, and eldest son Datuk Dickson Tan who is deputy group CEO.
The property tycoon is also the brother of Berjaya Corp Bhd's founder Tan Sri Vincent Tan. Both are Malaysia's top businessmen and are ranked among Forbes Malaysia's 50 Richest in 2016.
Tropicana is known for its flagship Tropicana township in Petaling Jaya which is anchored by the Tropicana Golf and Country Resort.
Despite retiring from the day-to-day running of his company, there is no doubt that his passion for the business remains deep. At The Edge Malaysia Property Excellence Awards 2015, Tan received the Outstanding Property Entrepreneur Award.
TheEdgeProperty.com: Building and selling homes — what was it like then and now?
Tan Sri Danny Tan: Rather than just buying a home, consumers today, especially the younger generation, favour value-added properties, especially holistic lifestyle properties equipped with great facilities, security, accessibility and connectivity.
In addition, developers are becoming more than just house builders as we are evolving into master builders of communities. We need more mixed-use developments that incorporate residential, commercial, entertainment, recreational and even cultural components.
These integrated developments will see homes, offices, restaurants, shops and entertainment outlets stacked vertically on top of each other or constructed within walking distance, thus reflecting the changing mindset of young homebuyers.
How many homes have you built?
We are the pioneer of resort-themed developments with over 42 completed and 16 ongoing developments across Malaysia.
With emphasis on our customers' needs, we have been innovating and redefining the art of living through the creation of integrated developments by incorporating residential and commercial components to create thriving townships that are strategically connected.
Our recent launches, Cheria Residences at Tropicana Aman, Dianthus Serviced Residences at Tropicana Gardens and Ridgefield Residences at Tropicana Heights are testament to our commitment in building quality homes that reflect the aspirations of a broad range of purchasers.
What was your most memorable project and why?
My most memorable project has been Tropicana Golf & Country Resort (TGCR), as we were the first developer in Malaysia to come up with the gated community and resort-living concept when we launched TGCR as well as the first developer to offer free helicopter rides for prospective buyers so they could better visualise the vision of the resort. Until today, people still talk about that.
The luxurious township in Petaling Jaya was founded in 1995. It brings the comforts of resort facilities to thousands of affluent local and expatriate residents.
Set amid the landscaped greens of the 27-hole East and West championship golf courses, the 253ha resort is Tropicana's most established brand and one of the most prestigious developments in the country. It has won many international real estate awards.
Buyers are getting younger. How do you engage them?
As the younger generation makes up the biggest portion of Malaysia's population — 10.8 million or 38.2% of the population — their preferences are starting to transform the way business is done.
The younger generation relies on technology and most property buyers today search for properties online first before other forms of media. Gone are the days where we could just use traditional media such as billboards, newspapers and marketing collaterals to promote and sell property. While these media still have their place, our corporate website and social media platforms play a pivotal role in our marketing strategy.
To stay in the game, we need to engage the young. We have invested in delivering a seamless online experience for our customers with frequent updates of our group's news, events and products on our corporate website and social media sites so that everything about our company and our latest offerings are available on the web. Our customers can also use our corporate mobile app or our mobile-friendly corporate website, as well as sign up for alerts for new updates and events.
What are your investment tips for first-time homebuyers?
The first property purchased may be the largest purchase made in a lifetime, hence it is crucial to get it right the first time. Know your buying objective clearly be it for your own stay or for investment. Know what you can afford before you look for a property and study the market. Equip yourselves with the necessary information in order to obtain returns in terms of capital appreciation or rental yield.
Owning a home in a strategic location is always nice, but first-time homebuyers should always consider their financial positions so they do not end up being overly burdened for the next few decades.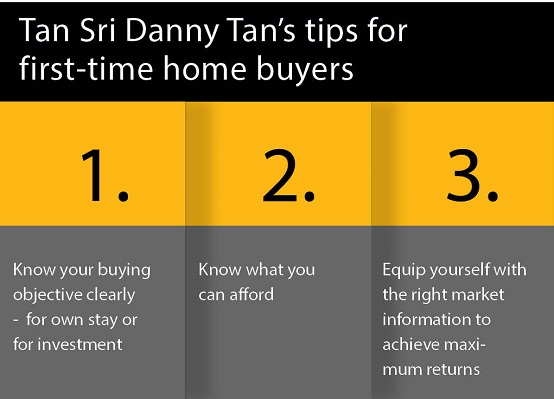 How key is social media to your business — are you on social media?
I believe that social media is as important as online and traditional media. However, social media marketing is not just about having Facebook, Twitter or even WhatsApp. It is about creating, engaging and sharing within the virtual communities and networks. It requires upkeep and constant attention and it will only be an invaluable addition to complement our brand in the long term if implemented correctly.
We cannot simply have an idea and launch it on social media in the hope that it will gain traction and be adopted by the market.
We venture into the social media bandwagon to attract buyers and investors, build brand awareness, and promote in-house services and marketing events.
Your property outlook for 2016/2017?
Although the overall property market has remained soft in the first half of 2016, we nonetheless adopt a long-term positive view in Malaysia, due to the growing population backed by an expanding middle income group, and the fact that 80% of Malaysians are below the age of 50. These two factors will continue to ensure demand for properties.
We are cautiously optimistic that a recovery is underway in the second half of 2016, as we have seen significant activity in the market across all sectors — from first-time buyers through to RM1 million-plus property buyers — recently.
The promising take-up rate indicates that consumer strength is returning and there is still demand for landed properties and integrated developments in prime locations with accessibility to good amenities and attractive pricing.
What is your aspiration for the Malaysian property sector?
Since the slowdown in 1H2016, the property market has gained a gradual momentum. I am very positive about the property sector's outlook as we are moving in the right direction towards a buoyant property market in the not too distant future.
The winds of change are blowing more perceptibly, with property prices staying stable, more innovative deals being offered and government initiatives to increase affordable housing and to attract more foreign investment.
Property development is not just about building houses. It is about offering a lifestyle that people want and designing communities that people call home. Home is where the heart is and we believe in building homes that not only appeal to the eyes and minds of our customers, but to their hearts as well.
● Tan Sri Tan Seng Leong (BCB Bhd): Look out for signs of recovery
● Tan Sri Lee Kim Yew (Country Heights Holdings Bhd): Land is the key to accumulate wealth
● Tan Sri Liew Kee Sin (EcoWorld): Achieve greater heights by embracing technology
● Tan Sri Lim Kim Hong (I-Bhd): Well-planned projects less affected by negative factors
● Tan Sri Lim Kang Hoo (Iskandar Waterfront Holdings Bhd): Act on opportunities from the HSR link
● Tan Sri Lim Hock San (LBS Bina Group Bhd): The keys to success are product, location and pricing
● Tan Sri Leong Hoy Kum (Mah Sing Group Bhd): The ability to adapt to change is crucial
● Tan Sri Mohamad Salim Fateh Din (MRCB): Malaysia's property market will continue to be dynamic
● Tan Sri Eddy Chen (MKH Bhd): We need more liveable homes
● Tan Sri Ong Leong Huat (OSK Property): Build homes according to buyers' wants and needs
● Tan Sri Lim Soon Peng (Titijaya Land Bhd): Affordability — key to homebuyers' needs today
This story first appeared in TheEdgeProperty.com pullout on Aug 26, 2016, which comes with The Edge Financial Daily every Friday. Download TheEdgeProperty.com pullout here for free.