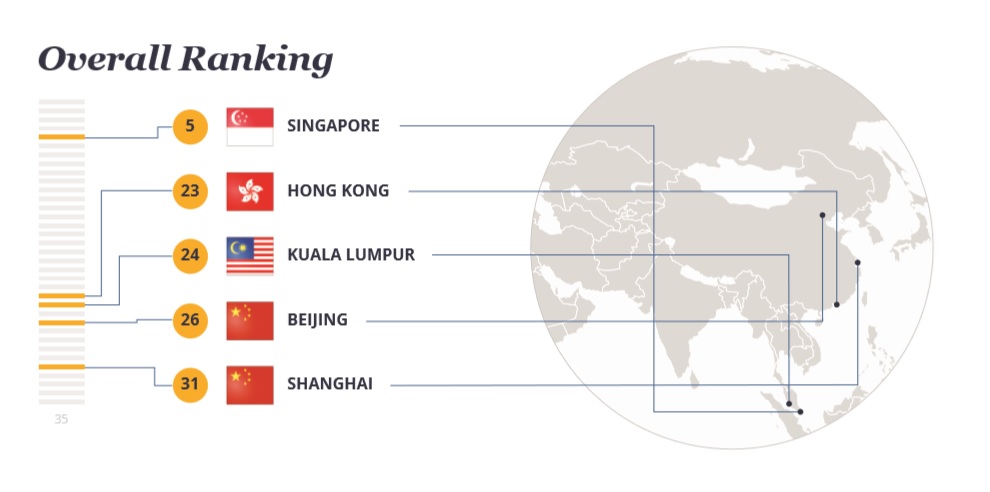 PETALING JAYA (Nov 16): Melbourne, Australia took the No 1 spot as the best city for expats while Singapore emerged as the best city in Asia for expats — the only Asian city that made it into the Top 10 overall ranking of the third annual InterNations Expat Insider 2016 survey.
The survey was carried out by InterNations, a global networking and information site for expats.
It asked about 14,300 expatriates representing 174 nationalities and living in 191 countries or territories to rate and provide information on various aspects of expat life.
For a city to be ranked, a sample size of at least 50 survey participants per city was required. In total, the responses used for the city ranking represent 4,096 expats living in 35 destinations and 22 countries or territories in the Americas, the Asia-Pacific region, Europe and the Middle East.
Participants were asked to rate more than 30 different aspects of life abroad on a scale of one to seven. The respondents' ratings of the individual factors were then bundled into 12 subcategories, to draw up several topical indices: Quality of Life, Ease of Settling In, Working Abroad, Personal Finance, and Cost of Living. These were further averaged in order to rank 35 cities worldwide.
The top five were Melbourne, Houston, Madrid, Dusseldorf and Singapore.
The survey revealed that 89% of the respondents who enjoy living in Singapore are satisfied with their life abroad in general, earning the city an eighth place in the Quality of Life Index.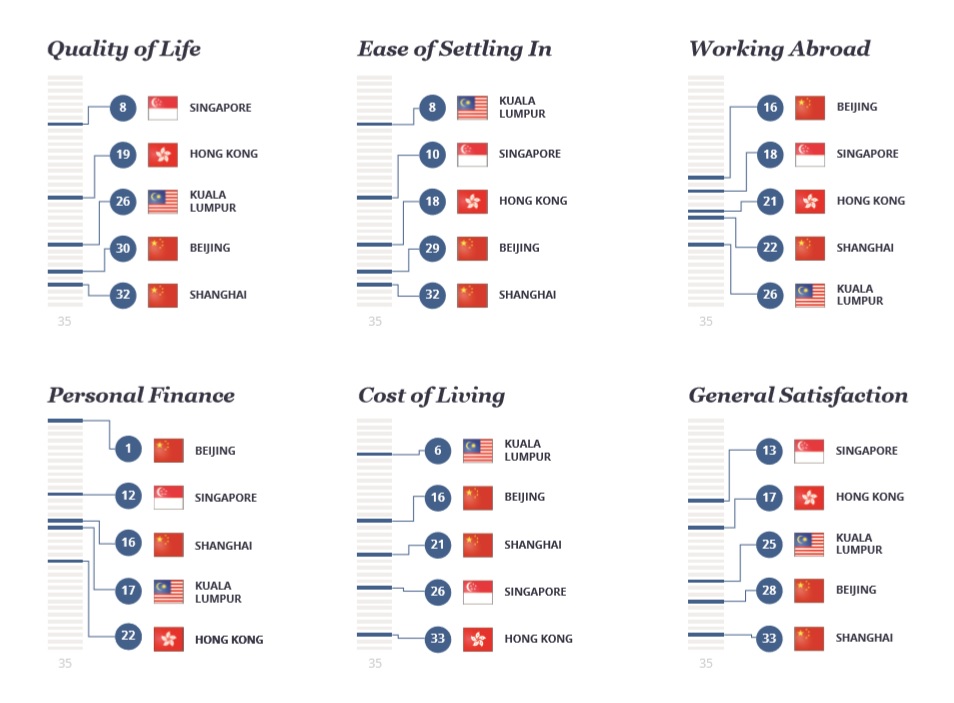 Singapore also made it to the top in the Safety and Security subcategory with over 80% of respondents rating the city's safety as very good. Seventy-three per cent of respondents agreed that it is easy to get used to the local culture in Singapore.
Hong Kong and Kuala Lumpur came in at 23rd and 24th position overall. Kuala Lumpur is ranked eighth out of 35 in the Ease of Settling In Index.
In Kuala Lumpur, the city earned a sixth place in the Cost of Living Index, with 68% rating the cost of living positively. Hong Kong appeared in the bottom five of the index, with 71% of respondents not happy with the cost of living in the metropolis while 90% said it is difficult to find affordable housing over there.
Expats in Australia's second-most populous city Melbourne are particularly pleased with their work-life balance as 79% of respondents rated this positively, which is notably higher than the global average of 60%. Overall job satisfaction in Melbourne is also above average, with 71% rating this factor positively. This city down under also excels when it comes to the availability of leisure activities: an astounding 91% rate this aspect positively, 19 percentage points higher than the global average of 72%.
Houston, Texas earned second place overall. The US' fourth biggest city also excels when it comes to cost of living and personal finance, ranking fifth and seventh, respectively. However, it should be noted that the survey data was collected before the US presidential elections.
Madrid ranked third overall, mainly due to the fact that expats felt welcomed and found it easy to make friends there. The Spanish capital was also rated positively by 72% of respondents for its low cost of living.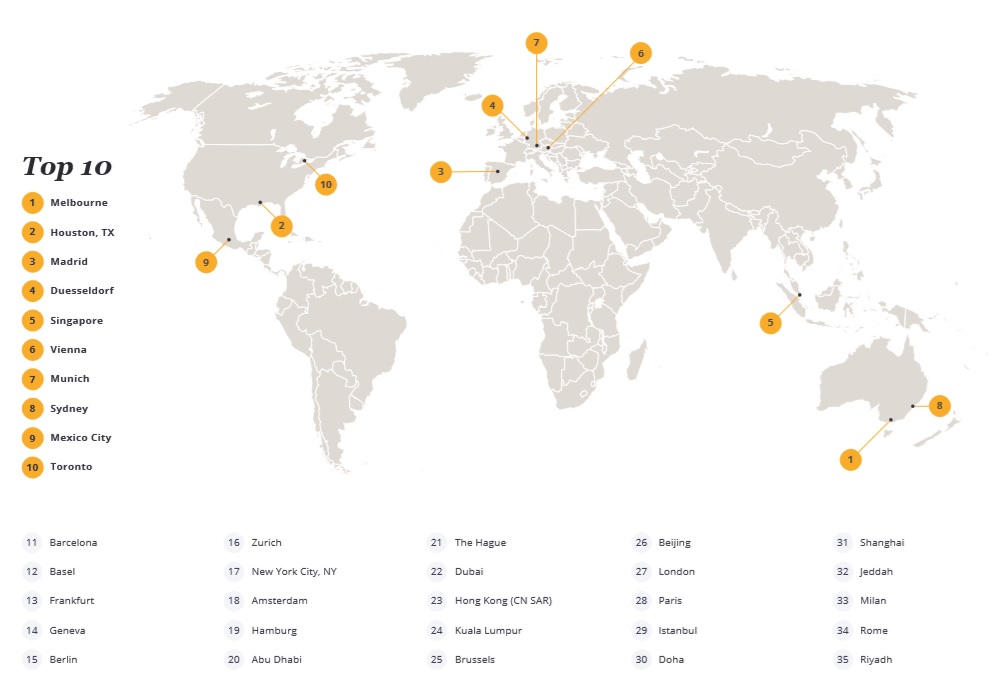 In terms of work-life balance, Asian cities had a poor score with all respondents agreeing that Asian cities struggle when it comes to good work-life balance.
"This affects Beijing, Shanghai, Hong Kong and Singapore, which are all found in the below-average ranks of this subcategory.
"Although Kuala Lumpur is not among the worst-rated cities for work-life balance, it merely achieved a mediocre 17th place out of 35 cities.
"In the Malaysian capital, only one in 10 expats is completely happy with this factor, as opposed to 27% in Melbourne, the number one for work-life balance," said the survey report.