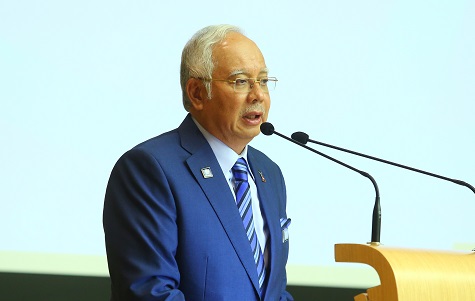 ISKANDAR PUTERI (Dec 6): Prime Minister Datuk Seri Najib Tun Razak (pictured) has described the progress of the Kuala Lumpur-Singapore High-Speed Rail (HSR) as "well and good", Bernama reported today.
Najib added that Singapore had requested for a bit of time as the country required the approval from the island republic's president.
"[Singapore] Prime Minister Lee Hsien Loong has called me and asked for a little bit of time to brief their president," he said after officiating the 10th anniversary of Iskandar Malaysia at Educity here today, Bernama reported.
"We will be signing the agreement next week, I think. He (Lee) is coming to Kuala Lumpur," Najib added.
It was reported last week that Singapore Prime Minister Lee Hsien Loong hoped to sign the bilateral agreement on the development of the Kuala Lumpur-Singapore HSR during the next leaders' retreat.
"We have made very good progress. We are almost there, and I hope that when I meet Prime Minister Najib [Najib Tun Razak] at the next retreat, we will be able to sign the agreement," Lee was reported as saying.
Malaysia and Singapore have been discussing the agreement for more than a year.
Both signed a Memorandum of Understanding to work towards commencing the Kuala Lumpur-Singapore HSR operations by 2026.
They will also take responsibility for developing, constructing and maintaining the civil infrastructure and stations located in their respective countries.
The two countries have agreed that the HSR will have eight stations, with terminals in Bandar Malaysia (Kuala Lumpur) and Singapore, and six intermediate stations in Putrajaya, Seremban, Ayer Keroh, Muar, Batu Pahat and Iskandar Puteri.
All stations will be designed to integrate with the local public transport systems to ensure seamless connectivity.
The trains will run at a top speed of more than 300kph.