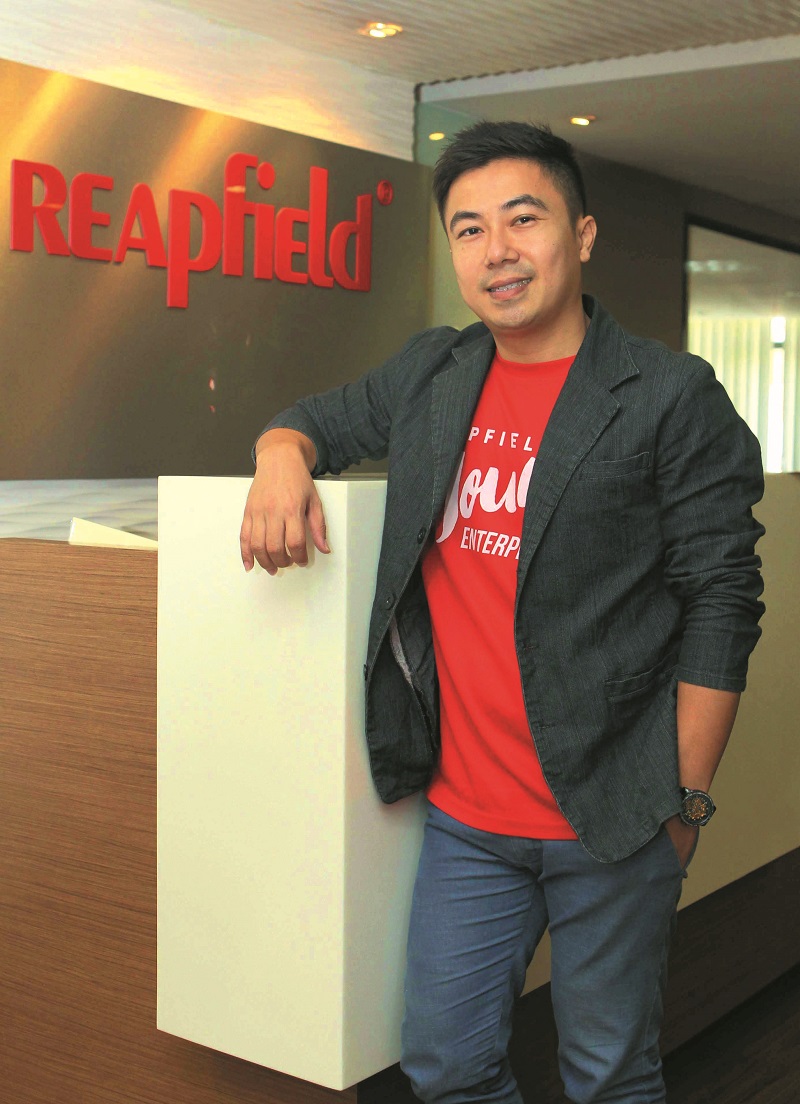 IT is hard to believe that Matt Tian, the head of sales at Reapfield Properties Sdn Bhd's Ampang branch, was once a shy boy who did not enjoy talking to people.
"I wasn't the most confident nor the most fluent when it came to the English language. The dictionary was my best friend and I learned a handful of words daily and improved my vocabulary from there," shares Tian.
"My boss told me to get a voice recorder to record my speech and then listen to what I sounded like. That was exactly what I did and I learned to adjust my pronunciation and speed when conversing with others," says Tian, 35, who has a degree in computer-aided geographic design from Universiti Sains Malaysia, Penang, which he obtained back in 2004.
"I came to KL empty-handed hoping to make my fortune," he recalls, and tried his hand at several different jobs. He started as a staff for a TV commercial company. "The hours were really long and I had to work for a few days in a row until the shoot was completed," he says.
He subsequently moved on to work with a publisher in charge of distributing career and education magazines to secondary schools. After a year, he decided to take on a sales job selling vacation club packages for a hotel. "My weekends and weeknights were always filled [with work] because most of the customers came in after work."
Due to the long and odd working hours and as he was newly-married at that time, he left for another sales job which gave him more stable working hours. Tian believes it is important to have work-life balance.
As he had just settled down then, he and his wife were looking for a house of their own. "It was when we I were scouting around for a house and talking to real estate negotiators that I thought, why don't I try and see if I can have a career in the real estate industry? After doing some research about the industry, I took the plunge and went for it in 2008," says Tian.
There were ups and downs when he started out. "It took me almost a year before I closed my first deal. In between I had some deals which were not successfully transacted and I was slightly discouraged," he recalls.
However, he persevered and decided to focus on Kuala Lumpur, specialising in the Ampang area. "I did not bother so much about the commission or sales value, I just took every deal I closed as a lesson for me to be better at my job," says Tian, who took on all kinds of listings and gradually built his network of clients.
"Although it was tough in the beginning, I saw my hard work paying off when I was able to assist a client to sell off some 150 apartment units at the UniVillage project in front of Notttingham University in Semenyih," Tian recalls.
"There was another deal which I put a lot of effort into when I first started out but was aborted due to unavoidable reasons. However, the owner and I kept in touch and he came back to me to buy a bungalow two years later with a commission a few times higher than the aborted deal. So every cloud has a silver lining," he adds.
But those were the days. Tian is now a team leader to 13 real estate negotiators at the Reapfield Properties' Ampang branch.
"I think one of the most important criteria to succeed in this field is to always compete with yourself and not others. Everyone has their own journey to pursue. If you keep comparing yourself with others and their achievements, you will always feel inadequate because you will feel like you'll never reach their standards. Instead, use their success as a motivation and inspiration for you to be better at your work," says Tian.
"This industry may seem like a simple and straightforward one where you just have to be a salesman and sell property. However, if you want to stand out and be a professional, you need to be able to add value to your service," Tian notes.
What value-added services are these? "Well, you need to know what is going on in the current market, changes in policies and economic conditions. Anyone can sell, but with these added information, clients know they can trust you because you are advising them based on facts.
"Always be there for your clients even after a sale has been concluded as they may need you to help them sort out property-related matters," shares Tian, who does not believe in what he calls the "hit-and-run" attitude.
His plans for the future? "I want to lead my team to give our very best to service our clients. I am blessed to be where I am today and I want to continuously learn and grow in my career," says Tian.
Interested in property investments in Ampang after reading this article? Click here to check out the properties there.
This story first appeared in TheEdgeProperty.com pullout on June 10, 2016, which comes with The Edge Financial Daily every Friday. Download TheEdgeProperty.com here for free.